Interior Cleaning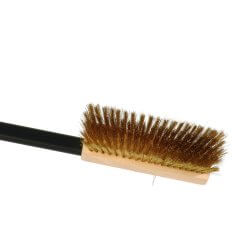 Your oven requires very little on-going maintenance or cleaning.
Because wood fired ovens burn so hot, each firing acts like a "self-cleaning" mode for the oven, burning off all spilled or stuck-on foods from the oven floor.  You can use a copper brush to remove any food stuck to the floor during cooking, or to clear ash away from the cooking area once you have moved your fire to the side of the oven. Do not use a steel BBQ grill brush, which will scratch your cooking floor. Do not use natural fiber brushes to clean the oven floor, as they'll burn.
If you are making pizza, do not use a damp towel to clean the floor. The damp towel will take heat out of your cooking floor, and it is not necessary. A well-made pizza oven brush will be able to get all of the ashes off the part of the floor where you will be cooking. However, if you are baking wood fired bread instead of pizza, you may want to choose a different strategy. With bread, a damp towel is helpful, both for cleaning the floor and for moderating its temperature to reduce scorching on the bottom of your loaf.
Creosote – Formation and Removal
When wood is burned slowly, it produces tar and other organic vapors that combine with expelled moisture to form creosote. The creosote vapors condense in the relatively cool oven flue or exhaust hood of a slow burning fire. As a result, creosote residue accumulates on the flue lining and hood.  When ignited, this creosote makes an extremely hot fire.  The oven flue should be inspected at least twice a year to determine if creosote buildup has occurred. When creosote has accumulated, it should be removed to reduce the risk of fire.
The oven can be inspected through the door opening. Allow the oven to completely cool before inspecting the vent and chimney pipe for creosote build up. Have your chimney cleaned by a professional chimney sweep if you are unsure how to clean it properly. Use a plastic, wood, or steel brush. Do not use a brush that will scratch the stainless steel liner of your chimney. Scrub the spark arrestor with a wire brush. The chimney cap should also be removed for cleaning. (See your oven manual for directions.)
Exterior Cleaning (Soot)
Over time, the top of the opening to your oven may become dark with soot. This happens with all wood fired ovens. While your oven's vent and chimney systems do an excellent job of drawing smoke and hot air out of the oven chamber, soot is an unavoidable part of wood oven cooking. You can occasionally clean the oven opening with mild soap, water, and a soft cloth, or you can allow the opening to naturally darken. Do not use oven cleaner, as it will damage the surface coating. When you are cleaning the exterior, firmly cover the entrance with the door to ensure that no water enters the oven chamber, as water in the chamber can damage your oven. If your oven is finished with stucco, it can be repainted periodically, but remember, the darkening will return with regular oven use.
Ash Maintenance and Disposal
Always clean the ashes out of your oven before you light a new fire. Old, cold ashes will get in the way of food baking. They can be removed using a metal shovel and should be placed in a metal container with a tight-fitting lid until they are disposed of. Store the closed container of ashes on a non-combustible surface, or on the ground, well away from all combustible materials. Ensure all cinders and ashes are completely cold before disposing of them appropriately. Cold ashes can be buried in soil or otherwise locally dispersed.
Wood can be stacked in the area under the oven hearth, but it is best to keep it elevated a few inches off the ground for airflow and in case of rain.
Return to Wood Fired Cooking Resources