Guest Column: New Haven Pizza in the Summer
Note from Peter:  Here's a sweet vignette from contributing columnist Joseph Calcagno, inspired by his first visit to New Haven's legendary pizzerias. He wrote it at the beginning of summer and, now, here we are already approaching autumn, but I think it is a timely reflection on how time and place can leave indelible memories. Enjoy!

New Haven, Summer of '18,    by Joseph Calcagno
The summer wind, came blowin' in from across the sea…
These Frank Sinatra lyrics hit my ears as soon as I walked into Sally's Apizza on Wooster Street in New Haven, Connecticut. The music played softly throughout the shop as I took my first steps into a whole new world. New Haven, the home of Yale University, has long been heralded for its distinct style of delicious "apizza" (but pronounced by the local community as "ah-beetz"). These beloved pies have created a significant footprint on American pizza culture and many would arguably say they top the list.
How fitting, I thought, as the Sinatra masterpiece Summer Wind echoed in the background. It was as if the "Chairman of the Board" were serenading me personally on the first day of our summer heat wave in the Northeast. I walked confidently up to the front counter, taking a quick glance at the walls draped with many pictures of Italian-American heroes, celebrities, family members, and even JFK. The pizzeria was dimly lit, with no frills necessary, and an essence of being fiercely original. This spirit gracefully embodied not just the store, but the pizza itself. Sinatra subsided to ambiance as I placed my order.
"Hey pal what can I getcha?"
"Small tomato pie," I said confidently, having rehearsed my order ahead of time so as to not appear a confused or overly eager tourist.
"With mootz or no mootz?" (The "mootz" being New Haven vernacular for mozzarella, of course.)
"Uh with mootz, actually um, no mooz!"  Oops, I blew my cover.
"No Mootz. Okay, just the grated cheese on top then?"
"Yeah, perfect."
The young man turned around. "Hey pop!" he yelled to his father who stood by the oven, working furiously. "Another small at the counter."
And that's been the key to the genesis and growth of New Haven pizza. Since 1938 Sally's Apizza has been owned and operated by the same family, stemming from the founder and patriarch Salvatore Consiglio. Just a few doors down on the same street, extended relatives own and operate Frank Pepe Pizzeria Napoletana. This infamous establishment, founded in 1925 by Frank Pepe, is responsible for bringing ah-beetz from Italy to New Haven, evolving the product to what it is today. The aforementioned Consiglio, his nephew, apprenticed under Pepe in the early years of operation before establishing Sally's just a few doors down. Between the two stores, they've created enough history to fill a library.
The fundamental key to New Haven pizza, that gives it such a charming identity, is the coal-fired oven. These ovens, no matter which store you visit, are authentically original and help create a uniquely charred, crispy and chewy crust. These ovens are sacred to this community and questioning their power would be considered blasphemy. They're never changing, but perpetually radiate a tantalizing mystique, along with their heat, that compels patrons to stop and stare in their presence, from young to old, as if it were their very first time seeing something new.
The crust, with black charred edges and speckled bottoms are razor thin. Thin, yet durable – they completely distinguish themselves from what New Yorkers call their thin-slice New York Style. The pies don't always abide by any geometric laws either. They make use of their own space and, most often, the end result is a shape of uncertainty that borders between genius and insanity. The emphasis on bold, simple flavors, and keeping the pies lightly topped, has made "ah-beetz" a reliable classic in a town that embraces culture and diversity.
As I ventured down the block, over to Frank Pepe's, I keenly observed their pizzaiolo at work. There was no dough slapping, spinning, tossing or flipping. No tricks or theatrics. Each pie was flattened thin, by hand, on a liberally floured wooden surface and then given a final stretch by gravity as it transferred from the surface to a peel that nearly covered the length of the kitchen. At Pepe's I ordered their signature item, The White Clam Pie. This pie has reached cult status over the years and has often been ranked as one of the best pizzas in America. Topped with fresh clams, grated cheese, olive oil, fresh garlic and oregano, every flavor component delivered and impressed.
The temperature continued to climb outside that day, much like the ovens. With both pies in hand, I walked around the corner to beautiful Wooster Square, cutting through a boisterous Farmers Market, and retired to a tree-shaded park bench to indulge in a piece of New Haven history. The city began to endear itself to my heart with each bite, poetically connecting "ah-beetz" with the meaning of "haven," that being a port, harbor and a place of safety; where to find rest.
This was the start to my summer and a noteworthy addition to my personal pizza quest. While New Haven, with its delicious eateries scattered throughout the city, has been a sought after location for many Italian Americans, Wooster Street's "Little Italy" really captures the full spirit of Italian American culture. Later, I ventured further downtown, onto Chapel Street, observing the New Haven locals, tourists, students and Yale hopefuls. I wandered into the Yale Art Gallery and found a calming peace in the works of Leonardo Da Vinci and Andrea del Verrocchio, right after tasting the masterpieces of the Italian Renaissance artists on Wooster Street.  Meanwhile, Sinatra hummed in my head: All summer long, we sang a song and then we strolled that golden sand. Two sweethearts and the summer wind…
While ah-beetz isn't quite the actual tale of two sweethearts who find love for a season while one of them reflects longingly on those summer days, nevertheless, the passion, excitement and hope of what the summer wind may usher in can speak to all of us who dream. So, as I drove away with one last view of Long Island Sound, with the bright orange sun beginning to set, I recounted the adventures of the day. New Haven was the start of my summer and from the pizza, to family, to farmers markets and art galleries, it made all of the senses come alive together. So, as I chronicle my New Haven edition of a pizza quest as a summertime story that has come to pass, I reflect longingly and sing to myself with a bittersweet melody: And softer than a piper man, one day it called to you. I lost you, I lost you to the summer wind…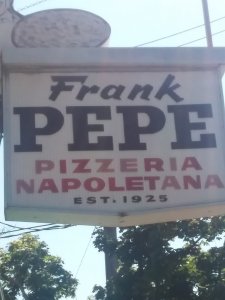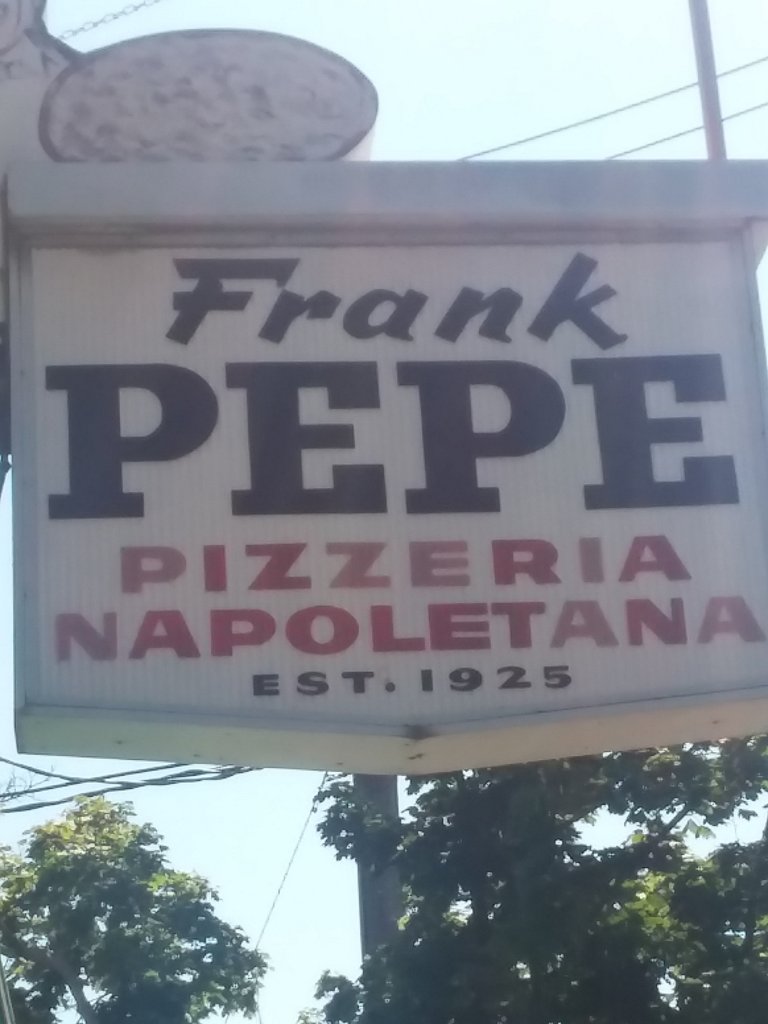 Pizza Quest Info
Resources
Vision Statement
Pizza Quest is a site dedicated to the exploration of artisanship in all forms, wherever we find it, but especially through the literal and metaphorical image of pizza. As we share our own quest for the perfect pizza we invite all of you to join us and share your journeys too. We have discovered that you never know what engaging roads and side paths will reveal themselves on this quest, but we do know that there are many kindred spirits out there, passionate artisans, doing all sorts of amazing things. These are the stories we want to discover, and we invite you to jump on the proverbial bus and join us on this, our never ending pizza quest.
Peter's Books
...and other books by Peter Reinhart, available on Amazon.com