Report from the Vegas Pizza Expo
I'm not sure who was working at the world's great pizzerias the first week in March, because it is clear that for a brief time the center of the pizza universe was the Las Vegas Convention Center. The International Pizza Expo has always been the premier event for professional pizza makers, but this year the show has improved to an astonishing degree. It has become a place where mozzarella d' buffalo can coexist with kangaroo pepperoni, and both can be accepted with respect and open mindedness.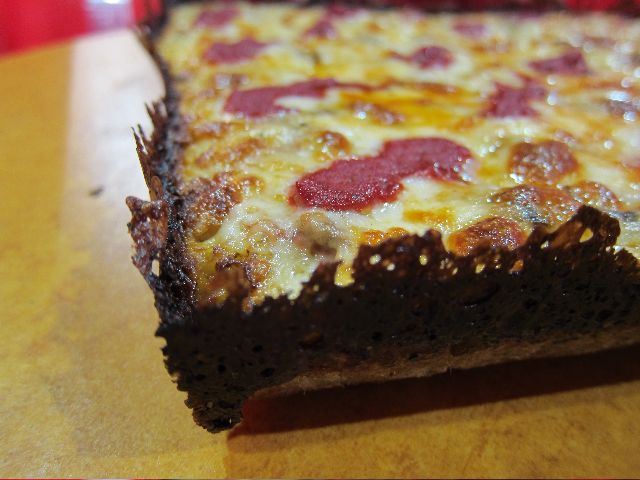 This was a real gathering of the tribes, with just about every pizza style and preference represented, including some variations I had never seen before. Finalists in the pizza competition included a unique Detroit style pan pizza that had a charred edge, created by inserting shredded mozzarella between the pan and the dough before baking (as shown in the photo). Over 900 different exhibitors were on hand to display, demonstrate and distribute samples of their products. 6400 pizza makers were in attendance, and this year everyone remarked about the level of enthusiasm and optimism that prevailed.
In what was once a fragmented and secretive industry, pizza pros from all over the world freely
exchanged ideas and offered support to one another. The mysteries of our craft were being discussed openly, as witnessed by the standing room only attendance at Tony Gemingani's outstanding pizza dough boot camp.
The Italians were out in full force, and a chance to see renowned Neapolitan pizzaiolo Antonio Starita working side by side with both Roberto Caporuscio of New York's Keste and protégé Jonathon Goldsmith of Spacca Napoli, was a true highlight of the show. In fact it seems that flour company Molina Caputo has cornered the market on some of the most famous names in the Neapolitan pizza world, but it wasn't just the traditionalists that made an impact. What was most evident is that pizza makers are combining traditional techniques with a great degree of personal creativity. There was little talk of governing organizations and standards. The pizza world has already moved on from that trend evidenced by the fact that the winner of the non-traditional pizza competition was Luigi Vianello, an Italian from Venezia. The traditional category winner Carmelo Oliveri, also won the "black box" category using a secret ingredient that is probably not found on the tables of his pizzeria in Verona…Frank's Hot Sauce!
Perhaps the most important trend that was evident is the fact that there is a lot of fresh talent in the pizza world. I spoke with dozens of enthusiastic new, or aspiring pizzeria owners who are coming from completely different walks of life and are bringing creative ideas and perspectives to the pizza industry.  It seems that the economy has liberated people and presented an opportunity for some folks to follow their pizza passion. Among the many new attendees that I met were a chemical engineer from Korea, a farmer, and the owner of a petting zoo. Each of these enthusiasts is united by their love of pizza and the pizzeria experience.  Their dream is to turn their hobby into a vocation. You can bet that their contributions to the pizza landscape are going be unique. This new breed of pizzeria operator is going to create a fresh vision of what a pizzeria can be. Tomorrows pizza makers are not going to be people who inherited a family business and recipes.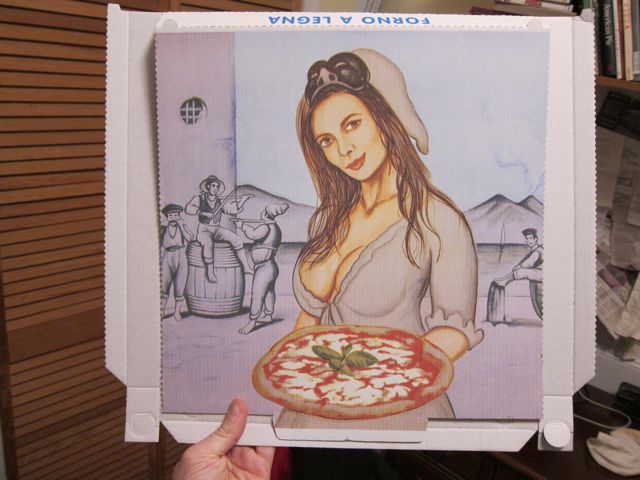 The next generation is going to be former lawyers, designers, computer programmers, and nurses who fell in love with pizza and have their own definition of what a perfect pizzeria can be.  They are literally thinking outside the box, as you can see by the unusual graphics of the new style of packaging that is all the rage in Milan.
Next year the Pizza Expo is set for March 13-15 in Las Vegas. Even if you have no intention of becoming a pizza professional, if you are serious about pizza find a way to get to the show, it's the best bet in Vegas.
Comments
Pizza Quest Info
Resources
Vision Statement
Pizza Quest is a site dedicated to the exploration of artisanship in all forms, wherever we find it, but especially through the literal and metaphorical image of pizza. As we share our own quest for the perfect pizza we invite all of you to join us and share your journeys too. We have discovered that you never know what engaging roads and side paths will reveal themselves on this quest, but we do know that there are many kindred spirits out there, passionate artisans, doing all sorts of amazing things. These are the stories we want to discover, and we invite you to jump on the proverbial bus and join us on this, our never ending pizza quest.
Peter's Books
...and other books by Peter Reinhart, available on Amazon.com