Peter's Blog, Wolfgang Puck Pizza Bar
Last week I took a local reporter, Michael Solender, on a local mini-Pizza Quest for a story he is writing for a local magazine. We were accompanied by photographer Tonya Russ Price. We picked four local places to visit, all of which I consider among Charlotte's best: Wolfgang Puck Pizza Bar; Luisa's Brick Oven Pizza; Mellow Mushroom; and Pure Pizza (where I serve as "consulting partner"). Michael's article, which I'm sure will be great and very different from my account, won't come out till late April and I'll post the link when it does, but I wanted to post a few comments of my own here, since I found the adventure very rewarding for a number of reasons that I'll explain below.
Why Wolfgang Puck chose Charlotte as the launching pad for his new
WP Pizza Bar
concept, which will roll out nationwide over the next few years, I'll never know, but I'm thrilled. For some reason he likes Charlotte. His Executive Chef over all the locations, Scott Wallen, was the chef for a number of years just around the corner at Upstream, one of our best seafood restaurants, so maybe that had something to do with it.  I've always loved Wolfgang's food — he truly is one of the great
flavorists
of our time, as well as a shrewd and driven businessman. When I lived in San Francisco my favorite restaurant  was
Postrio
, which was the SF version of
Spago
, and I think it's safe to say that Puck's flavor palate has influenced nearly every American chef of the past thirty-five years. He has also presided over a line of disappointing frozen pizzas and has branded himself on the shopping networks across a lot of so-so products, which I think has contributed to a diluting of his eponymous brand value, but that's irrelevant at the moment because his restaurant food still sizzles. I'm thrilled that his first
WP Pizza Bar
exists only one mile from my house.  I know that it has nothing to do with me; Wolfgang and I have met only a few times and I doubt he even knows who I am. However, since I don't believe in coincidences (but I do believe in irony), I would say that it is apt and appropriate that he chose my 'hood to be the flagship location for this venture. I like this restaurant very much and I really enjoy the whole menu, from apps to entrees, as well as the pizzas. Chef Wallen (Scott) took me through his process for the pizzas, including a well thought out dough that uses an aged preferment (about one week old before it gets used), plus an overnight biga, plus an overnight cold fermentation for the dough balls, resulting in a surprisingly soft dough, especially considering that the flour is high gluten of about 14% protein. The first time I had their pizza I thought they were using Italian
tipo -00-
flour because the texture was so soft. Scott told me it took many months of trial and error in their California test kitchen to achieve this dough. It also contains a little olive oil which, I'm sure, contributes to the softness but, regardless, they pulled it off; an original one-of-a-kind dough topped, naturally, with top of the line ingredients including oven slow roasted tomatoes, organic tomato sauce (the same
Bianco DiNapoli
tomatoes we use at
Pure Pizza
— dang, I thought we were the only ones around here who knew about those!), various imported and domestic cheeses, and the full array of Wolfgang's signature bold flavors, including his famous smoked salmon pizza, the one that was first made famous at Spago, as well as braised short rib, roasted wild mushroom, and barbecue chicken concepts, among the 18 pizzas on the menu. As the pizzas emerge from the dual-heat WoodStone oven, the cornicione is brushed with a tasty garlic oil and then the pies are garnished with various fresh herbs or greens.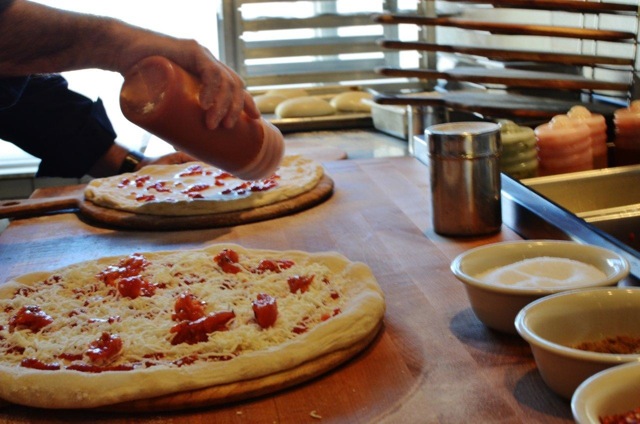 Being a crust guy, I spent most of my time talking with Scott about their fermentation method; the idea of holding onto a pate fermentee' (aka pre-fermented dough) for a whole week or more is a very unique technique. I hadn't heard of anyone else doing this. And then, combining it with another preferment, a biga, continues to add layers of flavor as they build toward the final dough.
So here's the thing: the pizzas at WP Pizza Bar are beautiful and look amazingly similar to the ones we make at Pure Pizza. The main difference is the texture of the crust.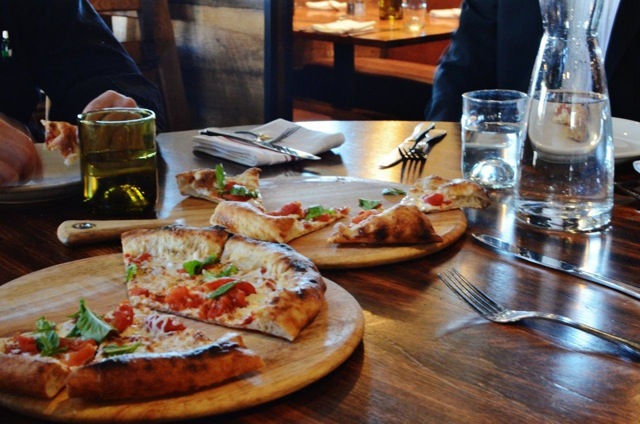 Whose is better? It depends on whether you like it soft (Pizza Bar) or al dente (Pure). The good news is that for a city that, ten months ago, had no artisan pizzerias at all, we suddenly have two, both of which are very very good. The business models are also very different; WP Pizza Bar is a beautiful, upscale bistro with a full menu that includes great steaks, fish, various pastas, a full bar, inventive sides and specials (I'm a fan of sauteed spinach with roasted garlic and those oven dry-roasted tomatoes), whereas Pure Pizza exists in the Seventh Street Public Market, a kiosk restaurant in an alt-style food court.
I'll write more about
Pure
in my next post (after we host our first private beer dinner, which happens tonight), as well as tell you about my stops at
Luisa's
(my favorite local New York-style Neapolitan pizzeria), and
Mellow Mushroom
, a brilliant and hugely successful concept pizzeria chain that makes what I consider to be some of the best "Americana" pizza around (and having 36-48 draft beer taps at every location doesn't hurt either).
Bottom-line on WP Pizza Bar: it may take a few years to cover the country and work out all the remaining first year tweaks but I think this is going to eventually be Wolfgang Puck's most financially successful multi-unit concept, mainly because both the food and the pizzas are excellent, and the restaurant design, as always with Wolfgang, is beautiful. He is the Godfather of the gourmet, "California" pizza, and he is now building a series of shrines to celebrate his contribution to the pizza lexicon. Thanks to Wolf and Scott Wallen for kicking it all off right around the corner from my house. The irony is on me!
I'd  love to hear from any of you who may have also been to the WP Pizza Bar. There is now one in Greensboro, NC and I believe another will soon open, perhaps in Raleigh, and also out west. By this time next year there should be three more and then, watch out, they will probably hit the popcorn stage soon after. But the key to why it works, the star attraction, are the pizzas. Who knows, maybe Charlotte will become a pizza town after all….
Comments
Pizza Quest Info
Resources
Vision Statement
Pizza Quest is a site dedicated to the exploration of artisanship in all forms, wherever we find it, but especially through the literal and metaphorical image of pizza. As we share our own quest for the perfect pizza we invite all of you to join us and share your journeys too. We have discovered that you never know what engaging roads and side paths will reveal themselves on this quest, but we do know that there are many kindred spirits out there, passionate artisans, doing all sorts of amazing things. These are the stories we want to discover, and we invite you to jump on the proverbial bus and join us on this, our never ending pizza quest.
Peter's Books
...and other books by Peter Reinhart, available on Amazon.com