Peter's Blog, My Four Minute Steaks!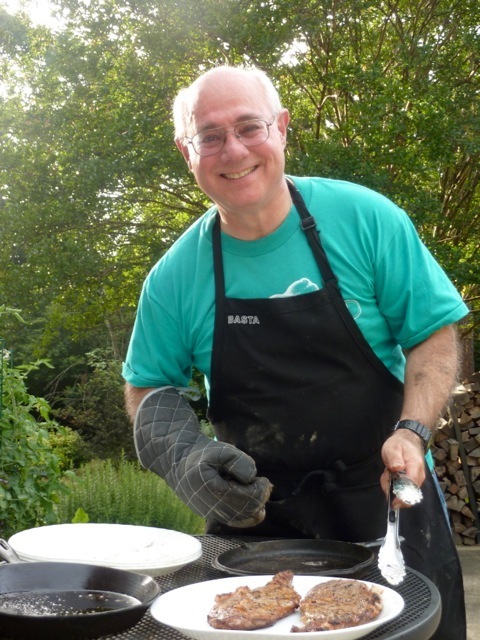 Here it is, as promised, a pictorial guide to the best steaks I've ever had, for a fraction of the cost of Morton's, Peter Luger, Ruth's Chris, and all the others.  Of course, you need the super high heat of a wood-fired oven, such as this sweet little Primavera 60 in my back driveway next to the garden. I made these for a dinner party for my wife Susan's birthday; we served a total of twelve people (including ourselves), and I could only fit in two steaks at a time, but it was no problem getting everyone their own steak within a few minutes of each other.
My friend, Patrick Taylor, took these photos of me in action so, of course, we made our steaks last. As a result, I really only had to get the first ten up to the dinner table to get everyone else started. By the time they had filled their plates with the steaks, salad, and Susan's crispy rosemary garlic potatoes (a house specialty, served at almost every party we have), Patrick and I were on our way to the table with our own medium rare rib eyes. They cooked perfectly in one minute on each side!
I use to call this method my "four minute steaks," because they usually take two minutes per side when the steaks are cut to a 1 1/4-inch thickness. But, for this event, I had them cut to just under an inch thick, so they cooked much faster. A couple of people asked for theirs to be well done (God only knows why, but this was no time to be judgmental), so I did theirs first. Two minutes on each side.  Then the rest were mediums or medium rares, so we rolled back to 90 seconds on each side for the mediums. For the medium rares, yes, one minute per side!!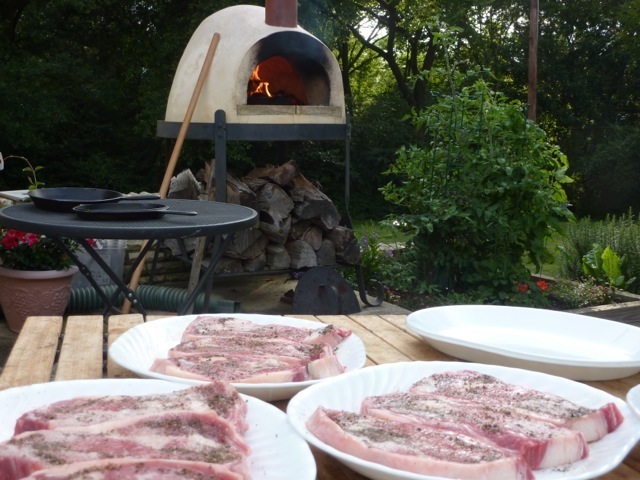 Before you view all the photos, here are a few tips that make all the difference:
–Use rib eyes, cut to the thickness you prefer. I think the marbling and flavor is ideal, even better than NY Strips or Porter Houses (but that's up to you if you prefer a different cut). Grass fed steaks, though a healthier option, tend to have less marbling and, so, come out tougher — use a well marbled piece of meat from a reputable source. You don't need "prime" beef but don't go for the cheap grades either. "Choice," beef, from a quality meat market or butcher, will be great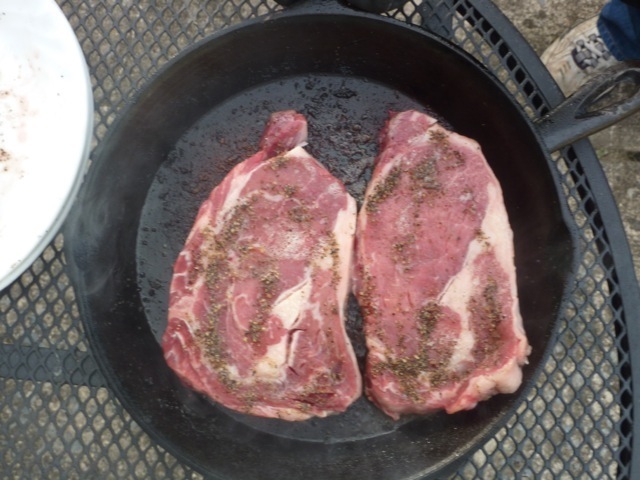 –Get the oven roaring hot and then push back the coals and clear a space for your cast iron pan or pans (my little oven can only accommodate one pan but yours might handle two). Let the pan get white hot, at least five minutes or longer in the oven.
–Be sure to have heavy duty oven mitts and gloves. I wore a pottery kiln glove and then slipped that same hand into an oven mitt, and that just barely gave me enough protection to grip the hot pan.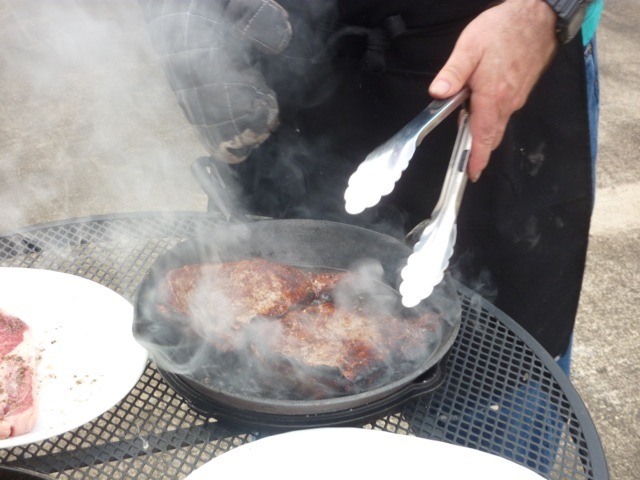 –Have a metal table standing by to receive the hot pan when you set it down (or set it into another cast iron pan, not hot, to protect your table). I surround my work area with portable metal and wooden tables so that I have plenty of surfaces to work with, but only a metal table for the hot pan.
–Use a timer to keep track. A few seconds of distraction can turn a rare steak into an ember.
–To prep the steaks, brush both side with olive oil (not butter, which will burn) and then generously season both sides with kosher or sea salt, and lots of freshly ground black pepper. You really don't need anything else (fresh garlic will burn). You won't need A-1 or Worcestershire Sauce, but we always put it on the table for those who absolutely must have it (but no ketchup!!). I can't overstate this: be generous with the salt and pepper — it will make a  fabulous crust when it gets seared into the meat.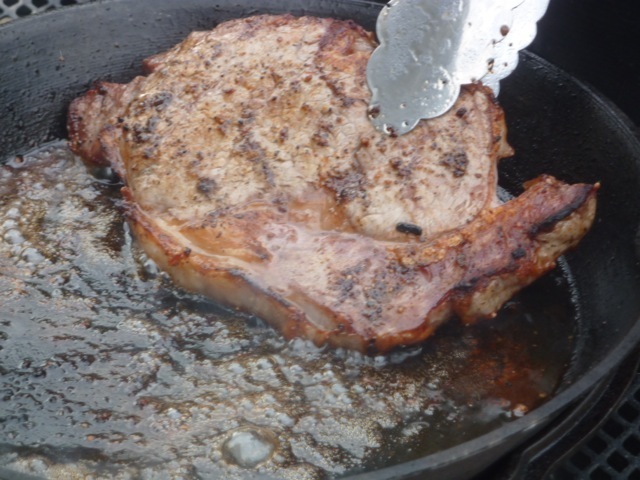 –Once out of the oven, let the steaks sit for at least five minutes before serving, and for even up to fifteen for thicker cuts, in order for the juices to redistribute back into the meat . If you like the Ruth's Chris trick of melting a pad of seasoned butter on the top of the piping hot steak, feel free, but we found no need for it.
–We served 8 ounce steaks, which is why they came out thinner than my usual 1 1/4 inches. If you like thick, juicy steaks, have them cut into one pound units (about 1 1/4 inches thick)  and cook for the full two minutes on each side (maybe add 15 to 30 seconds per side if you prefer well done or medium well). But, for large groups like ours, the thinner, faster cooking cuts worked out well.
If you have your own method or tricks, please feel free to share them with us right here in the Comments section. If you want to send photos, write to me at peter@pizzaquest.com and include your shots.
Comments
Pizza Quest Info
Resources
Vision Statement
Pizza Quest is a site dedicated to the exploration of artisanship in all forms, wherever we find it, but especially through the literal and metaphorical image of pizza. As we share our own quest for the perfect pizza we invite all of you to join us and share your journeys too. We have discovered that you never know what engaging roads and side paths will reveal themselves on this quest, but we do know that there are many kindred spirits out there, passionate artisans, doing all sorts of amazing things. These are the stories we want to discover, and we invite you to jump on the proverbial bus and join us on this, our never ending pizza quest.
Peter's Books
...and other books by Peter Reinhart, available on Amazon.com