"Kissed by Fire", an Interview with Chef/Author Brigit Binns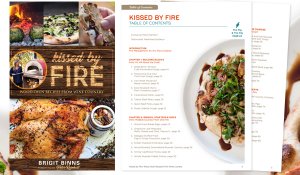 Note from Peter: I met Brigit Binns in the Fall of 2015 when we were both featured presenters at the "Forno Bravo Wood-Fire Expo" in Salinas California (you will see her featured in some of our upcoming video webisodes over the next few months). Her food was (and is) amazing, and she and her husband, Casey, made an an amazing team at the Expo, bringing his theatrical background and her culinary artistry and flare for bright, vibrant flavors into each of Brigit's demo's (more on Casey below). Brigit, meanwhile, recently wrote a book, published with Forno Bravo, on her passion for cooking with fire. We had a chance to explore this in the conversation that follows. See below for the link to the book and be sure to look for any opportunity to visit with Brigit and Casey at their spectacular culinary retreat center, Refugio, in the California Central Coast Wine Country of Paso Robles. 
–
PQ (Peter): Brigit, congratulations on your new book, "Kissed By Fire." It's beautiful and really captures an important past of your culinary vision. Can you describe for our readers more about your vision and culinary philosophy and how you came to it?
 Brigit: Peter, first of all thank you so much for your kind words about my new book, "Kissed By Fire," not to mention IN my book, in terms of the fantastic Foreword you wrote! I was super honored to have a pizzaiolo of your, um weight, weigh in! Hmmm. Vision and culinary philosophy–such very weighty subjects. (OK OK, enough with the weight analogies.)
Peter: Yes, my scale thanks you!
Brigit: In 2005 I made what later turned out to be a "slight" miscalculation: I agreed to move from Los Angeles to upstate New York with my husband. Together we built a sweet little barn-esque house on a defunct mushroom farm by the Hudson. As a Californian, I feared the cold weather (perhaps, in retrospect, not quite enough) and, as compensation-in-advance, I designed—with the fabulous help of your and my mutual friend, William Rubel author of, "The Magic of Fire")— a waist-high cook-in fireplace with a huge, deep hearth. It was the heart of the home and became the center of my home-sick universe. In it, over the next five years, I roasted small animals, simmered soups and stews, and sizzled sausages. Most of all, I gazed lovingly at the flames. I literally fell in love with fire. So, when I was finally able to influence a move back to my beloved home state of California in 2011, fire was high on the list of must-haves for the new property. After almost 30 cookbooks, my culinary philosophy ebbs, flows, and ranges far and wide, but rustic Mediterranean food has always formed its backbone. France, Italy, Spain—and fire! I'm exceedingly lucky to now have seven grills and two wood-burning ovens here at Refugio, and take every opportunity to explore their warmth and ability to satisfy the inner hunger of the heart and the tummy.
PQ: Where you live now on the Central Coast sounds like heaven on earth. Can you describe what a typical day is for you and how your center, Refugio, fits into it all? Also, it seems like your husband plays an important role in all of this. How do you two blend and balance your skills and talents?
Brigit: My husband Casey (Biggs) is an actor, director, and professor. As a Juilliard grad, New York City is his beloved stomping ground—the center of his universe—and it wasn't easy to shift him back westward. In 2010, he fell into an identity as the face of Paso Robles wine marketing, aka the YouTube sensation, "Paso Wine Man." This was instrumental in my quiver of convincing arrows, when it came to luring him to California. And his belief in the adage, "Happy Wife, Happy Life" helped. A lot.
It was one hundred percent his idea to convert the garage/guesthouse on the new property into a culinary event space—with two luxe vacation suites attached—that we call Refugio, after a beach near Santa Barbara where I spent much happy outdoor time as a kid. He and I designed, built, furnished, and decorated it together, and it reflects both of our personalities and talents. In our semi-monthly cooking classes here, he is the welcoming figure, expansive and infectious and always pouring just a little more wine for students than I would. I teach; he entertains. With a couple of local helpers to keep the peppers diced, the counters clean, and social media buzzing, we've created an atmosphere of learning and fun that's earned us a devoted following within and outside the Central Coast Wine Country. He still travels frequently for work: directing, acting, teaching, and attending Star Trek conventions all over the world (he's still very much in demand after five years as "Damar" on "Deep Space Nine"). He's been making wine for almost five years now, and after a steep learning curve with local winemaker friends, has become very knowledgeable; he's making incredible Syrah blends and a pale pink dry rosé called Vin de Pool (it's not for sale; we give it away to friends and guests at Refugio). Casey often tells me, and others, how "seductive" he finds our life in the Wine Country and at Refugio. And it is wonderful — I'm just very lucky that he was open-minded enough to make the move!
PQ: What are some of your favorite dishes to make and, also, some of the things on your wish list that you haven't yet created?
 Brigit: Protein is almost always on my menu, Peter, and yet as a Californian who's always watching my weight (oops, I did it again!), I bring a fresh, light, and vegetable-centric take to every table. I'm working on my 12th book for Williams-Sonoma right now, called "Cooking in Season." When the editor called me for the job, she said, "This food is right up your alley," and I was so flattered! I'll scatter things—like minced Meyer lemon peel, and squid—on a disk of ethereal, sourdough pizza crust that would make a true Neapolitan pizzaiolo cringe (but not John Arena; he's my other idol). And a crisp-skinned local chicken, butterflied, scattered with fresh thyme branches, and roasted in the wood oven, is perhaps my all-time fave.
Desserts have always been a challenge for me—I just don't have a sweet tooth, for some reason; I'd rather eat salami. Yes, I'd like to get better at desserts, but given the choice, would probably prefer to roast a small pig in my wood oven. Never done that — yet! Is there a theme here? If so, it's porcine.
 PQ: What do you think it is about fire that is so compelling, not only to you, but to so many others?
 Brigit: There's a throwback-to-the-wayback thing happening with both fire and fat. I think our bodies instinctively remember when the presence of fire and fat meant surviving a lean winter out of doors.
PQ: Yes, it does seem so basic to our inner being. So, how can our readers find out more about you, about Refugio, and how to get your books?
 Brigit: We always love to welcome new visitors and students to Refugio: RefugioPasoRobles.com 
There's more about my history, and a fairly well updated list of books at: BrigitBinns.com
And of course, for the books themselves, go to SmileAmazon.com and search for "Brigit Binns."
Full disclosure: I wrote a pizza book for Williams-Sonoma some years ago, but I have traveled far and learned much since then. "Kissed By Fire," though, encapsulates and details my current "best-of" when it comes to pizzas and flatbreads—and chickens and quail, and veggies steaks – you get the picture.
PQ:   What do you see in your future? Do you have any kind of five or ten year plan?
 Brigit: Gosh. I'll keep on grilling and roasting and drinking wine while I can. Oh, and if I can find a month-long break or three at some point(s), I will disappear to a very quiet place, work on a non-culinary memoir about my grandmother, my mother, and myself. The only time I actually did this, it was a month in Marfa, Texas but, sadly, it took me ten days to get down to work because I was convinced the "Texas Chainsaw Massacre" was going to happen in my remote little bungalow. 
PQ:   Well, we're so glad it didn't and that you found time to create such great books and the amazing Refugio in Paso Robles. Thanks so much, Brigit, for letting us into your life and for all the wonderful work you are doing. Continued success, and we look forward to sharing your future news and projects with everyone here on Pizza Quest.
 Brigit: Thanks, Peter. See you around the fire!!
See what's inside and download a copy of 'Kissed By Fire – Wood Oven Recipes From Wine Country'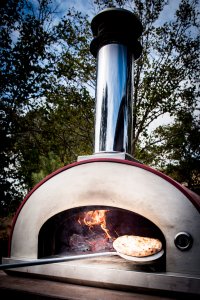 Pizza Quest Info
Resources
Vision Statement
Pizza Quest is a site dedicated to the exploration of artisanship in all forms, wherever we find it, but especially through the literal and metaphorical image of pizza. As we share our own quest for the perfect pizza we invite all of you to join us and share your journeys too. We have discovered that you never know what engaging roads and side paths will reveal themselves on this quest, but we do know that there are many kindred spirits out there, passionate artisans, doing all sorts of amazing things. These are the stories we want to discover, and we invite you to jump on the proverbial bus and join us on this, our never ending pizza quest.
Peter's Books
...and other books by Peter Reinhart, available on Amazon.com