Guest Column: Anthony Saporito's Quest
Note from Peter: We always say here that it's more about the quest than it is about the pizza, but Anthony Saporito, the co-founder of Urban Fire in Madison, NJ, has vividly brought those two aspects together, as he describes his own journey in the following guest column. He and I plan to meet up in Atlantic City next week at the Northeast Pizza & Pasta Show (Oct. 3rd and 4th), so look for us if you are also attending (Note: I'll be interviewing the legendary Anthony Mangieri, of Una Pizza Napoletana at 5 PM on Wed. the 3rd on the main stage, so please do come by). Meanwhile, I hope others of you will share your own quest journeys with us here, the way that Anthony Saporito has done. His story is a universal one and really taps in to that inner yearning we all share for connectedness, meaningfulness, and for making a difference. Thanks so much, Anthony. His contact info is at the end of his column. And for you others, write to me at peter@pizzaquest.com if you'd like to share your story too.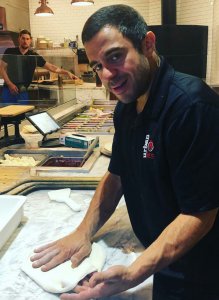 I don't know why I ever got into Finance. But, most of my friends were getting into it so, naturally, when you're young and stupid, you'll try out anything.   So that's what I did and that's how I majored in Finance in college. When college ended, I was lucky enough to land an entry level job on the New York Stock Exchange. I should have gotten the hint not to stay, being that my very first day on Wall Street was Sept. 11th 2001 but, once again, when you're young you don't want to listen to anyone, especially yourself.
It didn't take long to realize I was unhappy. Although the high-paced environment was exciting, my head just wasn't in it, and it reflected in my work. After a while I stopped caring and it became just a job. Like so many others, I got caught up in the routine till, eventually, I did just enough work not to get fired. There was no passion in it for me. Still relatively young, I knew I wanted more out of my life and career so, when I thought about what drove me, and despite all the warning signals I read about and all the, 'You're crazy's' I got from everyone, I knew it would have to do with food.
I grew up in the traditional Italian American household where Grandma's house was Grand Central Station on Sunday for dinner, and I learned early that good food was all about the joy it brought others and the memories it created. So I took several classes in Manhattan culinary schools after work, but being a line cook didn't excite me. I even worked at the best sandwich shop in Brooklyn, Defonte's. Although I loved it, it didn't work out. That's when my girlfriend (my wife now) bought me the book, "American Pie," by Peter Reinhart.
Being from Brooklyn, I grew up around pizza, and many of the places Peter visited I had frequented. Yet, rather than the dough making process, or the work ethic of the proprietors, what  grabbed at me was how pizza made the customer feel. It's what another author, Ed Levine, refers to as, "The pizza cognition theory." Peter described the pizza place he went to as a kid, Mama's, and how it made him feel, and how the taste of it later in life instantly brought him back to his childhood. It's that first bite from your local pizzeria slice that all others you encounter from then on have to measure up against. It was my "AH-HAH!" moment. Like that plaque or statue you pass everyday but don't know anything about till one day you finally decide to stop and read it; I knew it somewhere deep down, but till I heard Peter describe it, it never resonated.  Now I knew — THAT was what I wanted to do for people!
Not long after, in 2010, the tap on my shoulder came at work, saying they wanted to see me upstairs, which I knew meant I would be let go. I instantly felt a new sigh of freedom come over me and, as I collected my things and said my goodbyes, all I could think about was making pizzas. I walked out of the Stock Exchange with a grin from ear to ear knowing what my next move would be. The next morning, I woke up and, with some of my new severance money, I bought a Forno Bravo Primavera pizza oven —  the same one Peter was cooking on in his YouTube and Pizza Quest videos.
Till that point I had never made pizza before. I went into it completely blind. The first few pies I made looked like Picasso paintings, yet were the furthest thing from works of art. They didn't taste bad but, on the other hand, they didn't taste good either. However, if living at this moment in time has taught me anything, its that there is nothing you can't do, or learn to do, from watching YouTube. I watched every video I could find, as well as read countless books and recipes on the subject.   I also took my research out into the field and hit up as many pizza places as I could, and kept a journal on all of them. Over the next few years I became an Indiana Jones of pizza, centering trips I took on what places I planned on visiting. After a while, I got the basics down pretty well, and it quickly became an obsession. I put the Forno Bravo oven in my parent's backyard down on the Jersey Shore and, since the backyard opened to the street, I yelled out to everybody walking by to stop over and try a slice. I even got a few of the kids on the block to deliver some pies on their bikes to nearby friends' houses.
At that time, Neapolitan-style pies were just starting to surface, and I couldn't get enough of them.   To me they embodied the true essence of the southern Italian peasant food I grew up eating. The simplicity in the ingredients that, when combined, create the most captivating of flavors really struck a chord with my ever present hunger for nostalgia. And, although my grandmother didn't have a wood burning oven, the Neapolitan pies instantly transported me back to the basement kitchen in Brooklyn where I'd anxiously await the next pie coming out of her oven. This is what those first few tastes of Neapolitan pizza did for me; this was MY pizza cognition, which is why I so wanted to create it over and over again as best as I could, and although my backyard oven was a great tool, I knew I had to step up my game.
I sat down and emailed anyone and everyone in the NYC area who owned or operated a NYC Neapolitan pizza restaurant and was pleasantly surprised by the positive responses I got back. The first came from Roberto Caporuscio from Kest'e, who so generously invited me to take part in the two week class he was teaching in New Jersey. It was the foot in door I needed and, over those two weeks, I was introduced to the process of dough making and the seasoned skill it took to consistently turn out a world class product. I knew I needed more exposure and asked Roberto if I could come work and train with him at Kest'e but, at the time, he was in the middle of getting Don Antonio in Midtown started and it wasn't the right time. I gratefully thanked him for his willingness to help me and hit the pavements of Manhattan and Brooklyn the next week.
I got turned down by a handful of places who wanted no part of training a 30 year old former finance guy, and it got a little frustrating but, on my way back from the city one day I made a stop in Greenpoint, Brooklyn and, without a call ahead or any notice, just walked into Paulie Gee's and asked for a job. It wasn't long before I walked in his door that Paulie was doing the same thing I was, making pizzas in his backyard before he opened up his own place. He described to me his own journey and how, when pizza guru Chris Bianco in Phoenix, AZ helped him out, he instructed him to, "Pay it Forward." So he did just that and gave me a job. I worked at Paulie's for close to two years making pizzas, and the experience was invaluable. I learned a great deal from him, but nothing greater than caring for your customer and your product, above everything else, and the rest will fall into place. Paulie and I are still close friends to this day.
I met my business Partner, Chip Ohlsson, not long after I began working at Paulie's. He too was cooking pizzas in his backyard and had a passion for quality. He was already involved with 5 Guys Burgers and wanted to replicate what they were doing into pizzas. This is how Urban Fire was born. I won't lie, it was scary at first, taking a huge risk like this. I put everything I had into the business, both financially and physically but, as everyone told me, I just did what I loved and the rest followed.
We found a great spot in the quaint town of Madison, NJ, and our pizza is served in a fast casual environment. There is no wait staff and everything is made to order. The quality of the toppings and ingredients is part of our grander scheme for the overall experience. It's the experience of coming into Urban Fire that we stress the most to our staff and that we wish for them to convey to our customers. That starts when the customer walks through the door and doesn't end till they leave the parking lot. We are big into customer feedback — after all, it is the customer who is helping us live our dream — which is why we owe it to them to give the very best. We offer a variety of pizzas that include arugula, broccoli rabe, house made truffle cream, and basil pesto. I still prefer just a plain Margherita in its simplest form and, of course every once in a while, I will throw some anchovies on top.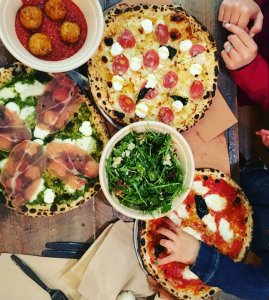 Being that Madison is a real family town, I was a bit worried in the beginning how the Neapolitan style would sit with young kids, those who were used to pizzeria style slices with tons of cheese. As time went by I became overwhelmed by the positive outpouring by these youngsters. They were willing to take a chance and, as a result, have now made Urban Fire their own "Pizza Cognition" spot. For a guy who started in a backyard cooking burnt pies, it doesn't get more fulfilling than that. We just have to make sure to hold the basil on their pies, as they are not fans of anything green. But, hey, I will take what I can get.
By the way, I love the name "Pizza Quest."  Its perfect. Why? Because pizza is just that, a quest. While it's true we may never find that perfect pie or slice that can come anywhere close to our local shop around the block from when we were 10 years old, it's the quest that keeps us going.   There is no such thing as the "Best Pizza;" that title lives solely inside all of us. But, it's the pursuit to evoke old memories and share new experiences that makes it so special. As my mother always said, "Even if you have absolutely nothing in common with someone, you can always talk about pizza."
We have been operating at Urban Fire for over 4 years now and are most proud of what we've created. The sense of community we have attained with our clients has filled me with an almost unexplainable satisfaction that goes far beyond the physical act of simply making pizza. Who would have known just a few short years ago that I'd be starting my own quest with the simple reading of Peter's book and the courage to buy a small Forno Bravo oven.
Anthony Saporito's Contributor Bio: https://www.fornobravo.com/pizzaquest/contributor-profiles/anthony-saporito/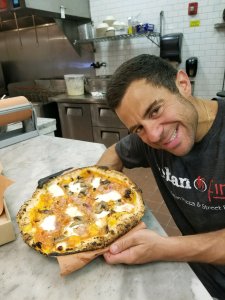 Recent Articles by Anthony Saporito
Pizza Quest Info
Resources
Vision Statement
Pizza Quest is a site dedicated to the exploration of artisanship in all forms, wherever we find it, but especially through the literal and metaphorical image of pizza. As we share our own quest for the perfect pizza we invite all of you to join us and share your journeys too. We have discovered that you never know what engaging roads and side paths will reveal themselves on this quest, but we do know that there are many kindred spirits out there, passionate artisans, doing all sorts of amazing things. These are the stories we want to discover, and we invite you to jump on the proverbial bus and join us on this, our never ending pizza quest.
Peter's Books
...and other books by Peter Reinhart, available on Amazon.com