Wine, Food, Gardens, Bocce …
Note from Peter: Wes Bailey, a good friend of Brad and Jeff's, was on his way to a long vacation with his family to Napa Valley.  After hearing about these plans, Brad suggested that Wes keep an eye out for a quest-worthy story or two.  Wes sent us this reflective essay that seems to capture the essence of the dichotomy of living the quest, as opposed to the idea of documenting it.  We can certainly relate, and thought it would be fun to share it with you.
*Feel free to send us your own journey or quest stories, where you set out in search of that elusive "aha," or you stumbled upon it.  If you're like Brad, you may have followed the signs – tracking down a memorable pizza served in someone's Tyrolean basement restaurant, or like Wes, made a grand plan and found something you didn't know you were looking for.  Either way, we would love to hear from you and have you share your stories because they all help to define what Pizza Quest is about.
You can write to us at info@pizzaquest.com.
Wine, Food, Gardens, Bocce and Dinner Parties!  We are in love!!
By Wes Bailey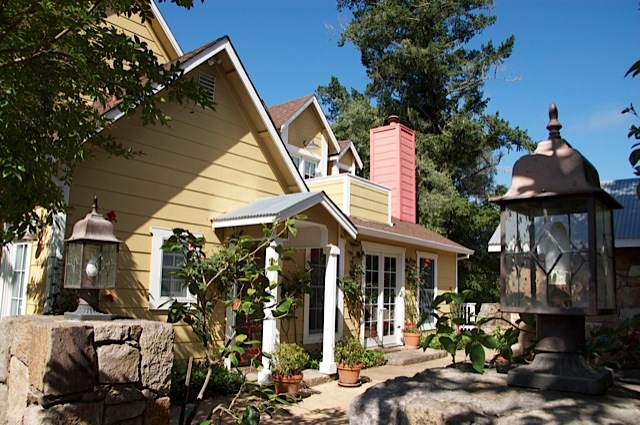 Almost six weeks ago, I headed to the Napa Valley with my family for the longest vacation of my lifetime.  A year in the planning, we had rented a home near St. Helena, where you will find the heartbeat of life in picturesque wine country.  Over a month to seep into the local culture, mix with the natives and soak up life a world apart from the madness of Los Angeles.
But of course, I brought ulterior motives.  I packed in my Canon 5D Mark II, an incredible camera capable of shooting both professional quality images, as well as stunning HD movies.  Napa Valley would be the backdrop for a new project: a travel website, with informative videos to take the viewer inside the lifeblood of wine country.  No, wait.  Maybe a winery review television show, where viewers could feel like they had really been to many of the legendary wineries.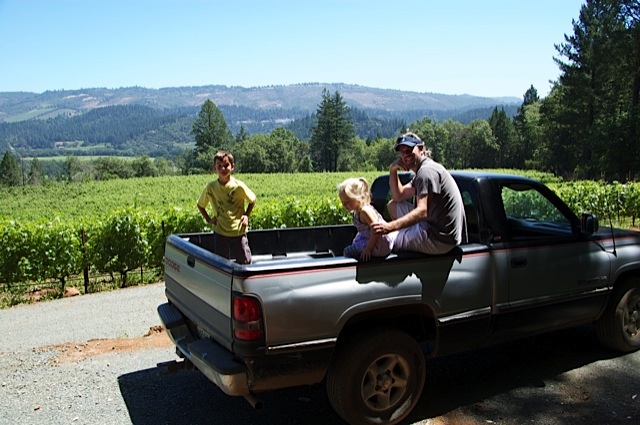 Or maybe…well, I wasn't sure.  But it would be beautiful, it would be awesome, and it would catapult
to the top of search engines around the world!  Of course, as the dream went, I would be afforded VIP status wherever I ventured–first in wine country, then around the world.  Chefs would leave their stations to check on my meal.  Winery owners would send cases of wine for me to consider featuring in the next episode.   Napa Valley would be my oyster…
I wasted very little time getting started.  Every night is
Bocce Night
in Crane Park in St. Helena, and I needed footage.  People would love to see this. The park boasts eight regulation bocce courts and the park was packed when I arrived.  Every picnic table was a makeshift potluck, and the wine flowed like water.  Some teams had bowling shirts or matching T-shirts and most had creative names:  "Joanie loves Bocce," "Tipsy Moonshiners," and the "Holy Rollers" come to mind,  the latter being a team of local clergymen and women.  Crane Park has everything a modern Mayberry could want:  Baseball fields, tennis courts, children's play areas, a skate park, and of course, the valley's most competitive bocce courts.  The vineyards that surround the park are most likely unnoticed by the competitors, but I was still awed at how the evening sun illuminated the grape vines, holding onto a perfect day for just a little bit longer.  My camera rolled and I hoped the viewer would be able to grasp the beauty that I was filming. I kept the 5D with me wherever I went.  To farmer's markets, where I watched local farmers chat with the townspeople; to wineries, where I tried to capture the majesty of some of the most prestigious wines; down country roads, lush and green.  And through vineyards that boast the soothing balance of endless, structured rows that try to subdue the untamed, twisting reach of the grape vines.  I saw it, and I filmed it and I tried to think how I would bottle and sell the beauty that I was taking in.  It had only been a week.
In the second week, I had been forced to buy a backup hard drive to download the footage.  I was even fuzzier now on what my finished product would look like.  Especially important to me was trying to communicate the pace of life in the Napa Valley.  People really seemed to be in a different mental state than my LA counterparts. 
They strolled leisurely through Sunshine Market, a small but legendary grocery store that is the antithesis of everything that we know in an urban supermarket.  Sunshine sources local growers, organic farms and provides only foods that are in season.  Their friendly staff takes time to talk about the products they carry and the farmers that provide them.  Shoppers at Sunshine have bought into the Napa Valley's strong push toward "farm to table" cooking and can explain why they avoid GMOs (Genetically Modified Organisms)–something I had never heard of before this vacation.  I found myself looking at everything in the store as I would a bottle of wine: I wanted to know its story before I bought it.  I wasn't sure how to capture this on film, so I just shot a bunch of pictures of fresh vegetables and fruit and decided to think about it later. For the rest of the week, I found myself shooting a little bit less each day.  My uncertainty about the project, whatever it was, made it more difficult to pull out that camera at each stop.  Besides, it was feeling heavier.  My wife and I had planned our first dinner party at our rented home and there were some wine and foodie types coming, so I was sure that inspiration would return.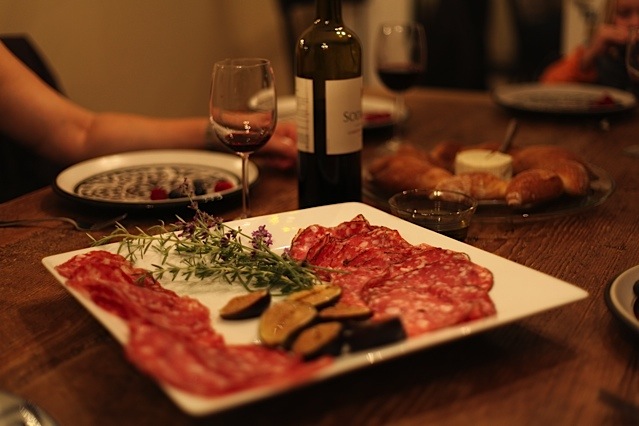 Sure enough, I was inspired.  The spread that my wife laid out for our guests was not only picturesque, it was delicious.  I fired off a few frames and made sure to incorporate some cool focus changes–I would need that when I started editing the, uh, project.  People began to arrive and conversations flowed along with fine wine.  I soaked up local stories of a region that was, and always has been, a tangled web of interconnected stories.  The Valley is simply too small and gossip travels fast.  I couldn't help but wonder if this was the place that first inspired the term "heard it through the grapevine."  We laughed as we listened to stories, often involving more than one person at the table and we toasted to anything that we could think of.  There were winemakers, farmers, a minister, and food writers…and us.  I was struck by how easily the party fell together.  Everyone pitched in, brought something to eat or drink.  They made themselves at home quickly and found conversations easily.  So enchanted was I that I forgot to shoot more than a picture or two for the rest of the evening.  I wasn't sure that the project needed pictures of my dinner party; besides I was lost in conversation.
Week three brought a strange mental turmoil and guilt.  Why was I so unmotivated to shoot footage?  I needed more shots of farmer's markets–after all, we all know that's great television–however I really didn't feel like carrying around the camera.  The week before I had discovered Annie the Baker's cookies and I was salivating just thinking about them.  Annie boasts that they are for people that love cookie dough as much as the baked cookies, and she finds the perfect balance between the two. That suddenly seemed more important than shooting pictures.  I "accidentally" left the camera in the house and headed to market with the family.  We strolled from stand to stand examining the wares.  Without camera in hand I looked less for great shots and more for great produce.  Annie the Baker was there of course and I gobbled up some cookies while we chatted lightly.  She remembered us from the week before and the conversation had less to do with cookies this time and more to do with the Valley.  By chance, we ran into a friend from the dinner party and we walked through the market with him as he pointed out some of his favorite stands.  For a moment, I realized what good TV this might make, but I let the thought go…and the weeks went by. So, here we are.  Just a few days left in this magical vacation and I have filmed nothing else.  The 5D has gone along on many day trips, but it has captured only one family–my family–traipsing up and down this picturesque valley.  I know it seems obvious to say, but there are things that you miss when you are looking through a lens.  So for now, I am putting the camera down and refocussing on the experience of NOW rather than a future project.  Someday, who knows, maybe that creative bug will return and I'll once again dream of taking my experiences to TV or web, but not now.  After all, it's farmer's market tomorrow and Annie the Baker will be there!
Recent Articles by Wes Bailey
Pizza Quest Info
Resources
Vision Statement
Pizza Quest is a site dedicated to the exploration of artisanship in all forms, wherever we find it, but especially through the literal and metaphorical image of pizza. As we share our own quest for the perfect pizza we invite all of you to join us and share your journeys too. We have discovered that you never know what engaging roads and side paths will reveal themselves on this quest, but we do know that there are many kindred spirits out there, passionate artisans, doing all sorts of amazing things. These are the stories we want to discover, and we invite you to jump on the proverbial bus and join us on this, our never ending pizza quest.
Peter's Books
...and other books by Peter Reinhart, available on Amazon.com