What I'm Thinking About These Days
This is the first in what promises to be an exciting feature on PizzaQuest.com, a series of short personal essays and thought pieces, by many of the people featured in our video webisodes, as well as from other thought leaders in the world of artisanship, culinary and other. These essays are not promotions of the various businesses of the writers but, rather, a peek inside the passion and vision that drives these talented people, what's burning inside of them, as well as what may be burning inside of you. We're calling this section Guest Columns but I call it, "What I'm Thinking About These Days." These essays are just the starting point for ongoing discussion—we want your comments and we'd love for you to engage each other in serious, thoughtful conversation. It's all part of the quest….
So, to get the ball rolling, in advance of future essays from our special group of contributors, I'll kick off. Here's what I'm thinking about these days: food carts!
This is the most exciting food trend I've seen in years and it's only a matter of time before it sweeps the nation.  The city of Portland, Oregon already has more carts than the rest of the country put together, or so it seems (450 was the last number I heard, and that's up from 240 when I was there back in April—they're multiplying like bunnies!). But carts are now popping up everywhere, including on all the food channels, and I'm especially hoping to see more carts here in my home town, Charlotte, where the municipal codes will have to change before it can happen like it has in Portland.  In fact, I've heard that many cities are stifling the growth of food carts because of their rules and regulations, but really because it's a frightening concept, and a threatening one to existing brick and mortar restaurants. But cities like Portland and Austin have shown how the cultural identity of a city can be transformed by food carts, and how these carts can serve as incubators for the next generation of entrepreneurs and restaurateurs.
Some food carts and trucks can cost well in excess of $100,000 to get up and running, while mobile pizza rigs, which comprise a growing segment of the food cart phenomenon, are even cheaper at less than $25,000. So, even at the top end, the start-up costs are far less than with a traditional restaurant. But, as anyone who has ever operated a restaurant knows, it takes more than a good idea and great food to make a successful business. It's really like running a marathon race, and requires endurance and resiliency as much as talent. The operators that succeed and survive will do so because they have a fire in their bellies that allows them to overcome fatigue and roadblocks, literally as well as figuratively. 
But the most interesting thing to me about these carts, whether enclosed in a truck or in the open air as a pizza oven, is how excited the public gets when they discover them. In Portland, where there are so many to choose from, it's like being a kid in candy store (and there are some candy store food carts!). In cities with just a few carts, it's like discovering a forbidden pleasure. There's just something about this food cart movement that has touched a nerve in everyone on either side of the counter. When I stood in line at The Potato Champion in Southeast Portland, waiting for my duck fat French fried potatoes and poutine (don't get me started on poutine—look it up and get ready to scratch your head in wonderment), the anticipation among the gathered was palpable. I felt like I was having a tribal experience as much as a food experience. And it was like that at all the carts. Those who have already discovered the many incarnations of Korean Taco Trucks that are starting to show up in many cities, who track them down via Twitter at their secret locations (the stealth marketing is to avoid being fined by the local health departments), knows what I'm talking about. It's outlaw, it's counter-culture, it's original and, most of all, it's delicious. In some ways, food carts are the most authentic expression of the American spirit currently on display in a country that has been crying out for that original spirit and often embraces platitudes and cookie cutter menus instead of authenticity and originality.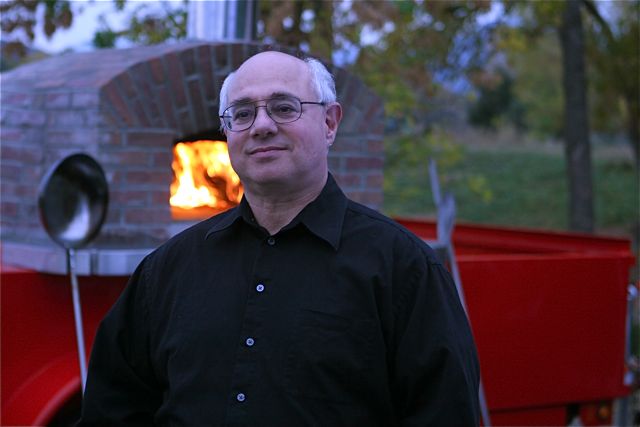 So, yes, this is what I've been thinking about lately. What do you think about it?
Peter Reinhart, Charlotte, NC
Comments
Pizza Quest Info
Resources
Vision Statement
Pizza Quest is a site dedicated to the exploration of artisanship in all forms, wherever we find it, but especially through the literal and metaphorical image of pizza. As we share our own quest for the perfect pizza we invite all of you to join us and share your journeys too. We have discovered that you never know what engaging roads and side paths will reveal themselves on this quest, but we do know that there are many kindred spirits out there, passionate artisans, doing all sorts of amazing things. These are the stories we want to discover, and we invite you to jump on the proverbial bus and join us on this, our never ending pizza quest.
Peter's Books
...and other books by Peter Reinhart, available on Amazon.com