Welcome to the "New" PizzaQuest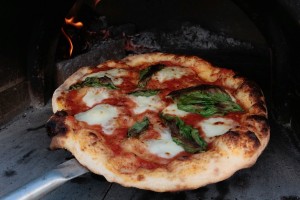 Hi everyone. I've been promising that a new PizzaQuest platform is coming and now, here at last, we've launched, thanks to all our friends and partners at Forno Bravo (check out their new site as well at www.fornobravo.com ). We're still tweaking things and I'm headed out for some travels, including the wonderful Kneading Conference in Skowhegan Maine (where this year I am the Keynote Speaker, check out www.kneadingconference.com for more details), so this is just a short welcome letter. When I get back I'll follow up with more posts and we've got all sorts of new video webisodes to share with you, as well more articles and photos from Brad English on his ongoing quest to make amazing pizzas at home, and new guest columns from others who are on their own journey in celebration of artisanship of all types.
We'll also soon have an announcement for the time and place of the upcoming Forno Bravo Expo, where we'll be filming new webisodes with some fabulous guest chefs and would love to have you join us. More details on that in a few weeks. In the meantime, if you are new to PizzaQuest feel free to catch up on the videos and posts from the past years and keep checking back as we begin a new season exploring with you this never ending journey that we all share. More soon….
Pizza Quest Info
Resources
Vision Statement
Pizza Quest is a site dedicated to the exploration of artisanship in all forms, wherever we find it, but especially through the literal and metaphorical image of pizza. As we share our own quest for the perfect pizza we invite all of you to join us and share your journeys too. We have discovered that you never know what engaging roads and side paths will reveal themselves on this quest, but we do know that there are many kindred spirits out there, passionate artisans, doing all sorts of amazing things. These are the stories we want to discover, and we invite you to jump on the proverbial bus and join us on this, our never ending pizza quest.
Peter's Books
...and other books by Peter Reinhart, available on Amazon.com