Update: Norma in Las Vegas
Just heard from Norma Knepp, who was interviewed earlier this week in my post on Tuesday. She has now returned from Las Vegas where she competed for the US Championship at the Pizza Expo. She reports that she had a wonderful time, met dozens of pizza luminaries, got interviewed for PMQ TV by our friend, Albert Grande, of PizzaTherapy.com, didn't place in the competition but had fun regardless (BTW, Nino Coniglio of Williamsburg Pizza in Brooklyn, won the grand prize and lots of prize money. More on Nino in a future post — this guy could be our next great pizza prodigy).  As you can see from the photo below, Norma obviously had some serious fun at the Expo, and I look forward to touching in with her from time to time. Great job, Norma, and thanks for sending this fun photo, courtesy of the Stanislaus Food Products booth!!!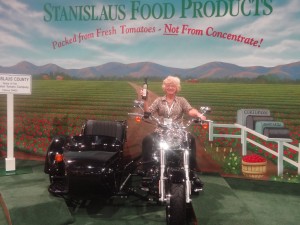 Pizza Quest Info
Resources
Vision Statement
Pizza Quest is a site dedicated to the exploration of artisanship in all forms, wherever we find it, but especially through the literal and metaphorical image of pizza. As we share our own quest for the perfect pizza we invite all of you to join us and share your journeys too. We have discovered that you never know what engaging roads and side paths will reveal themselves on this quest, but we do know that there are many kindred spirits out there, passionate artisans, doing all sorts of amazing things. These are the stories we want to discover, and we invite you to jump on the proverbial bus and join us on this, our never ending pizza quest.
Peter's Books
...and other books by Peter Reinhart, available on Amazon.com