Upcoming Master Class in Denver
Hi Everyone,
I'm beginning to line up a number of classes for September and October. In a few weeks I'll post more about these upcoming fall classes at King Arthur, Southern Season (Chapel Hill), Central Milling's new Baking Center in Petaluma, CA, and also in Reno at the Nothing To It Culinary Center, as well as a book signing at Omnivore Books in San Francisco. But, I first wanted to share this flyer with you regarding the upcoming Wood-Fired University Master Class, at Fire Within in Denver on July 22nd and 23rd.  We'll be making a number of breads, pizzas, and focaccias as well as all sorts of other wood-fired foods all cooked in the Fire Within mobile ovens. For more details, call 1-888-240-9758. Here's the flyer — hope to see you in Denver: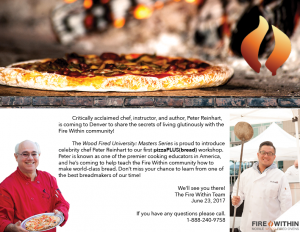 Comments
Pizza Quest Info
Resources
Vision Statement
Pizza Quest is a site dedicated to the exploration of artisanship in all forms, wherever we find it, but especially through the literal and metaphorical image of pizza. As we share our own quest for the perfect pizza we invite all of you to join us and share your journeys too. We have discovered that you never know what engaging roads and side paths will reveal themselves on this quest, but we do know that there are many kindred spirits out there, passionate artisans, doing all sorts of amazing things. These are the stories we want to discover, and we invite you to jump on the proverbial bus and join us on this, our never ending pizza quest.
Peter's Books
...and other books by Peter Reinhart, available on Amazon.com