Interview: Craig Priebe and "The United States of Pizza"
Note from Peter: Over a year ago, when I was in Chicago for a conference, I had a chance to taste a sneak peek of Craig Priebe's new book, The United States of Pizza (Rizzoli Publishing), a few months before it came out. Craig is the personal corporate chef for executives of a major Chicago company, and he invited me and a few guests to this private tasting in the company's Executive Board Room. Needless to say, it was overwhelming — the first thing we saw upon entering were two tables loaded with over 20 different types of pizzas, each one a "tribute" to a classic pizzeria version that Craig had discovered while on his own personal pizza quest. Clearly, here was a kindred spirit!  One of the most impressive things for me was that all of these pizzas were baked in a conventional home oven, not a fancy pizza or deck oven. In other words, they are all easily made at home!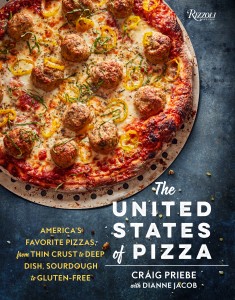 Now that the book is out (and selling briskly, I've been told), I caught up with Craig and asked him a few questions about the book and his journey. The photos here are mine, but the book is loaded with really excellent food photography by Jeff Kauck, with great back-story information on each pizza by Craig and his co-author, noted food writer Dianne Jacob. Congratulations to Craig and his whole team — this is a pizza lover's must-have!
–Craig, tell us how you came to write this book and about your own love affair with pizza?
Growing up in an Italian American family I had always been interested in cooking, particularly pizza and pasta. I had a good run with my own pizzeria for 7 years and I published my award winning recipes in my first cook book, "Grilled Pizzas & Piadinas" But I wanted to learn more about all the pizza you find in America. So I began to search for all the different ways we do pizza in America. The results after a 5 year study were impressive. I knew that these recipes across America must be written down, so I started writing. The results became my new book,  The United States of Pizza.
–You pay tribute to so many pizzas and pizzerias from around the country.  Why did you choose the ones you did and how did you figure out how to replicate them for a home oven? 
I reference 80 pizzas and pizzerias in the book. I wanted to do about 100 pizzerias but my publisher, Rizzoli, said the book was the right length and so I started cooking. Working at home in an ordinary household oven,  I knew that I couldn't get that oven to 850 degrees, so I had to adjust bake times and the dough ingredients were tweaked to maximize browning and crispiness.
I didn't want this book to be considered a best pizza list. I am sure there are many good ones that I did not write about. I just wanted every recipe on each page to be interesting. Each page would tell a story about a pizzeria across the land and each pizza would be something that was entirely different than the one next to it. I really like the varieties that The United States of Pizza displays.
 –Are there some pizzas that surprised you, or exceeded your expectations from when you first heard of them to after you tasted or made them?  If you had to pick a top 3 from the book, what would they be?
I really enjoy the Pierogi Pizza from Jigys Old Forge Pizza in Enola, Pennsylvania. I am amazed each time I make it how 3 pounds of gooey mashed potatoes can be held in a crust which is as thin as parchment. A mashed potato and Havarti stuffed pizza is a beautiful thing. I also am thrilled with any of the sour dough pizzas in the book. The sour dough takes about 5 days to proof , but it is worth every minute because the crust is a perfect thin veneer of crispiness with a soft tangy crumb just beneath that. It is really delicious.  I also love the Reuben Stuffed Pie, inspired by Dove Vivi in Portland, Oregon. It is a monolith wheel of Corn beef, Swiss, sauerkraut and  1000 island dressing. I love it and you can take it with you anywhere .
–What kind of cooperation did you get from the various pizzerias. Were they willing to share their secrets or did you have to ferret them out? Did anyone say, "No, I don't want to be in your book?"  
Speaking to pizzeria owners and chefs  was a great portion of my research. But I didn't ask anyone for their recipes. Recipes are often proprietary information and I didn't need their input to reproduce these pizzas. It was enough for me to research the menus and visit many of the pizzerias to eat the product to work the info into a great recipe that would faithfully reproduce each style. I have 30 years of experience writing recipes and cooking so I am quite capable to nail each one down and make it a great recipe.
–What are some of the things you learned about pizza while working on this book that you didn't know before, and what tips would you want to share with home cooks who want to replicate these recipes?
I became extremely good at making dough. I really have a feel for it after making thousands of pizzas. I was surprised at the variances in pizza across the United States. I was also surprised that I did not need a glorious pizza oven in order to make great pizza at home. Pizza is really about balance and getting  ratios of toppings and crust diameter and thickness correct. More is not always better. There are many other tips and techniques in the book.
–Any future projects coming up, whether pizza or not? What are some of your other food passions or obsessions? 
I am interested in pizza on a global level now. It is a big pizza world out there and I intend to discover all of it.   I cook every day and I make many styles of food. But pizza is my favorite, and I love pizza culture too. I like to learn the who, what, where, when, and why about all pizza everywhere.
Comments
Pizza Quest Info
Resources
Vision Statement
Pizza Quest is a site dedicated to the exploration of artisanship in all forms, wherever we find it, but especially through the literal and metaphorical image of pizza. As we share our own quest for the perfect pizza we invite all of you to join us and share your journeys too. We have discovered that you never know what engaging roads and side paths will reveal themselves on this quest, but we do know that there are many kindred spirits out there, passionate artisans, doing all sorts of amazing things. These are the stories we want to discover, and we invite you to jump on the proverbial bus and join us on this, our never ending pizza quest.
Peter's Books
...and other books by Peter Reinhart, available on Amazon.com