The Pizza Quest Challenge Pizza Dough
Germania,
milled by our friends at Central Milling (the actual mill is in Utah and the main office is in Petaluma, CA).  It is made in the Double Zero style, which means a super fine grind, but with protein levels near 12% (higher than its Italian counterpart and thus more absorbent of water).  In addition to two types of wheat flour in this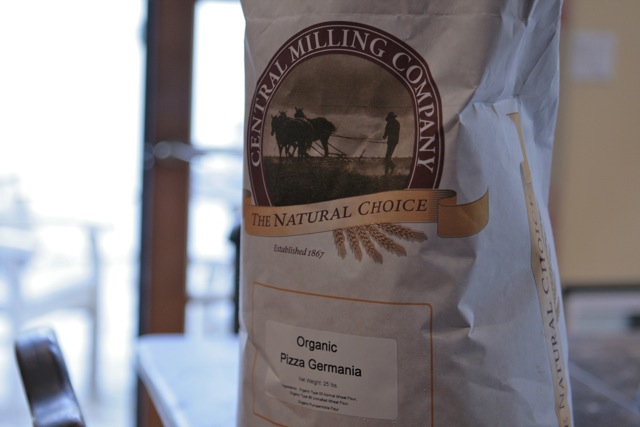 blend, there is also a small amount of pumpernickel rye flour. The actual amount is a proprietary company secret but in our version, for those who can't get their hands on Germania — which you would have to buy directly from Central Milling (see the end of the recipe) — I will give some suggestions below for creating your own version.  The malt crystal is a non-diastatic powder, meaning that the diastase enzymes found in barley malt have been deactivated during heat treatment and thus it is used strictly for flavor and not for it's enzyme function. We use approx. 4% malt to flour, which is a generous amount. Three ways to obtain the malt is through beer making supply stores or to go to your favorite micro-brewery and ask to buy some from them, or, when you call Central Milling to buy this flour, ask them if you can buy a pound of the malt (that's where I got mine). OR, you can buy barley malt syrup from a natural foods market or from your local bagel store, where you can plead your case  — some bagel shops will sell you some and others won't. The syrup is not exactly the same as the crystal but it still adds that nice malted barley flavor that evokes the flavors of malty beer and makes this an ideal pizza crust to enjoy while you're quaffing down your favorite brew. Note: This is not a beer dough, that is, I don't use beer as the liquid. You can always do that but I think it is a waste of good beer. Dough is solid beer–you are fermenting the grain in a dough form not a liquid form as you would with beer. So, while beer can work as a hydrating liquid it is somewhat redundant if you have the malt instead. Of course that's up to you and, if you want to sacrifice a pint in the dough to see how it affects the flavor, go for it. As for me, I'll be taking mine from a cold mug.
The Pizza Quest Challenge Dough (makes five 8 ounce/227 g dough balls)
For best results, this dough should be made at least one day in advance–it will also hold in the refrigerator for up to 3 days with good results. Any longer than 3 days and the dough will weaken (start to break down), though it can last for months if shaped into dough balls and frozen in small freezer zip bags.
22 ounces (624 grams) Germania flour or a blend of 20 oz./567 g of your favorite bread or Double Zero flour and 2 oz./56 g of pumpernickel or coarse rye flour or rye meal).  If you don't have a scale, this will be approx. 4 3/4 cups of flour.
0.5 oz/14 g. salt (a scant 2 teaspoons or 2 1/2 teaspoons if using coarse kosher or coarse sea salt)
1 oz./28 g crystal beer malt (light or dark–I use amber) or 1 1/2 tablespoons barley malt syrup
0.11 oz/3 g instant yeast (1 teaspoon)  OR, 1 1/4 teaspoons dry active yeast dissolved in 4 ounces of the water for about 3 to 5 minutes
16 oz/452 g  water, room temp. (if using Caputo or another Italian Double Zero, reduce the water to 14 oz/399 g)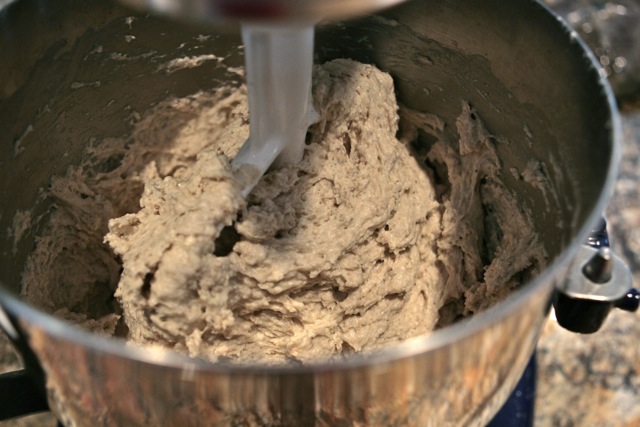 –In an electric mixer, using the paddle attachment, or in a mixing bowl with a large spoon, mix the dough on slow speed for 1 minute, or until the dough is fully hydrated and all the ingredients are evenly distributed (instant yeast goes right into the flour–it does not need to be bloomed in water, while active dry yeast does need dissolving, as described above, by pulling 4 oz. of water from the total). The dough will be coarse and shaggy at this point, and all the ingredients need to be hydrated.
–Let the dough rest for 5 minutes and then mix again on medium speed for 1 additional minute (or knead by hand on a clean, lightly oiled work surface), until the dough is fully developed (you can stretch a small piece very thin without it tearing to make translucent membrane). Adjust the water or flour as needed to make a very soft and supple, very tacky, almost sticky dough. If the dough is too weak to hold together, mix for an additional minute or so. If too sticky to work, sprinkle in more flour as needed. If too stiff, drizzle in a little water, one teaspoon at a time. –Form the dough into a ball by stretching and folding it, place it into a lightly oiled bowl large enough to accommodate it if it doubles in size, mist the top with spray oil or brush a small amount of oil on the surface, cover with plastic wrap (the whole bowl, not the dough), and let the dough sit at room temperature for 15 minutes. Stretch and fold the dough again (either in the bowl or on the counter) and return it to the bowl, mist with spray oil, and cover the bowl again with the plastic wrap. Then, place the bowl into the refrigerator where it will continue to rise overnight before going dormant. As noted above, you can use it anytime for up to 3 days or you can divide it immediately into dough balls and freeze them; they will keep for at least 3 months in the freezer where, when ready to use again, you transfer the frozen dough balls to the refrigerator the day before you plan to bake the pizzas and then treat as you would freshly made dough. –Remove the bowl of dough 2 hours before you plan to make the pizzas and divide the dough into 5 equal (approx. eight oz.) dough balls. Place the dough balls on a sheet pan or tray that has been lightly misted with spray oil. Keep them as separated as possible. Mist the top of the dough balls with spray oil and cover the pan loosely with plastic wrap, or place it into a can liner, to keep the dough from forming a skin. The dough will slowly wake up and start to swell. If the room is very warm, reduce the wake-up time to 60 or 90 minutes instead of 2 hours. –Prepare your ingredients and oven for pizza making. A baking stone is recommended. Set your home oven as high as it will go (convection is fine); if using a wood-fired oven, the deck should be about 550 degrees F/288 C, and the ambient ceiling temperature should be at least 800 degrees F/427 C.  The pizzas will take 5 to 8 minutes to bake in a home oven and about 2 to 3 minutes in a wood fired oven.  If using a pizza stone in a home oven, let it preheat for at least 45 minutes.
For more specific details on how to shape or make a pizza, toppings, and sauces refer to our Instructional videos, photos, and recipes, or obtain a copy of "American Pie: My Search for the Perfect Pizza."
To buy Germania Flour and malt crystal, contact Central Milling at (707) 778-1073, or visit their website at www.centralmilling.com/
This is a small batch recipe for making the Challenge Dough that is used in the pizza that we will be making for the public for the first time on September 30th in Denver at 7 PM at the Summit Beer Garden, just a few blocks from The Great American Beer Festival.  The ingredients that distinguish this from typical pizza crusts are the flour and crystal malt.  The flour that we are using is called
Comments
Pizza Quest Info
Resources
Vision Statement
Pizza Quest is a site dedicated to the exploration of artisanship in all forms, wherever we find it, but especially through the literal and metaphorical image of pizza. As we share our own quest for the perfect pizza we invite all of you to join us and share your journeys too. We have discovered that you never know what engaging roads and side paths will reveal themselves on this quest, but we do know that there are many kindred spirits out there, passionate artisans, doing all sorts of amazing things. These are the stories we want to discover, and we invite you to jump on the proverbial bus and join us on this, our never ending pizza quest.
Peter's Books
...and other books by Peter Reinhart, available on Amazon.com