The 2016 Asheville Bread Festival
For the past twelve years I have been a presenter at the annual Asheville Bread Festival. There are a lot of things I like about this festival, an event that celebrates bread,of course, but also something even deeper. In fact, it reminds me a lot of PizzaQuest, where pizza is just the tip of the iceberg as we explore what I often call, "a fire in the belly that drives some people to uncommon levels of excellence in many areas, whether through food, craftsmanship, art, work, or life in general." To make it easier to get our minds around it, we have gathered all of these burning, yearning pursuits under one banner: artisanship.
During my past 25 years of seeking and writing about the common bond that exists at this level of artisanship excellence, a few recurrent themes have emerged, many of which you see reflected in webisodes, guest columns, and recipe sections of PizzaQuest: First, being around passionate, driven, committed artisans is inspiring; second, many are called but few are chosen (or choose, that is), to make the difficult, sometimes painful, even sacrificial commitment to excellence; third, exposure to excellence of this type, whether it be via simple pizza or complex culinary artistry, or music and the other arts, touches us deeply and often changes us in meaningful ways.
So, for me, going to Asheville every year for this one day bread festival, is not just about having a fun-filled day tasting breads and meeting up with the far-flung baking community, bread lovers, and bread heroes, or sharing my latest bread findings during my annual 90-minute demo presentation. Something else definitely happens when like-minded people, kindred spirits, gather. It's kind of tribal, if you will, adding up to more than the sum of its parts (the ancients called it synergesis), and sometimes the fullness of it doesn't even hit until weeks or months later. Being around dozens of hard working, talented bakers while they showcase their loaves, and seeing how from year to year their breads keep improving, does inspire me and gives me a sense of inner satisfaction because I'm old enough to remember (as are many of you, I think) when not only was our daily bread not very inspiring but, even worse, no one really cared — the fallen state of bread wasn't an issue other than in very small enclaves. But it was from these enclaves, the few and far-between outliers like those who attend bread festivals, that momentum grew, little by little, through the '60's but really taking a leap in the '80's and '90's until, now, we really do have new benchmarks in bread. And I could have said the same exact thing about beer, cheese, farm to table restaurants, and, of course, pizza.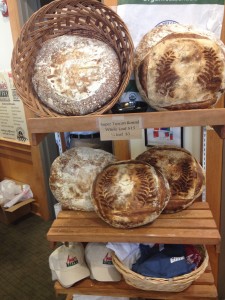 This year at the festival I spoke about sprouted wheat and other sprouted grains (sprouted grain is my big theme these days), and made two types of sprouted flour loaves using cooked grain in the dough. Every year there's something new to talk about and demonstrate, and every year the attendance gets bigger and bigger.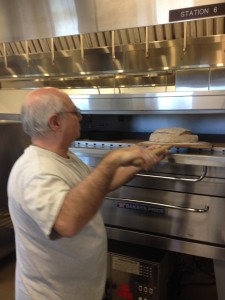 Because of the festival I've gotten to know Jennifer Lapidus, a wood-fired baker famous for a naturally leavened whole grain, Flemish-style sourdough bread called desem, who, for a few years, made a couple hundred loaves a week in her hand-built brick oven, for which she also chopped all the wood and milled the flour herself. She then decided to do something else and passed on her oven, which is behind her house, to two other bakers who each, in turn, leveraged their own small beginnings into nationally prominent reputations: Dave Bauer, of Farm and Sparrow Bakery, and also All Souls Pizza, which was just featured in the New York Times, and Tara Jenson, who was featured in Bon Appetite Magazine for her unique bakery (and, really, more than a bakery, called Smoke Signals). To complete the circle, Jennifer, having passed on the use of her oven to others, then took her experience of milling her own flour, and of developing relationships with the local wheat and grain farmers who grew her wheat, spelt, and rye, and started Carolina Ground, Asheville's signature artisan flour mill. Local mills are one of the major trends these days in the greater artisan community, and Carolina Ground is one of its beacons. All of these things, and many other stories of inspiration, have come into being during the 12 years I've been going to the festival. Next year I should have a few new heroes to tell you about.
A festival, by traditional definition, is a gathering of people to celebrate life and the Giver of life, through the various symbols that help define their worldview, whether it be through music, dance, art, story-telling, or ritual and symbolic foods (usually a combination of all of these). Most festivals usually have a commemorative bread associated with them, so it is only apt that there now are festivals dedicated to bread itself. Not only is bread a symbol of life throughout the world but, as I see every year in Asheville, it has a life of its own and, partaking of it at the festival has an invigoratingly inspirational effect on most of the folks who attend. We always wrap up the day with a gathering and dinner of all the bakers, millers, and anyone else who wants to attend. This year it was held along the banks of the French Broad River in the River Arts District of Asheville, a newly thriving, resurrected section of town that has risen from the ashes of the old mills. How appropriate!
I would love to hear stories of similar festivals in your part of the world (for instance, I'm planning to attend, for the first time, the Fermentation Festival in Wisconsin this fall — I'm very excited about that and will share my adventure when I return from it!). Send a short synopsis of your story to me at peter@pizzaquest.com and I'll pick some of them to be more fully written up by you for inclusion here on PizzaQuest as a Guest Column. Till then, may your pizzas all be perfect and may your bread always rise!!
Pizza Quest Info
Resources
Vision Statement
Pizza Quest is a site dedicated to the exploration of artisanship in all forms, wherever we find it, but especially through the literal and metaphorical image of pizza. As we share our own quest for the perfect pizza we invite all of you to join us and share your journeys too. We have discovered that you never know what engaging roads and side paths will reveal themselves on this quest, but we do know that there are many kindred spirits out there, passionate artisans, doing all sorts of amazing things. These are the stories we want to discover, and we invite you to jump on the proverbial bus and join us on this, our never ending pizza quest.
Peter's Books
...and other books by Peter Reinhart, available on Amazon.com