Peter's Blog: Upcoming Classes and Events
Hi Everyone,
Here's an update on some classes and events coming up over the next couple of months:
One of the most exciting (or those who love near Chapel Hill, NC, that is) is the Festa Italiana, Friends of James Beard Benefit that will be held on Thursday, September 14th at Il Palio Ristorante, located inside my favorite Chapel Hill hotel, The Sienna. Il Palio's talented chef, Teddy Diggs, has assembled an all star line-up of 11 award winning chefs, mixologists, and sommeliers to create a memorable, one of a kind feast. Proceeds will go to the James Beard Scholarship Fund.  For a full description and list of the all stars who are donating their time and creativity, and to reserve a ticket (I believe there are are less than 10 seats left), Click Here to go to the eventbrite page.
(Note: One of the guest chefs is me — well, guest baker — as I will be making my signature ciabatta al funghi, which will be served throughout the meal. If you attend, please be sure to introduce yourself.
The following Saturday morning, Sept. 16th, I will be teaching a bread baking class at Southern Season Cooking School, also in Chapel Hill. Check their website for details. The last I heard there were just a few seats left. Click Here
The following weekend, Sept.22-23, I'll be teaching at King Arthur's Baking Center in Norwich, VT. Here's the link. Again, I heard there were nearly sold out. If you've never been to Norwich, it's like stepping into a Norman Rockwell painting, but one filled with amazing breads and pastries! Click Here
And, finally, I'll be in Petaluma, California for a two-day hands on Master Class at the Central Milling Baking School on October 6th and 7th. This is a new school, hosted by one of our finest Artisan and sprouted flour companies.  The class hasn't been posted on their website yet but you can write to Jim Valavanis, the class coordinator, for more details at jim@centralmilling.com 
After I return from California I'll be headed to Atlantic City on October 17 and 18 for the first ever Pasta and Pizza Northeast Show, where I'll be interviewing pizzaiolo Joe Beddia on the stage, as well as a second panel with three of the nations finest pasta makers.  More details on this here: Click Here
Okay, enough coming attractions for now. We'll be back next week with an exciting new post!
Till then, may your pizzas all be perfect!
Peter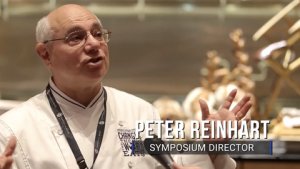 Pizza Quest Info
Resources
Vision Statement
Pizza Quest is a site dedicated to the exploration of artisanship in all forms, wherever we find it, but especially through the literal and metaphorical image of pizza. As we share our own quest for the perfect pizza we invite all of you to join us and share your journeys too. We have discovered that you never know what engaging roads and side paths will reveal themselves on this quest, but we do know that there are many kindred spirits out there, passionate artisans, doing all sorts of amazing things. These are the stories we want to discover, and we invite you to jump on the proverbial bus and join us on this, our never ending pizza quest.
Peter's Books
...and other books by Peter Reinhart, available on Amazon.com