Peter's Blog, IACP Conference, First Recap
IACP Conference
, which I referenced a couple of posts ago (especially for those culinarians among you who may want to join).  I think of it as fantasy camp for professional foodies.  There were over 40 workshops, panels, tasting sessions, field trips, throughout the conference so it was impossible to attend more than a small percentage of them — which is why so many of us come back every year, to make up for the ones we missed. Here's a list of some of the things I did:
–"Eat the Street,"
a tour of Queen's famous Roosevelt Ave. in Jackson Heights, considered to be the most diverse street food scene in the world. In our short (but very filling) tasting, we had Tibetan
Momo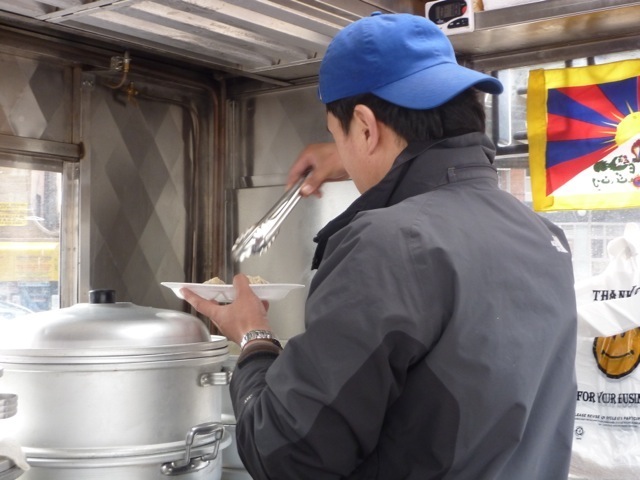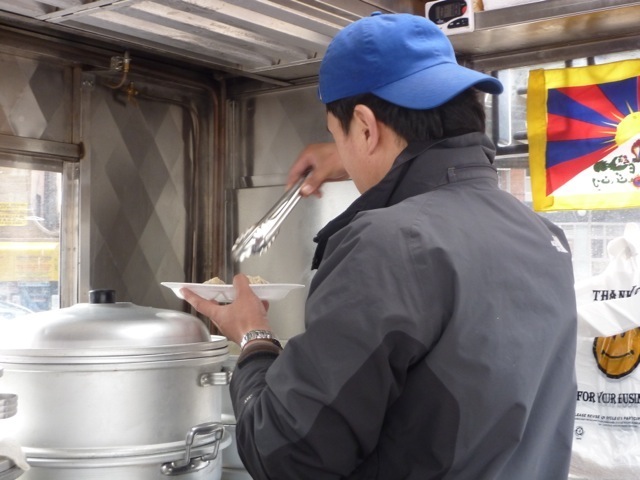 dumplings filled with a tender, spicy meatball; Ecuadorian
Bollos de Pescado
(a plantain wrapped fish tamale); a classic Elote tamale bought from a little old lady holding an insulated box filled with them; an amazing Columbian cassava (tapioca) and cheese filled roll called
Pandebono
(chewy and cheesy–I could have eaten them all day and I definely plan on learning how to make them!); one of the most popular and successful street taco trucks, run by Mirna Allone, called
Mexico Lindo
where the tacos and also the homemade hot sauces and salsas are truly quest-worthy; and then we had a killer street quesadilla at another stand,
Las Quesadillas de la 86,
which were like the tacos except they were grilled to order on a small outdoor flat grill, serving business men in suits as well as pedestrians like us; and then we washed it all down with a wonderful Columbian rum-spiked coffee called
Caraljillo,
at a sweet little jazz bar called
Terraza 7
. There were other bites in-between — I can't recall them all — but we were stuffed by the time we got back on the elevated/subway #7 train and headed back to Manhattan.  I could (and probably will) do a whole posting on this excursion alone, as it fits so nicely in with our Pizza Quest themes, so I'll quickly mention some other conference highlights and return at another time to expand upon my Roosevelt Ave adventure over the next week or two. But let me say thanks to tour leader Andrew Silverstein, who is putting himself through an economics doctoral program by taking people on these street food tours. If interested, contact him at: streetwisenewyork.com  Thanks also to John Rudolph, Executive Producer of the NPR series Feet in Two Worlds, who documents these inspirational immigrant stories on radio (news.feetintwoworlds.org) , and to Fany Gerson, who provided additional commentary from her perspective as a Mexican-born baker and author now living in New York City. Other highlights (and I can see now I'll really have to do this as a series of blogs since each one deserves more space than I can give here):
–A "conversation on the stage" between author
Ruth Reichl
(formerly of Gourmet Magazine and before that the restaurant critic for the New York Times) and super chef
Grant Achatz
(of Alinea and also Next, in Chicago) on future things we might see in restaurants (inclduing food that actually levitates before you eat it!).
–A presentation on the new generation of reinvented Jewish deli's, with Ari Weinzweig (co-founder of the famous Zingerman's in Ann Arbor, MI), author and Jewish food expert Joan Nathan, Ed Levine (pizza expert and founder of Serious Eats), and Noah Bernamoff, owner of Mile End Delicatessen in Brooklyn, an example of this new renaissance in Jewish deli's (he brought along some of his Montreal-style smoked brisket — pastrami to the rest of us — which made him instantly one of my favorite people at the conference.
— A discussion of how traditional recipes from classic French cuisine evolve over time, featuring cooking teacher extraordinaire
Anne Willan (of La Varenne), Master Chef Daniel Boulud, and award winning author Dorie Greenspan.
–A presentation on the growing phenomenon of food festivals — and how hard it is to do one properly — by folks who have put them on in Austin, Portland, and in Panama.
–A panel on The Fashion of Food, with super-star chef Marcus Samuelsson, Bon Appettit's Editor-in-Chief Adam Rapaport, New York Times food writer Kim Severson, and Susan Lyne, founder of the on-line magazine and food emporium Gilt Taste.
–A panel on how food can make a city famous (that's a big question we keep asking here in Charlotte, as we see cities like Portland Austin, Charleston, and of course, NYC, Chicago, and London accomplishing exactly that).
–A workshop on the next frontier in baking using sprouted wheat flour and other sprouted grains, by Peter Reinhart (hey, that's me — I'll write more about how this went in a future posting but for now I will say it was a success — and thank you to the team at the French Culinary Institute for all their help).
–A product and information fair where we got to taste, touch, and see all sorts of new foods and tools.
—Media tours to various magazines, the Food Network test kitchen and studios, and independent production studios.
–And, of course, the grand finale Awards Gala, where Pizza Quest almost won for Best Food Blog.
–Last but not least, time to visit a few of the fabulous NYC restaurants, in my case, Mario Batali's Lupa and new Iron Chef Marc Forgione's called (surprise), Marc Forgione.

More on all of this in coming postings, but for now, I'm still standing, gained only a few pounds because of all the walking I did (NYC is a great walking city!), and I returned home to tell about it. Next week we'll dig a little deeper into some of the key takeaways I got from this adventure. Next year the conference will be held in San Francisco, my old stomping grounds, so you know I'll be there! If this little tease of some of the things that go on at the conference have enticed you, perhaps you will be there as well.
PS If any of you who reading this were also in NYC at the conference, I'd love for you to chime in below, in the comments section, and share some of your own highlights.
Last week I spent five exciting days in NYC attending the annual
Pizza Quest Info
Resources
Vision Statement
Pizza Quest is a site dedicated to the exploration of artisanship in all forms, wherever we find it, but especially through the literal and metaphorical image of pizza. As we share our own quest for the perfect pizza we invite all of you to join us and share your journeys too. We have discovered that you never know what engaging roads and side paths will reveal themselves on this quest, but we do know that there are many kindred spirits out there, passionate artisans, doing all sorts of amazing things. These are the stories we want to discover, and we invite you to jump on the proverbial bus and join us on this, our never ending pizza quest.
Peter's Books
...and other books by Peter Reinhart, available on Amazon.com