Peter's Blog, August 2nd, 2011
fromageries
and
patisseries
. While we were in Philly, I got an e-mail from Brad English, who was up the road in NYC, filming a television commercial (that's what he does when he isn't shooting Pizza Quest webisodes or cooking on his grill), telling me that he had just discovered Tony Gemignani's new restaurant,
900 Degrees
. The name refers to the oven heat that he uses to make his world championship Margherita pizza, which you will see on an upcoming webisode when we visit with him at his San Francisco location,
Tony's Pizza Napoletana
. But, that name and temperature barely describes the enormous vision behind Tony's restaurants (he also now has a place in Sacramento and more are on their way), the main feature being that you can get almost any style of pizza and, for each style, he has the appropriate oven. Again, you'll see all this when we show the webisodes later this month, but if you want to get a sneak preview go to his website, www.900degrees.com   and also read Adam Kuban's fine review on SliceNY at: http://slice.seriouseats.com/archives/2011/06/900-degrees-almost-as-many-pizza-options.html. Here's a few photos that Brad took when he had lunch there — the pizzas were made by Tony's protegee, Audrey Pagnotta Sherman, who you will also see in our SF webisodes — we met her there while she was studying with Tony. She must have passed the tests because she is now the lead pizzaiola at 900 Degrees! More on all this later, when we have some footage to show you, but we're excited to share this news and it was good timing for Brad to be there while I was in Philly, about to have my own pizza adventure at the now famous
Osteria
, quite arguably (according to my mother, who knows such things) Philadelphia's best restaurant.
Osteria
is part of the James Beard Award winning Marc Vetri's growing restaurant empire. Marc is one of the finest chefs of Italian food in the world, and his first restaurant, Vetri, has earned every award possible and put him into Michelin territory. But, it's small and uber-expensive, so a few years ago he opened
Osteria
, along with culinary partner and Executive Chef Jeffrey Michaud, and this place has been hopping from day one. It's not cheap but it's affordable for the masses and the masses have descended. In LA we profiled Nancy Silverton and Mario Batali's restaurants,
Mozza
and
Pizzeria Mozza
— two amazing restaurants, next door to each other, but only one serving pizza. In San Francisco we showed you Craig Stoll's
Delfina
and
Pizzeria Delfina
, two restaurants next door to each other but only one serving pizza. But
Osteria
is one restaurant, serving both great Italian food and also great pizza — it is, to mix the metaphor, the whole enchilada! The pizzas are consistently rated among the best in the country, but whenever I go to
Osteria
I always just start with pizza (fortunately, the crust is very thin and not too filling), and then go on to the
primi's
and
secundi's
and desserts– you really have to because you don't want to eat there and not partake of it all. Let me give you an example. The pizzas we had included the following: –The
Polpo
, which has octopus, tomato, smoked mozzarella, and red chili flakes (the wood fired oven gives the octopus, which I think is marinated in lemon juice, though I could be wrong, just the right note of charredness around the edges).
–The Melanzana: eggplant, goat cheese, heirloom tomatoes, and fresh oregano.
–The Mortadella: Siciliano pistacchio pesto, fresh mozzarella, and thin slices of mortadella.
–Classic Margherita.
There was also a fresh corn, bufala mozzarella, truffle, and charred scallions pizza called The Pannochia, but I didn't see it in time to add to the assemblage (I might need to jump on a plane and go back for that one).
We also had, as our antipasto, a baked goat cheese sformato (a cross between a souffle and a flan) with chanterelles and a currant vinaigrette. In the primi's, I really wanted to try the chicken liver rigatoni with cipollini onions and sage but instead we had an amazing corn cavatelli with corn bolognese sauce (let your imagination figure it out), and a robiola francobolli "postage stamp ravioli" with royal trumpet mushrooms and thyme.
Then, on to the
secundi
, where we chose whole roasted pork rack with fresh plums, fennel, and celery, as well as skate wing "
alla piastra
" (meaning cooked on a flat griddle, but it sounds so much sexier in Italian) with cockles, zucchini, and tondini beans. The skate was crisp on the edges and lobster-like in the center. My niece, who never had skate before, said this was her favorite course of the night.
There were eleven of us and the meal was served family style. We were there for a family celebration so we reserved the "Chef's Table" which, at Osteria, is actually in the pastry kitchen, around a huge butcher block table. This isn't a restaurant review, just a report on a remarkable meal that, as we've so often noted, will now become part of an historic taste memory for eleven family members who don't get to see each other often enough but will now have a deeply embedded common memory peg and reference point.
Oh, lest I forget, the desserts included sweet corn fritelle — fritters– with sweet corn gelato (it was obviously high corn season in Philly this week); lemon and raspberry charlotte; white wine poached peaches with brown sugar gelato and croccante (ie, crunchy) cookies; and the signature dessert of desserts, polenta budino (pudding) with gianduia (hazelnut/chocolate) mousse and candied hazelnuts. You can see, just by the names, without any descriptiveness on my part, how exciting such an evening can be. I'd happily describe more menu items that we didn't get but that would just add cruelness to this rubbernecking.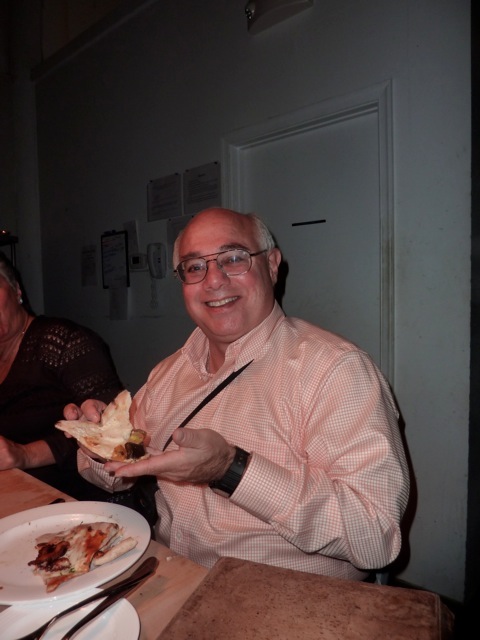 My point is not to gloat but to exult and to highlight what I think is a relevant observation: a few years ago, restaurants in this country serving food of this caliber were few and far between and pretty much reserved for the rich and the famous. But Osteria is part of a growing movement that has taken high cooking into mainstream dining; or rather, has raised the bar of the mainstream so that more of us can experience previously unattainable gastronomic pleasures. The Mario Batali's,  Craig Stoll's, and Marc Vetri's of the world (and in this case I'll also cite Osteria's Jeffrey Michaud, who has been at the helm since my first visit a few years ago and was just named by Philadelphia Magazine as their favorite chef of the year) have created within their realms tiers of dining that always begin at the rarefied and then, by opening osterias and pizzerias, create a trickle down to larger, fairly priced venues that allow more of us to experience a new benchmark. In other words, they become educators of our palates as we encounter foods previously beyond our ken (I'm speaking very generally here, for my fellow publicans and plebians, not for those who have always had access to such wonderfulness). These new-generation restaurants make known and easily accessible to us a culinary awakening. In describing what budino is to one of my relatives I said, "A few years ago only a few restaurants in the USA served it and now it is the hottest dessert in semi-fancy restaurants, it has already tipped over and I expect it will soon be served in Olive Gardens and Applebees everywhere. But it won't be as good as this one." (After all, it's just pudding, anyone can make pudding. Of course, anyone can make pizza too but, as we all know, there is pizza and then there is memorable pizza)
There are also meals and there are, every once in a while, memorable meals, and we also know that the food is just one component of what makes a meal memorable. But, when the stage is properly set and the food is prepared at the benchmark level of "memorable," then the possibility of magic is present, as it was for us on Saturday.
Isn't that what this quest is really about?
Susan and I spent the weekend in Philadelphia for a Reinhart family reunion and to celebrate my mother's 80th birthday, and I had chance to revisit some of my childhood haunts and spend time with old friends prior to the big event. I had planned to stop at Mama's to pick up a cheese steak (the best!) on our way in from the airport, but our flight got delayed and there wasn't time, so Mama's will have to wait till the next trip — drat!! But the chocolate croissants at George Perrier's new The Art of Bread, in the now trendy town of Narberth, about a mile from my childhood home, filled the void the following morning. This was not the Narberth of my youth, though Ricklin's Hardware Store and Mape's Five & Dime are still there, serving as the requisite retro icons necessary in a renewed and transformed village, sitting astride some impressive
Comments
Pizza Quest Info
Resources
Vision Statement
Pizza Quest is a site dedicated to the exploration of artisanship in all forms, wherever we find it, but especially through the literal and metaphorical image of pizza. As we share our own quest for the perfect pizza we invite all of you to join us and share your journeys too. We have discovered that you never know what engaging roads and side paths will reveal themselves on this quest, but we do know that there are many kindred spirits out there, passionate artisans, doing all sorts of amazing things. These are the stories we want to discover, and we invite you to jump on the proverbial bus and join us on this, our never ending pizza quest.
Peter's Books
...and other books by Peter Reinhart, available on Amazon.com