My New Bread Course is Finally Available!!
Hi Everyone,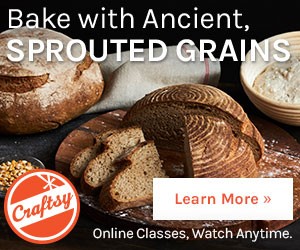 This is an exciting week for me as, after months of preparation and a week of filming in Denver, my new Craftsy course, Artisan Bread Making: Ancient and Sprouted Grains,  is now up and running!  For those of you who aren't familiar with Craftsy, it is a very dynamic, online streaming education company that has produced over a thousand video courses on subjects as diverse as quilting, sewing, cake decorating, woodworking, spinning, weaving, and, of course, cooking and baking. A recent class on Indian curries, taught by my friend Raghavan Iyer, for example, just won a James Beard Award!  The courses usually consist of six 20 minute (approximately) lessons, along with downloadable printouts of recipes, instructions, resources, and the like, as well as an interactive Q&A section where the instructors field your questions and also get some group discussions going.
Many of you already have my free Craftsy Perfect Pizza at Home mini-course (we have over 200,000 students for that one!), as well as my first Artisan Breads course, so I won't get into all the ins and outs of how the classes work. But, for Pizza Quest followers, Craftsy has allowed me to post a link that makes this new course available to you for half price, so here it is: www.craftsy.com/ext/PeterReinhart_11095_H .  Instead of $39.99, you can get it for $19.99 if you go through this link.    (Note: You can also get the original Artisan Bread Making course for half price by going here: http://www.craftsy.com/ext/PeterReinhart_104_H )
For me, teaching people to bake bread has become my life's work, not just because I like bread, which I do (let's face it, who doesn't, especially pizza freaks who read our postings here, since pizza is just bread with something on it). As many of you already know, bread baking grew out of my former life in ministry, when my wife Susan and I opened Brother Juniper's Cafe and Bakery back in 1986, in Forestville, California (Sonoma County) as a way to provide jobs for local high school kids and to also support the religious community in which we lived. I discovered that, in addition to cooking, I had a knack for bread making and, before long, the bakery outgrew the restaurant and we were getting written up in the New York Times and other journals. I wrote a book about it in 1991, Brother Juniper's Bread Book: Slow Rise as Method and Metaphor, and that began a 25 year exploration of the intertwining of bread and life that eventually led to a teaching career and 9 other books and, of course, a side excursion in the wonderful world of pizza via PizzaQuest.com. What I realized, to distill all those years of reflection and the many words I've used to describe it, is how bread is the perfect symbol for transformation, which also explains why it is so central in all religions and in culture, because what it symbolizes is us, all of us, in our unfolding journey of self-discovery and  personal transformation. I won't rehash the whole spiel here — for my riff on the 12-stages of bread as a metaphor for the journey of life you can read my books, or watch my TED Talk at http://www.ted.com/talks/peter_reinhart_on_bread or, (and you knew this was coming) sign up for my new Craftsy course.
But the point of what I just wrote is that the breakthrough for me regarding bread as a "window into the mind of God" (which, by the way, is the proper theological definition of what the word icon means, so I guess you could say that bread is my icon), began with a bread called Struan, a harvest bread associated with Western Scotland and the festival of Michaelmas. When I discovered it about 35 years ago (1981 to be exact), not as a recipe but as a poem called The Blessing of the Struan, recovered by the Celtic  folklorist Alexander Carmichael, it triggered a fascination for bread.
The making of this bread, which became by far the best selling bread in our bakery, led to a realization that in its own journey from wheat, transformed into flour, and then transformed again into dough imbued with life through the addition of leaven (the word means "to enliven"), and then transformed yet one final time from dough into bread though a series of physical and chemical transformations and a final act of sacrifice by the leaven itself, giving up its life in the oven so that the dough could become bread, that I finally understood how bread became the central global symbol and metaphor for life. The word struan, translated from the orginal Gaellic, means a convergence or confluence of streams, and soon I realized that my own life, and it's many phases and adventures, is also a confluence and a convergence of streams and, thus, Struan became the metaphor of me.
So, it should come as no surprise that Struan is still, after all these years, my single favorite bread, not just because of it symbolic meaning but, also, because it tastes really good and makes absolutely the best toast in the world. Even MFK Fisher, in her foreword for my first book, called Struan, "…the best bread in this present world." It plays a prominent role in at least half of my books, as I continue to tweak it in search of the most perfect version possible and, at last, in this new Craftsy course, I show a new way to make it that, dare I say it, is as close to perfection as I've ever known — especially when toasted and served with butter and jam. A slice of Struan toast makes me think that we can live by bread alone.
Let me know, via the Q&A section of the course (or here via the Comments section), if you are a PizzaQuest follower and, especially let me know if and when you make Struan toast. I'd love to hear if it does it for you the way it does it for me. May your bread always rise!
Peter
P.S. All registrations through the 50% off link in the blog will be entered into a drawing for a FREE registration to my first Craftsy class or any Craftsy class of their choice! Click here for drawing rules and conditions.
Comments
Pizza Quest Info
Resources
Vision Statement
Pizza Quest is a site dedicated to the exploration of artisanship in all forms, wherever we find it, but especially through the literal and metaphorical image of pizza. As we share our own quest for the perfect pizza we invite all of you to join us and share your journeys too. We have discovered that you never know what engaging roads and side paths will reveal themselves on this quest, but we do know that there are many kindred spirits out there, passionate artisans, doing all sorts of amazing things. These are the stories we want to discover, and we invite you to jump on the proverbial bus and join us on this, our never ending pizza quest.
Peter's Books
...and other books by Peter Reinhart, available on Amazon.com