Interview with Albert Grande of PizzaTherapy.com
 Note from Peter: I met Albert Grande a number of years ago when he wrote to me about his website, pizzatherapy.com, which I immediately loved, and we've been corresponding ever since. I think of "Pizza Therapy" as an ongoing love letter to all of us, from an east coast guy transplanted to Hawaii, about the pizza memories of his youth. But, of course, it has become much more than that over the years, with a huge following, so I asked Albert if he'd tell us more about it, and about himself. Many of you are already followers of his site but, for those who haven't been there, see below for links. In the meantime, enjoy our conversation:
PQ (Peter):    Albert, thanks so much for doing this interview. You've been doing your site, PizzaTherapy.com for a long time now. I still have the t-shirts you sent me when you first launched – the ones that say "Pizza on Earth" — and I wear them all the time. They've held up well, at least ten years or maybe longer, so that must have been decent cotton! How did you get PizzaTherapy.com up and running?
Albert: I started making pizza with a recipe my mom gave me. I found that when I made pizza and shared it with friends, family and my students, they were always enthusiastic and filled with joy. I found my own passion and love for making pizza and sharing that with others.
A few years later my dad became quite ill. This was around 1999. I remembered that when we were teenagers, he would make pizza for me and my friends. He would stop at a bakery on his way home from work and buy several pounds of dough. He stretched out the dough, threw on some toppings and he made magic happen in the kitchen. Out of the oven came incredible homemade pizza. My friends and I were amazed. As we sat around eating pizza we would engage in wonderful conversations; sometimes about our lives and values, sometimes about total nonsense. My dad would be part of the discussions and act as a moderator, coach, and court jester. My friends still talk about those pizza making adventures to this very day.
As I thought about my dad and his pizza making it came to me: he understood the power of pizza. Not just as a food but as a way to break down barriers and have all these punk teen agers engage with him about life. It was not just the pizza but also the healing that went on as we got in touch with our feelings and shared what was important to us. The words hit me: sure it was "Pizza" but it was also a type of healing or therapy.
And that's how Pizza Therapy came to be, a way for me to honor my dad. So when you think of Pizza Therapy, know you are giving a shout out to him. And he is smiling right back at you!
As far as the t-shirts, I do have pizza t-shirts available at the Pizza Therapy website. You can also see some of the new designs at this link: http://pizzatherapy.com/t 
PQ:             How has the pizza scene in Hawaii changed since you first moved there, craving your East Coast pizza?
Albert: The craving for the East Coast pizza never changes. I can't find a Pepe's or Sally's in Hawaii. But with all things you miss, you make the best of it and pizza is on the top of the list!
I live on Oahu, so I can address the pizza here. The pizza scene has changed on the other Islands as well. If you had asked me 8 years ago, I would have said my pizza was some of the best pizza in Hawaii. Pizza in Hawaii has dramatically improved since then. As you predicted a number of years ago, the artisan pizza movement has changed the entire pizza landscape across the United States.  Hawaii has been swept up in the movement.
Pizza places such as JJ Dolan's and the Pizza Corner offer great New York style pizza. The Pizza Corner also offers a Poke (Raw Fish) Pizza, which is very interesting. Inferno's and Pacifico Pizza create excellent Neapolitan Pizza. Pacifico Pizza creates many different types of pizza as well. There are at least 3 mobile pizza operations based on the Fire Within model, which make excellent pizza. The pizza is made in wood fired ovens. Each one has a slightly different twist to making pizza and the pizza is very good. There are other great pizza places all across Oahu. I'm on a mission to discover them all.
There have been a couple of pizza places with very good pizza, that have gone out of business here in Hawaii. As you discuss in American Pie, just because you make great pizza does not mean you will have a successful pizzeria. There is much more to the business of pizza than just making great pizza. Many potential pizza owners do not realize the business end of the pizza business. Sadly they end up failing.
There is a new pizzeria called Brick Fire Tavern opening soon which will offer authentic Neapolitan Pizza. The pizzeria owners were trained in Italy by Enzo Coccia. I'm looking forward to eating their pizza.
I'm happy to report that pizza in Hawaii just gets better and better! I have new pizza places to discover right here in my back yard! That is very exciting.
I want to add a piece of information about the Pizza Therapy influence in Hawaii. I am a Special Education teacher and I've have shared pizza making with my students in Hawaii over the years. My students and I have made pizza countless times. For the last couple of years, I partnered with another teacher who brought her students into my class to make pizza. The process takes two separate classes. One day we make dough, the next day we make pizza. Because of scheduling so of many students, we have had to be creative in the process. But somehow each quarter we have worked it out.
The joy and excitement of seeing students make pizza for the first time is incredible. Last school year we cycled through over 100 students. We ended up making over 150 pizzas. We happily shared the extra pizzas wherever we could. I like to think the joy of pizza making has rubbed off on them. So who knows? There may be an up and coming pizza master from Hawaii in the not-to-distant future. The students all loved making pizza and I know it has made a difference for them. I like to think this is grass roots Pizza Therapy!
PQ:  Tell us about some of your favorite moments since launching the website?
Albert: There are a number of landmark moments with Pizza Therapy. One of the first was the publication of American Pie. Your mention of Pizza Therapy gave me credibility and opened lots of doors in the pizza world for me. I was able to interview Tony Gemignani, (Tony's Pizza Napoletana), Chris Bianco (Pizzeria Bianco), the late Ed LaDou (who was the pizza genius behind Wolfgang Puck's pizzas), and Brian Spangler (Apizza Scholls).
Pizza Therapy has been mentioned in 3 other books, television, newspapers, national magazines and given credits in a movie. I was interviewed about Pizza Therapy by a radio station in Argentina. Last year I was featured in a piece in Hana Hou, the Hawaiian Airlines Magazine.
The magic of pizza never ceases to amaze me. For example, I have long been a supporter of Tony Miura's Slice of Brooklyn Pizza Tour. My family planned to spend some days in New York, and were very much looking forward to taking the tour and made reservations. A few days before the tour Tony called me up and explained, he would be unable to do the tour on that particular day because Bruce Willis was filming a movie at one of the featured pizzerias. However, he said he booked tickets for us on another pizza tour. I would love this guy he stated.
We ended up taking Scott's Pizza Tours. That's how I met Scott Wiener. My pizza appreciation and knowledge has been greatly enriched since that day. We eventually did make it back to New York and went on Tony's Slice of Brooklyn Tour and loved it. So next time you see Bruce Willis, tell him I am grateful to him for increasing my appreciation for New York pizza!
One of the favorite moments has been going to Pizza Expo. My brother Tom gave me the birthday present of a flight to Las Vegas to attend Pizza Expo about 7 years ago. I've been attending ever since. Pizza Expo has taken my pizza path to the stratosphere. From the first time I attended I was honored to spend time with John Arena (Metro Pizza). John is certainly one of the most talented, humble, unassuming pizza makers in the world. Being able to connect with him was a gift. Through John I met Jonathan Goldsmith (Spacca Napoli) another incredible pizza maker. Jonathan introduced me to Roberto Carporuscio, Don Antonio Starita, Enzo Coccia, Antimo Caputo (Caputo Flour), Guilio Adriani, as well as Gino and Lenny Rego, (Panino's) among others. I was able to interview each of them. I met and spoke with Paulie Gee (Paulie Gee's), Jeff Varasano (Varasano's), and Marc and Jenny Bello (Pizza a Casa Pizza School) and the amazing Billy Manzo (Federal Hill Pizza). I also got to spend time with my friend from Scotland, pizza master and artist Domenico Crolla.
I was thrilled to be able to hang out with Tony Gemignani and interview him several times. Tony introduced me to Laura Meyer, his number one at his pizzeria. She was simply amazing up and an up and coming pizza super star.
The people who made this happen were Pete LaChapelle, publisher of Pizza Today as well as Bill Oakley, Group Show Director. Pete opened the door for me at Pizza Expo and gave me total access to everything at the show. I can't thank Pete and Bill enough for giving me the once in a lifetime experience. One year Pete told me I was the Pizza Ambassador for Pizza Expo. I am, and continue to be humbled…and overjoyed. And yes, I'm planning on going again next year. Honestly, Pizza Expo has been one of the absolute best episodes in my pizza journey.
I could go on and on sharing some of the pizza masters who I was able to meet and interview at Pizza Expo. I'm sorry if I left someone out. Peter, there is not just not enough space here to mention everyone. You can see more of my interviews and adventures at my Pizzatherapy channel on YouTube.
For readers of Pizza Quest, Pizza Expo is a yearly event held in Las Vegas. The show is all about pizza. This includes pizza related vendors and products, as well as workshops and presentations. If you are in the pizza business, or considering getting into the pizza business, it is a must-go-to event. You can find out more here: http://pizzaexpo.com
Another great moment was being made a YouTube partner for the Pizza Therapy channel. This is special recognition given to YouTube channel owners. Being a partner allows you special promotions for my videos on YouTube as well as other benefits. The Pizza Therapy channel has well over a million views and nearly 2,000 subscribers. I continue to see steady growth with YouTube.
The connections and relationships I have made and continue to make through Pizza Therapy is mind-blowing. For example Ajith Dharma, of The Fire Within reached out to me on Facebook. His passion for pizza while supporting his mission to see owners of Fire Within mobile ovens succeed is infectious. I had an amazing conversation with him that was very inspirational.
PQ: And also, how do you keep it going, fund it?
 Albert: For over 12 years Pizza Therapy had a corporate sponsor. This company was one of the largest in the baking world. I did not seek out sponsorship, they contacted me. They asked if I would let them sponsor Pizza Therapy. Of course I said yes as this was a product I used and would be happy to recommend. Their sponsorship covered most of the bills. Since then, they decided to withdraw corporate funding.
Now, funding comes from the sale of merchandise and affiliate programs. An affiliate gets paid a small referral fee if a customer purchases through their web link. We sell Amazon books and other cooking related products, t-shirts and more. We also are affiliates of your Craftsy classes. I also create promotional videos for small business which certainly has helps to cover expenses. All of the revenue generated goes back into the Pizza Therapy website.
Unfortunately our sales do not cover all the bills and the rest comes from my pocket. One of the goals for Pizza Therapy is for the website to be totally self-funding.
Beyond that, having Pizza Therapy turn a profit is the ultimate goal.
 PQ:  Who are your readers and why do you think they love PizzaTherapy.com?
Albert: My readers' are a cross section of pizza fans. Some are total newbies while others have been making pizza for a while. They all share an interest and passion for pizza. I have an email list of over 5,000 pizza lovers. I am privileged to stay in touch with them. Communicating with the core of Pizza Therapy fans has greatly helped keeping my readers up to date with what is going on with me and my pizza path, pizza news, tips, and Pizza Therapy updates. I think it continues to spark their love of pizza.
I am quite humbled to have influenced some Pizza Therapy supporters on the path to making pizza. I get great joy from pizza fans who said they learned to make pizza from Pizza Therapy. The emails I have received over the years from pizza makers has been heartening and rewarding. I have personally met a number of Pizza Therapy fans and that has always been very special and gratifying.
I receive emails from a number of hard core pizza fanatics who said Pizza Therapy was an inspiration to their getting into the pizza business. Some have become quite successful in their dream. I am in regular contact with many pizza fans who still give consideration and thanks to Pizza Therapy. I know the pizza they are making is incredible, and we stay in touch.
Those are the things that keep me going. I have had a few bumps in the road during the life of Pizza Therapy. There were times I have asked myself "Why do you keep on going with this" Then I'll get an email from someone who said Pizza Therapy was an inspiration to their discovering home-made pizza. I then realize: that is the reason I do what I do. My pizza mission will continue as long as there is a love for making pizza.
PQ:  I'm sure your own pizza horizons have expanded since the early days. What kinds of pizza are you now loving that you might not have loved so much when all this started. Has doing this site changed you?
Albert: One of the most significant ways my own horizons have changed is in my own pizza making. When I first started, I thought I knew how to make pizza. Looking back I realize how much I didn't know about making pizza. It's not that my pizzas were bad, as I never had anyone refuse to eat one of my pizzas. It's just that now, I have learned so much more. But I still have a long ways to go.
I think now my pizzas are usually good and once in a while I approach making a great pizza. Chris Bianco once said to me: "Pizza is something you can never master…" I did not realize it at the time, but he was so right on.
Pizza is simple: Flour, salt, water and yeast. That is the basics. But how you get from those simple ingredients to pizza greatness is the complex art. There is no other food that embodies this amount of artistry and heart. When done right, there is magic baked into pizza. And you feel the magic when you eat the pizza. Have the same pizza with friends and loved ones and you multiply the magic many times over.
My own pizza making has changed drastically, from the early days. I now weigh out all of my ingredients. This is a significant difference since I started. I feel that I am still learning about pizza. I now know, that there is so much about making pizza I do not know, but I think I am on the right path. If anything, my appreciation and passion for pizza has increased.
There are many types of pizza I love. I still dream about Frank Pepe's White Clam Pie. I have a great appreciation for all types of pizza. I love eating pizza in New York and other cities. I love authentic Neapolitan pizza. I enjoy pizza in general and am open to trying new pizza all the time.
For me any pizza that is shaped by hand and created with heart is a good pizza. I love your definition and have adopted your definition as my own: "There are only two types of pizza: good pizza and great pizza!" I am continuing my search and quest for great pizza.
The website has totally changed me and my life. At times I feel Pizza Therapy takes on a life of its own and I have no control over where it is going. It certainly is way bigger than I am. The reason for is, there have been so many incredible influencers helping to shape, grow, and create the magic of pizza within Pizza Therapy. I am quite honored to share my own pizza journey with others. Pizza Therapy has allowed me to do that.
I have been able to meet, interview and share pizza with some of the biggest movers and shakers in the pizza world. I have developed relationships and friendships with many of them. My personal adventures with pizza, have been totally outrageous. I am continually thankful, grateful and humbled by all of the amazing pizza treks that have been part of my pizza journey! I sometimes ask myself if I am dreaming. Maybe I am, but if that is true, please don't wake me up!
PQ: So what's next for PizzaTherapy.com and for you. Has your mission expanded or changed?
Albert: The mission of Pizza Therapy has expanded greatly from the early days. The basic principles, however, remain the same. Pizza Therapy is all about pizza. The mission is the celebration of pizza. Making pizza, eating pizza and discovering the magic of pizza. Pizza Therapy celebrates pizza.
Another pizza website, I developed is called Legends of Pizza (http://legendsofpizza.com/blog). The Legends of Pizza site is more about the pizza makers and the business side of pizza.
I have a number of projects I am working on. I have a new YouTube channel about the "Best Pizza in the World" which will be coming out soon. I am expanding our pizza t-shirt line as well as looking for other products to promote.
There are number of video interviews which are still in production, which will be released over the next few months. These will be posted on my Pizza Therapy pizza channel on YouTube as well as the Pizza Therapy and Legends of Pizza websites.
"The Pizza Therapy Pizza Book" is available in Kindle format. I am working at releasing an expanded version in paperback.
I am always searching for news about pizza and the celebration of the world's greatest food! There is no shortage of fresh content to be explored and shared about pizza.
The ultimate goal is for Pizza Therapy to be able to support itself which I feel I will be a reality in the near future.
PQ: Thanks so much, Albert. How can our readers support you and your work so that you keep it going?
Albert: Great question, Peter. I greatly appreciate any comments and feedback from readers. Please leave your thoughts, suggestions, or questions on the Pizza Therapy website as well my pizzatherapy YouTube channel.
If anyone purchases pizza books and other products, purchasing through a link on website from Pizza Therapy would be greatly appreciated.
Most importantly, subscribe to our YouTube channel as well as subscribing to Pizza News at pizzatherapy.com would be great.
Thank you very much, Peter. I am very grateful to be able to share the Pizza Therapy story with Pizza Quest. And I look forward to making pizza with you sometime.
PQ: Amen to that!!!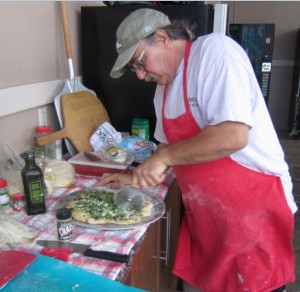 Comments
Pizza Quest Info
Resources
Vision Statement
Pizza Quest is a site dedicated to the exploration of artisanship in all forms, wherever we find it, but especially through the literal and metaphorical image of pizza. As we share our own quest for the perfect pizza we invite all of you to join us and share your journeys too. We have discovered that you never know what engaging roads and side paths will reveal themselves on this quest, but we do know that there are many kindred spirits out there, passionate artisans, doing all sorts of amazing things. These are the stories we want to discover, and we invite you to jump on the proverbial bus and join us on this, our never ending pizza quest.
Peter's Books
...and other books by Peter Reinhart, available on Amazon.com