Interview: Massimiliano Saieva and Alex Manzo, Roman Pizza
Note from Peter: A few months ago I posted about the wonderful experience I had at the Atlantic City Pizza and Pasta Show, where I met Alex Manzo and Massimiliano Saieva, the masterminds behind the new Roman-style pizza movement here in the USA. It was my first time tasting Massimiliano's pizzas and I was blown away! While he was making his "al taglio" pizzas ("baked in a pan") I spoke briefly with Alex, who owns Manzo Foods as well as being Mas's partner in the Roman Pizza Academy, where they teach and certify others wanting to break into the Roman-style pizza business. Since there's so much confusion about Roman-style, and there are so many versions of it, I asked them if they'd sit down with me and help demystify it for all of us. I'm thrilled with the thoughtfulness of their responses, below, and encourage anyone going to Pizza Expo in March to visit their booth and experience this pizza for yourself. In addition, check out the beautiful videos that they've made (the links are at the end of the interview), which should get you pretty fired up to experience this pizza for yourself. So, without further ado, join me with Massimiliano Saieva and Alex Manzo:
Pizza Quest (Peter): Thank you both for doing this interview for our readers. Your Roman Pizza was a huge hit at the recent Atlantic City Pizza & Pasta Show, but there are a lot of different understandings floating around as to just what Roman Pizza is. Twenty years ago it just meant Neapolitan pizza with a thinner crust, not baked in a wood fired oven. But now it has taken on a whole different meaning and cache. Can you give me some background on the evolution of this style and describe it, at least in terms of how you make your version of Roman Pizza ?
Alex: Both Massimiliano and I would, first, like to thank you for allowing us to share our passion for Roman Pizza with your readers.
 Massimiliano: What is Roman Pizza to me? This is an interesting question because the answer is not as obvious and straightforward as it would be for Neapolitan Pizza. In Naples, by far the most common pizza is what we know today as Neapolitan Pizza. On the contrary, in Rome several varieties of pizza coexist including the round, thin, and crispy version you mentioned above. The 3, most prevalent styles are:
"Pizza alla Pala", typically oblong, served on the traditional elongated pizza peal, "pala", and meant to be shared in a group;
"Pinsa", typically round or oblong, and personal-sized;
"Pizza al Taglio" (aka Pizza in Teglia). Pizza al Taglio unlike the others is baked on blue steal rectangular pans, and cut with the traditional scissors.
What separates Pinsa, Pizza ala Pala, and Pizza al Taglio from the thin/crispy version, and from Neapolitan Pizza, is the very high hydration of the dough, typically between 80% and 100%, and the limitless options of creative toppings.
Alex: Pizza al taglio is found on every corner in Rome, and is very popular, especially among tourists. This popularity came with a price. The quality of the product declined as the true artisans of the craft were driven out by foreign entrepreneurs who offered a less expensive product. Pizza in teglia has only recently been revived as a handful of skilled artisans work to perfect the cold maturation and fermentation process. These artisans see limitless potential with this style when it comes to toppings and presentation. It's creating another level of excitement in the pizza world, because of its gourmet appeal. Very similarly to what we saw happen in the USA 10 years ago when Neapolitan pizza was introduced. I believe this style will become the next big thing in the pizza industry in the next 5 to 10 years.
 PQ: In Gabrielle Bonci's book he describes three different types of dough that he makes at Pizzarium in Rome. None of them seem particularly high in water, but, from what I can tell in your videos, your dough is very soft and wet, seems like somewhere like at least 85%-90% water to flour. Am I seeing that right? If so, how and why have you taken your dough in a different direction from Bonci?
 Alex: Peter, let me first say what Gabrielle Bonci is doing for Pizza al Taglio is to be applauded. The name Bonci alone is becoming synonymous with the style here in the USA. His appearances on shows with Anthony Bourdain and Italian TV in the past have boosted his celebrity status both in Italy and the US. After these shows many travel books added Bonci's pizzeria to their guides on where to get Roman Style Pizza in Rome. Gabriele will continue to shine light on our style and this is a win/win for everyone.
 Massimiliano: I agree with Alex, the success of Pizza al Taglio in this country depends solely on us as pioneers. Bonci is using his fame to capture the eyes of the public and doing so quite successfully. I am also bringing my passion, ideas, and skills in dough making in training the future stars of this style.
As for the hydration, I cannot account for what is written in Bonci's book, because I have not read it. Though I can say very definitively that traditional Pizza al Taglio dough is a wet dough, and most often has a hydration over 80%.
In regards to your question about "how and why I have taken my dough in and different direction", I really do not know how to answer. I don't think the consensus among us Roman pizza makers is that Bonci represents the standard for our style. Bonci is Bonci, and has his own, unique, very successful style. I have my own style, which I have developed over the years practicing and experimenting what I first learned from my mentors. Over the years I have honed and perfected their traditional teachings, and challenged myself to experiment with the cold fermentation process, increasing hydration, extending fermentation and maturation to new distances. I have selected flour that fits best my technique, with the only goal in mind of creating a fantastic dough, light but crunchy, healthy and digestible. The true uniqueness of any Italian artisanal product is that no matter what product you are looking at, or tasting, you will not find two alike. Every artist, every artisan, every chef will put his or her own twist, his or her own style, his or her own signature on it. Americans thrive on the ability and possibility to replicate a concept, and try to turn everything into a science, but Italian artisanal food cannot be replicated or confined to a recipe. There are so many factors that go into it, like different ingredients, different techniques, different tools, different approaches. Even if all these factors were absolutely identical, there would still be a different individual touch that would make the difference, that it is unfair to compare and impossible to replicate.  What is best? Lamborghini, Ferrari or Maserati? It's impossible to answer, because ultimately they are all superb examples of their crafts, yet different from each other. I give my students the tools to develop their own style, which will vary slightly, based on their own preferences, their individual touch, their location. There is no recipe for this. I believe in passion, in dedication, in experimentation. My dough has developed over the years into what it is right now. I am able to extend the maturation process to 96 hours, I am able to look at the dough, and feel it with my fingers to know if it is just right. This is something that comes only with experience, commitment and ultimately love for this craft. No recipe can teach or transmit this.
 Anyone can mix a highly hydrated dough, but the real skill is how you master time and temperature of the dough over the next 48 , 72, 96 hours of the fermentation/maturation process. What happens after you take the dough mass out of the mixer is the real magic, and requires incredible skills.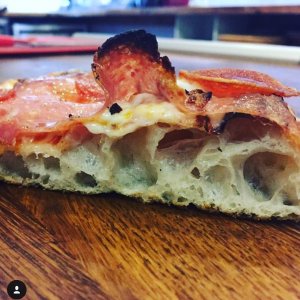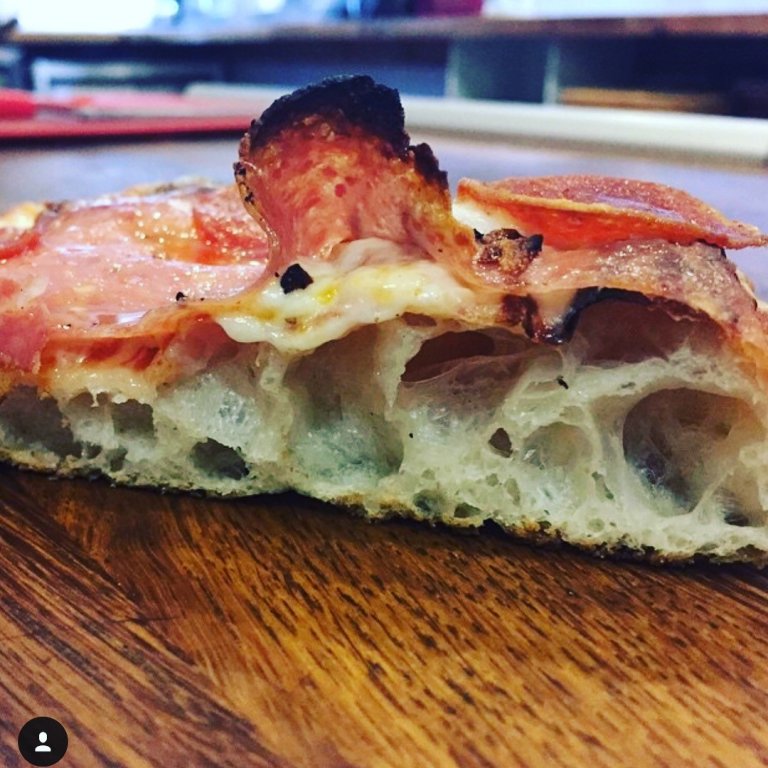 Ever since I began making Roman Pizza, my true passion has been playing with time and temperature. It's important to understand that the more the dough is hydrated, and the longer the dough is carefully matured and fermented, the lighter the crust will be. I think all Italian pizzamakers can agree that both taste and texture are equally important.
In a world where fame and money dictate and/or make it easier to advance, it's not easy to build from the bottom up. So when I wake up in the morning I do everything I can to better my product, and stay humble. But one thing I am so very proud of, and don't mind boasting a little, is my ability to make an excellent pizza.
 PQ: Can you describe the training and certification you provide at the Roman Pizza Academy?
 Alex: In just a few words the Roman Pizza Academy is a one stop shop for everything Roman Pizza. We offer three different types of courses. Each dives deeper and more thoroughly into Roman Pizza making. We offer consulting, training, and ingredient and equipment sourcing. All our consulting options are completely customizable, whether our customers need us to come to them, and be by their side for the first few days of opening, or they are looking for some help with the basic layout of their space.
Most of our training is run out of our school in Miami, however we are happy to train at our customer's location of choice. As we are training pioneers and very few have a location with the proper equipment, so most of our students prefer to take our one, two and four day courses in Miami. Most of our classes are one on one but occasionally we offer group training sessions. Here is our website for more information www.romanpizzaacademy.com
 PQ: Where can Americans find pizzerias making Roman Pizza like yours, and can you give us a hint as to upcoming places where it might begin showing up? We also have readers in the UK and other countries, so are you seeing any appearance of Roman Pizza around the world?
 Alex: There seems to be an underground like buzz in the street about Pizza al Taglio. Lots of chatter about who, when, and where. What we can say is we have trained and/or mentored most of the current Pizza al Taglio operators around the USA as well as operators as far as Bulgaria, Brazil, Dubai, Argentina, Venezuela, and the Philippine's just to name a few.
Here are some of the best in the USA in no particular order.
–Mani in Pasta, New York City NY (2 locations)
*Special note: Home of 2017 International Pan Pizza champion Giuseppe Manco
–Rione, Philadelphia, PA
*Special note: Francesco and Alison of Rione are a husband and wife team. They have made Zagat's top lists and are getting rave reviews by all the local press.
–NaPizza, San Diego, CA (4 locations)
*Special note: The largest of all the current operators making Pizza al Taglio. Another husband and wife team focusing on pizza and salads. Very trendy concept.
–La Piazza Romana, Phoenix, AZ…… Coming Soon.
*Special note: Justin Piazza will be the first pioneer brining Pizza al Taglio to Phoenix. His pizza is outstanding look for him to open in 2018.
–Bonci, Chicago, IL
–Romanista, Los Angeles, CA
We have also trained customers who are looking to add this style to their current pizza menu, and there are some additional Pizza al Taglio exclusives opening soon in North Carolina, New York, Philadelphia.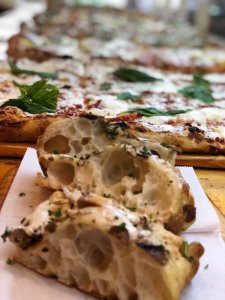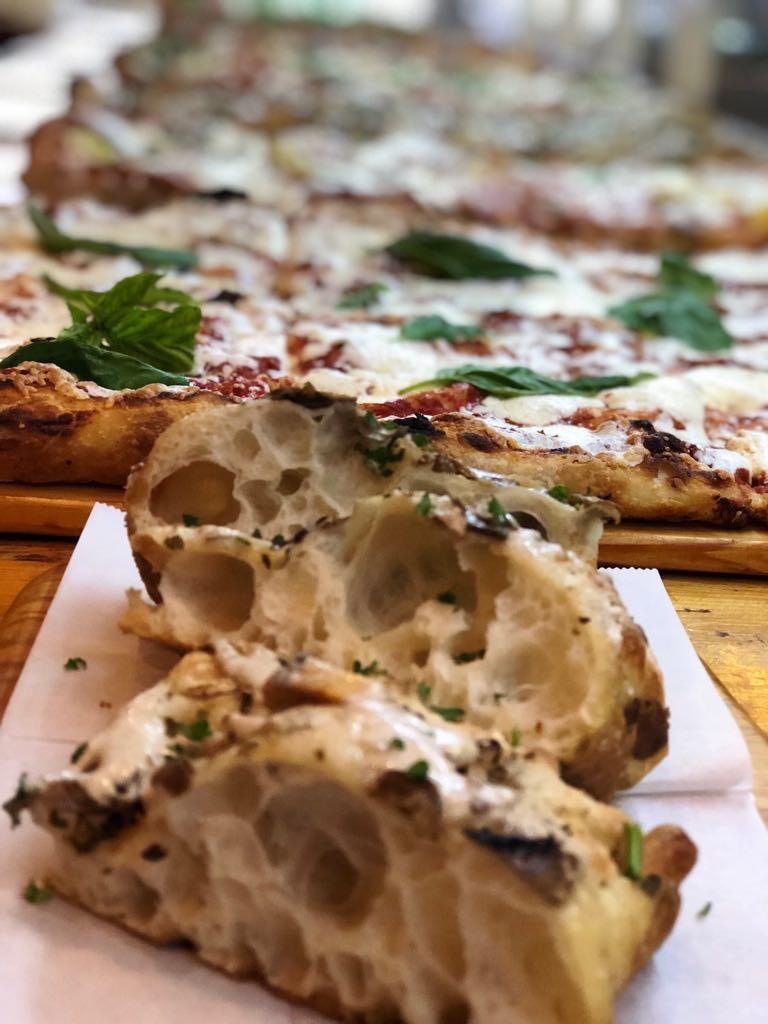 PQ: What is it about this style that seems to be getting people so excited? To me, it's like a cross between focaccia and what we call Sicilian or Grandma pizza here in the States. But yet it's also different from both of them. What makes it so wonderful and exciting?
 Massimiliano: We believe Pizza al Taglio is gaining in popularity for many reasons. First and foremost, it looks amazing on display. Americans love to eat with their eyes. Hence the reason the Chipotle model is so successful and chains like Blaze Pizza are growing faster than any other chain in the history of the USA. Besides the fact that it looks great and the toppings are limitless, it tastes better, its lighter, and healthier than most pizzas. Lastly it's fast! For the lunch rush an operator can build a full display by 11 am, then reheat for 30-60 seconds and serve. Don't let reheating scare you, it actually tastes a little better reheated. Looks great, healthier, and fast. Sounds like a recipe for success to me. Peter If your readers want to see all of these things for themselves, have them visit Alex or myself at the Las Vegas Pizza Expo in March. We will be in the Manzo Foods and Polselli Flour booth.
In regard to your question about the difference between Pizza al Taglio and Focaccia and Sicilian. That's an easy one. First, pick up a piece of Pizza al Taglio and then the same size piece of the other two. First thing you will notice is how light the Pizza al Taglio slice is. Then look at the cross section. The Pizza al Taglio piece will have a much larger honey comb effect. Then taste them, the Pizza al Taglio slice will taste fresh, light, airy, crispy with a wonderful olive oil and sea salt finish. The others will be denser, more bread like, and will sit much heavier in your stomach. We haven't seen a style that is both light and healthy, that's what makes it wonderful and exciting.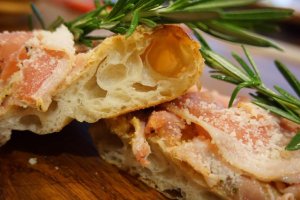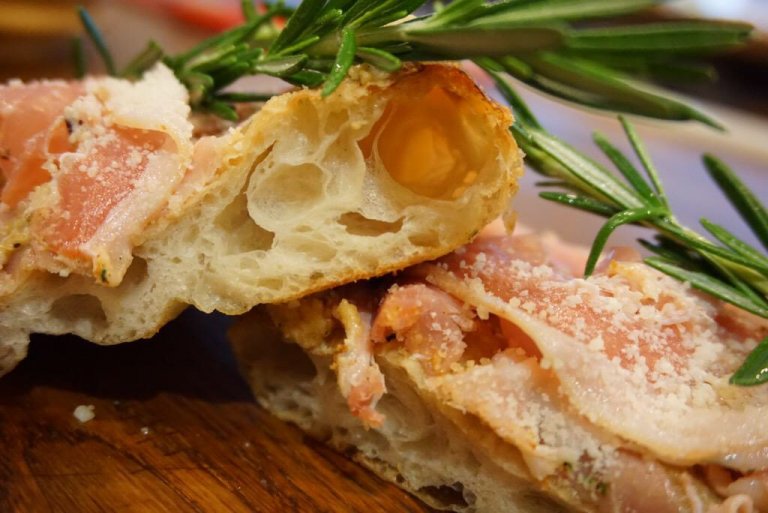 The Roman Pizza trend is on its way but it will be very difficult to predict when it will hit it's pinnacle. It took about 10 years for the Neapolitan Pizza style to do so
PQ: I know you reveal all the tricks to those who come to train with you but are there any guiding principles that you can share with us for readers who want to try making it on their own, perhaps at home? Is the type of flour critical, the type of pan, oven, do's and don't's?
 Massimiliano: Of course I am happy to share some tips. I will share the basics but proper equipment and ingredients will be required if you are to get close to a traditional Roman Pizza al Taglio. Here are a few of these requirements: an oven with heating elements that can be controlled separately on the top and bottom. I use a Moretti Forno. I like their attention to detail. Their computer system is second to none. A strong two speed mixer (fast and slow). Lastly an all-natural -00- flour with no additives and a W of 300 or more. I have used a lot of different brands of flour in my career, but I really like the Polselli brand "SUPER". Hands down the best I have tried. Although there are other important steps in the process these are musts to get started.
We don't like to just hand out recipes because I believe that recipes are too rigid. I mentioned previously that managing time and temperature are the keys to making great Pizza al Taglio. This is not something I can write down, I would need to show you during the fermentation and maturation process. This is exactly why we like to recommend our students take our 4-5 day course. Giving a student a recipe, recommending equipment, and ingredients is like giving a student the keys to a Formula 1 race car without the knowledge on how to drive it. He cannot use it until he learns how to drive it. During our courses we will teach you how to drive first then give you the keys.


PQ: Great point — I love your car analogies!  So, what are the best links to your videos and, after seeing you make them there, how can people contact you for more information about the Roman Pizza Academy?
Alex:  Try these:
–Who is Massimiliano Saieva?
https://www.youtube.com/watch?v=iJofb3Un8b0
–Roman Pizza Academy Course Demo
https://www.youtube.com/watch?v=hp8KslZaBfo
–Roman Pizza Academy website.
–RPA Instagram page:
https://www.instagram.com/romanpizzaacademy/
–Massimiliano's Instagram page:
https://www.instagram.com/massimilianosaieva/
–email: info@romanpizzaacademy.com
tel.: (888) 511-7331
 PQ: Thanks so much for sharing your story and for bringing this new pizza experience to the United States. I'm looking forward to seeing you again at the Pizza Expo in March and best of success as you train future Roman-style Pizzaiolo's.
 Alex: Thank you, Peter. It's been our pleasure.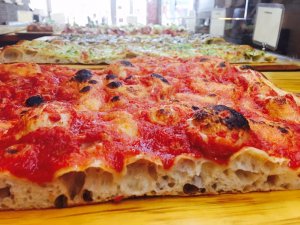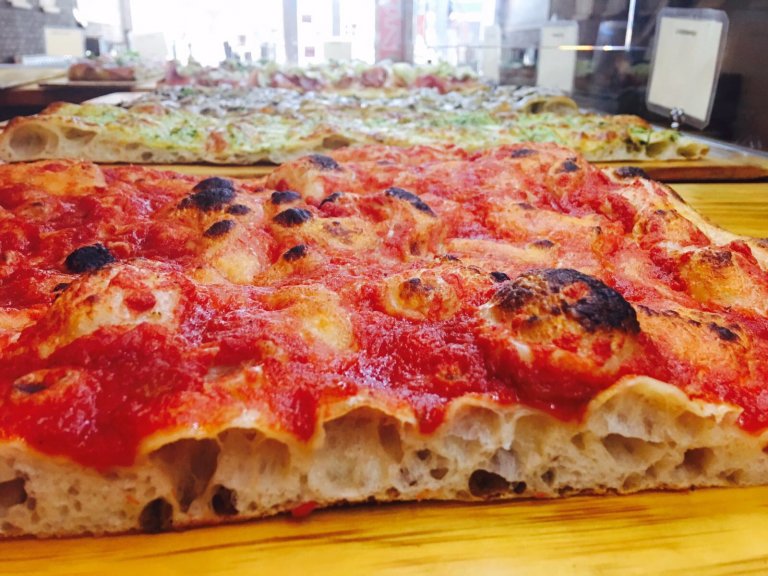 Pizza Quest Info
Resources
Vision Statement
Pizza Quest is a site dedicated to the exploration of artisanship in all forms, wherever we find it, but especially through the literal and metaphorical image of pizza. As we share our own quest for the perfect pizza we invite all of you to join us and share your journeys too. We have discovered that you never know what engaging roads and side paths will reveal themselves on this quest, but we do know that there are many kindred spirits out there, passionate artisans, doing all sorts of amazing things. These are the stories we want to discover, and we invite you to jump on the proverbial bus and join us on this, our never ending pizza quest.
Peter's Books
...and other books by Peter Reinhart, available on Amazon.com