Interview with Joe Beddia of Pizzeria Beddia
Note from Peter: I grew up in Philadelphia, a city that takes its food pretty seriously. We always had a few great, iconic pizzerias (Tacconelli's, Marra's, Francoluigi's, Caccia's Bakery, Santucci's and others) but, unlike New York City where pizza is a primary marker of cultural identity, it was really the cheese steak, hoagie, roast pork sandwich culture that gave Philly its culinary claim to fame. But, in the past few years, with the emergence of Osteria and Pizzeria Vetri, Pizza Brain, Bufad, Stella, W. Mulheri's Sons, Celebre's, Enjay's at Smokey Joe's, Nomad (and Nomad Roman), Barbuzza, Square Pie, and a number of others, the Philly pizza scene is exploding. Yet it was a just opened, tiny 6-seater in North Philly's Fishtown/Northern Liberties section of town, that garnered the most national attention when Bon Appetit Magazine named Pizzeria Beddia the "best pizza in the country." The owner, Joe Beddia, does his own take on classic East Coast pizza (aka New York Style), with just a few menu choices, sauce made from Jersey tomatoes, and makes only 40 pies a day. My friend Mike Traud, Department Chair at Drexel's Hospitality College, took me there a couple of years ago when I was in town for the Philly Chef's Conference, and, of course, I loved it and got to know Joe a little. A few month's later the Bon Appetit article hit and, what was already a "better get there an hour before he opens" situation turned into a "forget about it, hey, it's like winning the lottery" chance of getting a pie there. The bad news/good news is that Joe will be closing Pizzeria Beddia in the spring, but will, soon-after, open a much larger place in a location yet to be announced — so stay tuned. In the meantime, if you happen to be attending the Northeast Pizza and Pasta Show in Atlantic City on October 17th, I will be interviewing Joe on the main stage at 10 AM, where we will explore his meteoric rise, future plans, and, also, to talk about his wonderful new book, "Pizza Camp: Recipes from Pizzeria Beddia," an Anthony Bourdainish-like recounting of Joe's journey. In the meantime, he and I had a chance to sit down and preview some of the things we'll be talking about in Atlantic City so, for the first time on Pizza Quest, here's the refreshingly iconoclastic Joe Beddia. Enjoy!
Peter (PQ): You kind of burst on the pizza scene, seemingly from out of nowhere, when you were cited as making the best pizza in America by Bon Appetite Magazine two years ago. But nobody is an overnight wonder, as you explained in the introduction of your new book. Can you give us a short summary of the journey that led to the creation of  Pizzeria Beddia?
Joe: I've known from an early age that I wanted to work for myself.  I guess it's a control thing, but it's also a creative endeavor.  It's complicated.  I spent a good deal of time brewing beer professionally.  Pizza started as a hobby and grew from there.
PQ: You've described Chris Bianco as one of your major role models. What is it about him, and maybe some others, and their visions that inspired you?
Joe: Chris is definitely a hero.  He doesn't mince words.  He's so passionate you can feel it.  As far as pizza goes, the only pizzas that really struck a chord were from the people who were owner operators.  They were truly the only pizzas I gave a shit about.  Dom Demarco, Anthony Mangieri, Nick Lessins.  Everything else was just okay.  Everything else is just not for me.  I want someone who cares to have a hand in it.
PQ:  As a guy who grew up in Philly, I totally get why you chose Jersey tomatoes for your pizzas, but it's a somewhat unconventional choice compared to most pizzerias, who use either California or Italian tomatoes. Why those tomatoes and, also, some of your other ingredient choices? What cooking philosophy guides your choices?
Joe: The Jersey Fresh tomatoes are great.  They're sweet with good tomato flavor and they're grown close by.  I don't really use Italian ingredients.  I would if I lived in Italy of course, but I don't want some mozzarella that used to be great which sits around for an extra couple of weeks just so I can tell people that it's imported from Italy.  That's bullshit.  The most "Italian" thing to do is to use the best seasonal ingredients that I have at my disposal.  It's that simple.
PQ: Your book, like your ingredients, is also somewhat unconventional – a little punky, edgy, wild photos and design choices – it reminds me of Anthony Bourdain'a Kitchen Confidential when it first appeared. Tell us about your hopes and vision for the book.
Joe: I wanted the book, Pizza Camp, to be very much me.  I wasn't interested in a straight conventional cookbook.  That would be boring for me.  If I can't do it my way then I wouldn't have done it.  Who needs that aggravation?  I'm happiest while creating something.  I wanted it to be fun, informative, weird, etc.  Also it had to be a love letter to Philadelphia, a city that allowed me to be myself — and for that I'll always be grateful.
PQ:  The word is out that you are going to soon retire the original Pizzeria Beddia, which has been compared to the minimalist, one-man band approach of Dom DeMarco and his DiFara Pizza in Brooklyn, and open a new place. What can you tell us about your upcoming plans?
Joe: I'm going to contradict myself here and say that I'm planning on partnering with a very solid restaurant group and let them help me run a larger pizzeria.  I don't have the drive to do it anymore but I don't want to throw it away.  This is the only way for me to move forward with pizza.  I want it to be an institutional-like place.  Still simple, maybe a couple salads, like the Frank Pepe menu.  A traditional pizzeria.
PQ:   You've explored many culinary paths in your life, from beer pouring to beer making, and from busboy to being a stagiaire in a number of great restaurants. You even went on your own version of a global pizza quest in search of inspiration.  To me, it seems like you have the restless spirit of an artist, and this is what drives you, and has driven you, through your different expressive stages. So, where do you see yourself in five or even ten years from now?
Joe: I'm planning on making wine right now, and maybe doing another book with Abrams Publishing.  I need to keep creating.  When I'm stuck I feel dead.  I just want to keep it fun and weird.  I'm not concerned with fame and money.  But I do need to earn a living because I like to spend money.  I really have no idea where I'll be.  Hopefully still alive.  That's always the goal. Hopefully I'll have a family or something.
PQ: What advice would you offer to up and coming, young talented folks, or even to your fellow pizzeria operators?
Joe:  Do your research.  Travel.  Taste everything.  Form your own opinions.  Be relentless.  You either want it it or your don't.  I'm very fortunate to be driven in that way.  I'm never happy with mediocre anything.
PQ  Okay, the book teases this incident so I have to ask, what exactly was the daredevil stunt that you performed during your wild and crazy youth on the Howard Stern TV Show in pursuit of his $10,000 prize?
Joe:  I'll tell you over a glass of vino.  Ha!
PQ:  I was afraid you'd say that. Maybe we can have that glass in Atlantic City at the Northeast Pizza and Pasta Show.  Until then, thanks so much for sharing all this with us Joe. It's been a wild, crazy ride and, obviously, it's far from over. Stay in touch and let's check in again after the next chapter – our followers here on Pizza Quest would love to track your progress and, hopefully, get to try your pizza someday or, at least, cook from your book. Continued best of success!
Joe: Peace and love and bababooey!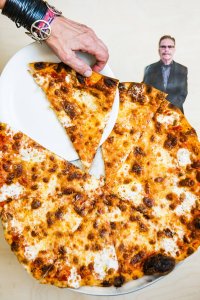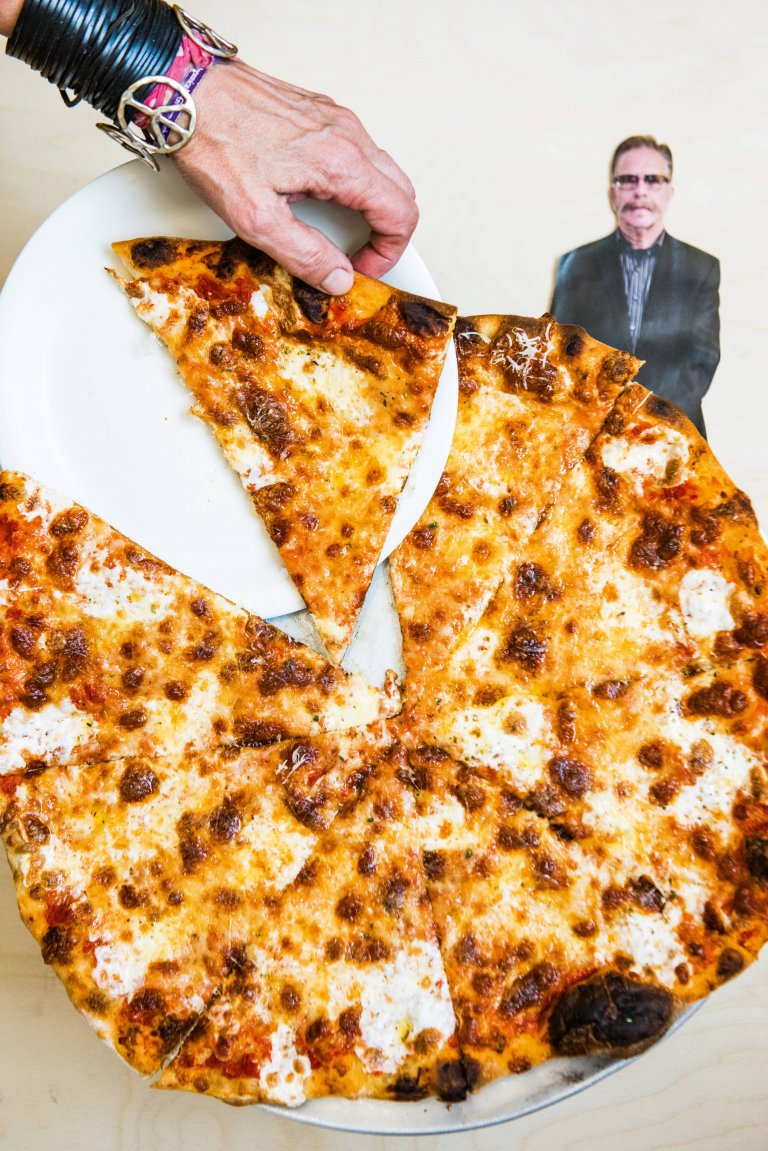 Pizza Quest Info
Resources
Vision Statement
Pizza Quest is a site dedicated to the exploration of artisanship in all forms, wherever we find it, but especially through the literal and metaphorical image of pizza. As we share our own quest for the perfect pizza we invite all of you to join us and share your journeys too. We have discovered that you never know what engaging roads and side paths will reveal themselves on this quest, but we do know that there are many kindred spirits out there, passionate artisans, doing all sorts of amazing things. These are the stories we want to discover, and we invite you to jump on the proverbial bus and join us on this, our never ending pizza quest.
Peter's Books
...and other books by Peter Reinhart, available on Amazon.com