Guest Column: Bob Radcliffe
Note from Peter: Welcome to 2019!  Here's a fun way to kick off the new year: our old friend and guest columnist, Bob Radcliffe, is at it again! Many of you know of his Ben Franklin Society at Lynch Creek Farm, and his ongoing pizza and food events in rural Rocky Ford, North Carolina, but now he's onto a whole new adventure. I'll let him tell you about it here, not so that you can order his breads, which are only possible for locals within driving distance, but as an example of the true entrepreneur spirit that many of you share. Bob would love to hear from you and he's happy to share his learning curve, so feel free to write to him at the contact info below. As we all know, the quest never ends….
Hi All,
     After nearly four years of painstaking construction and a week of curing fires – my classic masonry FornoBravo Wood-fired Oven was completed in October 2011. But, could I really make it work? One scary moment for sure.
With much angst, I had settled on an inside diameter of 56" that would accommodate three full-size sheet trays. A vision of the Lynch Creek Farm Bakery swirled in my head while cutting bricks to build that dome with a curved-arch oven entranceway. Breads were on my mind, but my first bake was a Tomato Pie.
Since then, as Peter Reinhart would say, I have been on a journey that is still winding its way through the wilderness – a path shared by all those that bake bread in wood-fired ovens. No backup gas burners. No dials or digital control displays. And yes, baking outdoors through all seasons and unimaginable weather that terrorize dough.
Those that have read my past PizzaQuest Articles know that I am now retired and spent an industry and academic career in software engineering. I've been told, by more folks than I care to admit, that I am plain crazy to start a bakery at 72. But thank goodness there are others that share this insanity. Perhaps that explains why I joined forces with Marcia Klinder-Badgley – professional musician, a culinary school graduate, organic farmer and baker – to create an online bakery – and without whom, there would be none.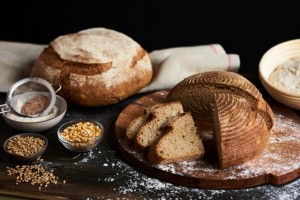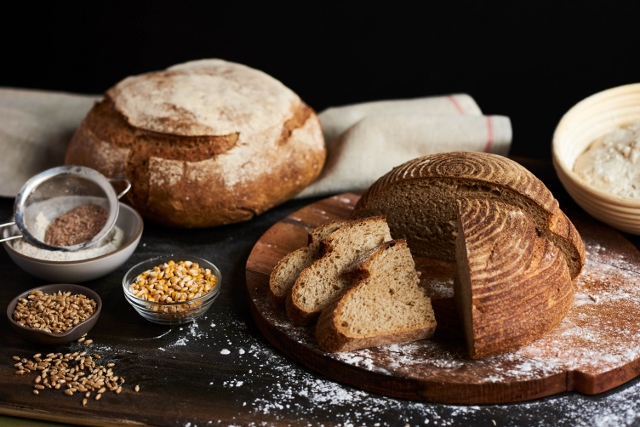 What's an Online Artisan Bakery you ask?
A business model only an MBA-software engineer could envision perhaps. But more importantly, a model that can affordably be replicated by other budding bakery entrepreneurs. Let me explain the business advantages.
We only accept Online Orders. Bake-to-order only. Deliver on an advertised monthly schedule to Pick-up Sites conveniently located for our customer base. (We presently have five Pick-Up Sites in small towns about 15-20 miles apart. b.t.w. that's about how far you could travel by horseback in one day). Patrons simply order online, anytime, with their Smartphone, iPad or Laptop. Pay online with PayPal or their preferred Credit/Debit Card. Select their preferred Pick-Up Site. Pick-up their Order on our advertised delivery day(s).
With this model, we pre-sell at full-retail only (no discounts), bake-to-order only (no waste), network with owner-operated business Pick-Up Sites only (no cost), and minimize our order-taking, advertising and accounting expenses with our custom eCommerce website (less than $25/mo).
As a NC farm, our home-based food business is certified by the NC Department of Agriculture and Consumer Services (NCDA&CS). Our permit allows us to produce, label and market "low risk" foods – such as Breads – in NC only. This Food and Drug Protection Division program was designed to safely and economically encourage farm owners to maintain and diversify their traditional business operations, roadside stand and farmers market.
This marriage of high-tech eCommerce and low-tech bread baking is perfect for a small business enterprise like ours in a rural setting. Our production capacity is oven-limited for the foreseeable future. As our order demand grows, we will advertise more Bake/Pick-Up Days per month. We offer Bread Products that are not otherwise available (Rustic Artisan Breads). We work in a rural setting, enjoy making Artisan Breads, and relish the support of patrons who appreciate our talents and workmanship. We are not a Subscription-based CSA. We do not frequent farmers markets. We do not wholesale our products for resale by others.
Have others implemented a similar Business Plan?
We are soliciting feedback from other small bakeries about their formula of success.
Visit our hybrid website that features both our innovative farm and online bakery. Check us out at www.lynchcreek.com/store
Contact us if you would like to learn more about implementing an eCommerce website and understand how it may work for you.
May we hear from you soon? Feel free to contact us directly, or better yet, leave an Online Comment about this Article.
Bob Radcliffe / Marcia Klinder-Badgley
Email: bakery@lynchcreek.com
Call-Text: 252-767-1167
Pizza Quest Info
Resources
Vision Statement
Pizza Quest is a site dedicated to the exploration of artisanship in all forms, wherever we find it, but especially through the literal and metaphorical image of pizza. As we share our own quest for the perfect pizza we invite all of you to join us and share your journeys too. We have discovered that you never know what engaging roads and side paths will reveal themselves on this quest, but we do know that there are many kindred spirits out there, passionate artisans, doing all sorts of amazing things. These are the stories we want to discover, and we invite you to jump on the proverbial bus and join us on this, our never ending pizza quest.
Peter's Books
...and other books by Peter Reinhart, available on Amazon.com