Focaccia col Formaggio di Recco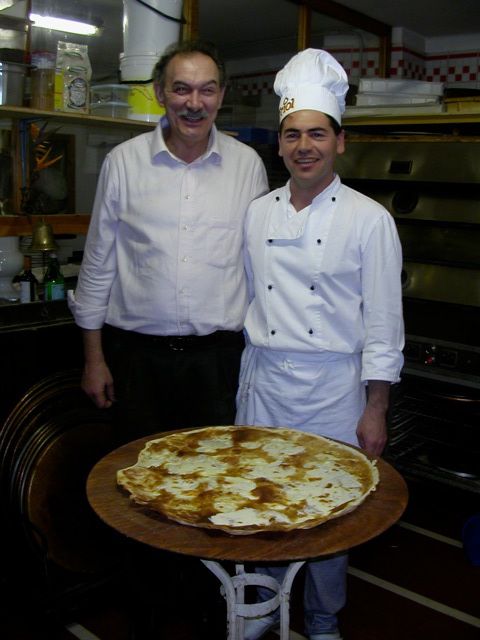 I discovered this in northern Italy, in the Ligurian town of Recco, just south of Genoa. I'm in love with it!! It is made with the simplest of all doughs yet makes an extraordinary type of unusual focaccia. The dough is unleavened and, when rolled out paper thin, is not all that different from Greek phyllo (aka, fillo) dough. It is used not only in the Ligurian Focaccia col Formaggio di Recco, but also in countless Greek and Macedonian pastries of the pita tradition. While the focaccia col formaggio is made in large copper pans, such as what we had at da Vittoria Ristoranti in Recco, this version uses a 10" cake pan to make a smaller version; if you
happen to have a larger round pan, such as a 12-inch or 14-inch pizza pan or deep dish pan, you can, of course, make larger dough balls and larger focaccia col formaggio. It's hard to eat a small amount of this delicious pizza-like pastry, as it is not nearly as filling as it looks because the dough is so thin and, frankly, it just tastes awesome!
The traditional version calls for locally made stracchino cheese–a soft, fresh, creamy cows milk cheese. You can substitute crescenza cheese, which is basically stracchino under a different regional name, or even burrata, which has both fresh mozzarella cheese as well as a creamy cheese filling and bakes down to a stracchino-like texture. All of these are now available in the United States thanks to our friends at Bel Gioioso Cheese (click through their banner ad or Resources button to get to their website for more information on these wonderful, soft cheeses).
Dough (will make four 10″ pans):
2 1/4 cups (10 ounces/ 284 g)  unbleached all-purpose flour
1/2 teaspoon   (0.125 ounce (3.5 g)  salt
3/4 cup   6 ounces/170 g) water, room temp.
Filling:
Stracchino or similar cheese, about 4 ounces per 10-inch pan; 8 ounces for a 14-inch pan
salt and pepper to taste
Topping:
Olive oil, about 1 teaspoon per pan, more for a large pan
flaky or course salt, to taste
Method of Preparation: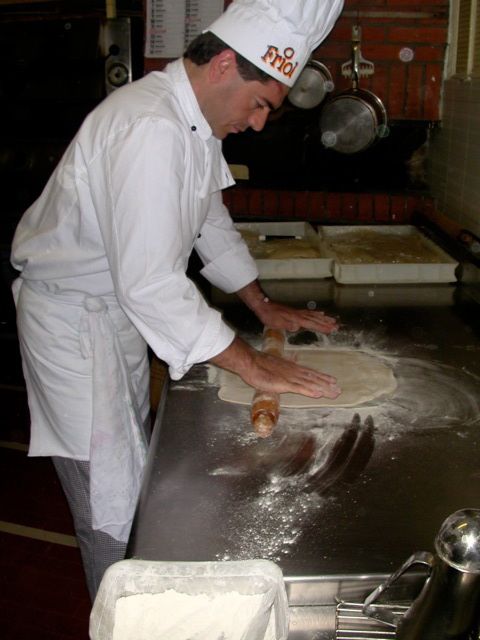 In a mixing bowl stir all the dough ingredients together and continue stirring until they form a ball of dough. Add more water if needed, a few drops at a time, to hydrate all the flour. If too sticky, add more flour.
Dust the counter with a little flour and transfer the dough to the counter. Knead it for about four minutes, adding flour or water as needed to make a smooth, supple dough. It should not be sticky, but soft and only slightly tacky, almost satiny to the touch.
Cover the dough and let it rest for five minutes, then knead it again for about two minutes. This can also be done in an electric mixer using a dough hook.
Divide the dough into 8 balls of approximately 2 ounces each. Cover them and let them rest for about fifteen minutes before rolling and stretching them.
Preheat the oven to 500 degrees. Lightly mist the baking pan or pans with spray oil, olive or vegetable.
Rub a small amount of olive oil on a smooth counter or work surface to make a circular lightly oiled spot of about the diameter of your baking pan. Take one of the dough balls and place it in the center of the oiled spot and flatten it with your hand. Flip it over so  that both sides have touched the oiled surface. Use a rolling pin to roll out the dough, from the center to the outer edges, to the size of your pan.  If the dough springs back, let it rest for a few minutes and then continue rolling it (you can start on a second piece in the meantime–it will take 2 pieces per pan). When the dough is the diameter of the pan, carefully lift it and gently stretch it with your hands, as if stretching pizza dough, to make it larger than the pan, and as thin as you can get it without tearing it–it should look like fillo (phyllo) or strudel dough–nearly paper thin. Lay one piece of stretched dough over the pan and tuck it into the corners to cover the whole surface as well as the inner walls of the pan, with some dough overhanging the pan. Don't worry if you have too much dough, you can trim it later.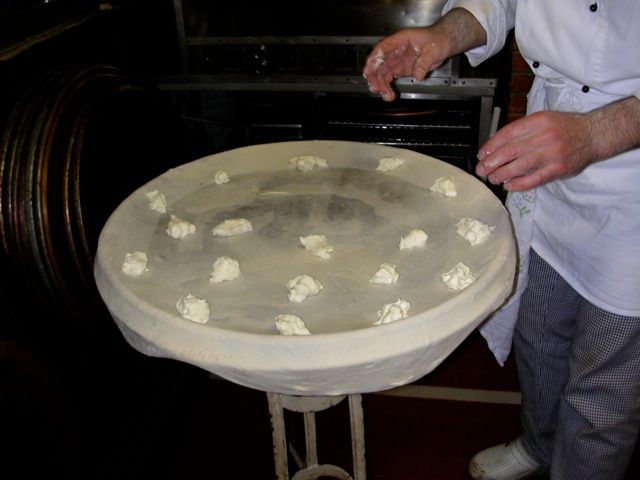 Fill the dough-covered pan with about 6 dollops of the cheese, spaced about 1 1/2 to 2 inches apart. Sprinkle the cheese with a small amount of pepper and salt (taste the cheese first–it may not need the salt).  Repeat the rolling and stretching of a second piece of dough and cover the pan with the dough, overhanging the outside of the pan so that the top and bottom crusts connect along the top rim of the pan. Pinch the two doughs together and tuck the dough into the pan, crimping it with your fingers all around the circumference, rolling some of the excess dough to make an pie-like edge. Crimp this edge with your fingers to seal the two doughs together to fully enclose the cheese filling, and then trim off any excess dough with a paring knife or pizza blade.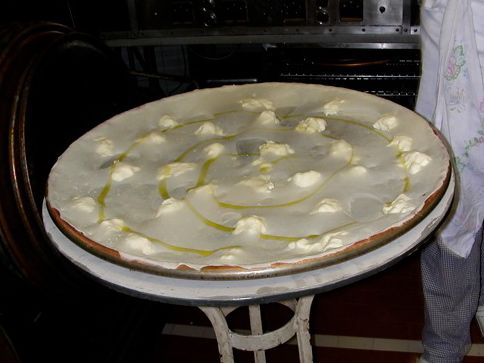 Drizzle and streak a teaspoon of olive oil over the top of the dough and sprinkle a small amount (a pinch) of flaky salt over that. Use a scissors or sharp paring knife to cut about six vent holes into the top crust. Place the pan in the oven and bake for about 10 to 15 minutes, or until the top crust is covered with deep golden brown streaks and sections. Remove it from the oven, allow it to cool for about three minutes, and then cut the focaccia into large or medium size squares (not wedges), and remove the sections with a flexible spatula. Serve and eat while still hot.
Note: These photos were taken at Ristorante da Vittoria, in Recco, where the owners, the Bisso brothers, Giovanni and Vittorio (yes, twins, better known as Primo and Secundo–just like in the film, Big Night), along with their focacciaolo, Fabio, taught me the fine art. Of course, their version is made in beautiful 18″ copper pans — too big for any home oven — but the photos should give you the idea.
Comments
Pizza Quest Info
Resources
Vision Statement
Pizza Quest is a site dedicated to the exploration of artisanship in all forms, wherever we find it, but especially through the literal and metaphorical image of pizza. As we share our own quest for the perfect pizza we invite all of you to join us and share your journeys too. We have discovered that you never know what engaging roads and side paths will reveal themselves on this quest, but we do know that there are many kindred spirits out there, passionate artisans, doing all sorts of amazing things. These are the stories we want to discover, and we invite you to jump on the proverbial bus and join us on this, our never ending pizza quest.
Peter's Books
...and other books by Peter Reinhart, available on Amazon.com