Bits and Bites
Welcome to Mid-Summer (unless you're in the Southern Hemisphere in which case, welcome to Mid-Winter)!
Interesting happenings here and there. Here are a couple for consideration:
Our friend, Daniel Young, the author of the must have, "Where to Eat Pizza," just sent out a note with the following message:
When it comes to declaring which pizza rises above them all there is strength in numbers.
Likewise, I did not decide which of the five participating UK pizza makers at the 2016 London Pizza Festival presented the best signature pizza. To me they were all winners.
The winner of the London Pizza Festival Cup was chosen by 700 pizza-loving Londoners who were asked to try all five pizzas and vote for their favorite.
Democracy does have its limits. No number of experts knows your preferences as well as you do. Ultimately the best pizza in the world is either the one YOU like the most or the one that just happens to be in your hands, oozing molten mozzarella onto your fingertips and hot juices down your wrist, when the question is asked.
Thanks Daniel (who, while he lives in London, is actually a native New Yorker, heart and soul)!  To see a video of the London festival, check out Daniel's website and take a look at his book at this link or any of those underlined above.
http://www.youngandfoodish.com/where-to-eat-pizza/    (BTW, I love the name of his site, youngandfoodish.com — clever little play on words there, my friend!!)

Daniel has agreed to let me interview him, which I will do ASAP, and will publish it right here in my Peter's Blog section as soon as we get it done. But, needless to say, this is one book that any people who consider themselves pizza mavens should certainly have.
On another subject, I received an email from a bread enthusiast in Israel named Samuel (Hebrew name, Betzalel) Messenger. He sent me the following photo of an amazing wedding Challah that he made. Inspiring (and how did he do it?)!!!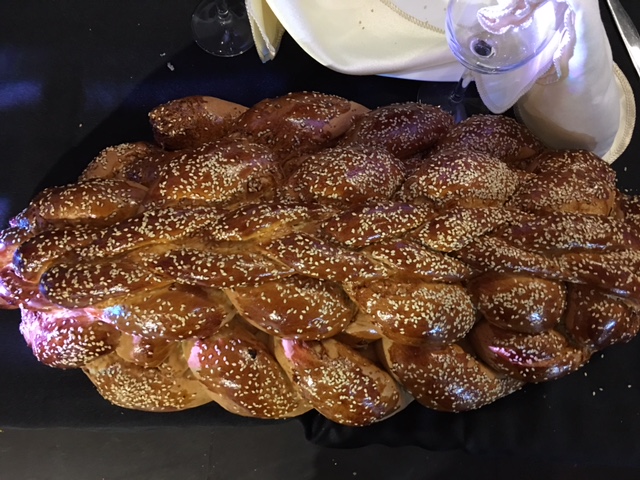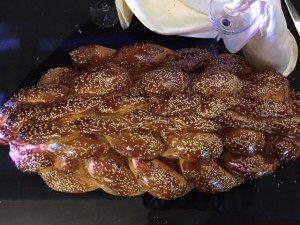 But, he also told me that he now has been thinking about making gluten free breads and thought that there might be an enzyme that could make it taste as a good as regular wheat flour breads. He also wondered if there might be an enzyme that could turn any bread into a "butter-tasting" bread — that is, that could make a loaf taste like it had already been slathered with butter.  Interesting idea, I thought, since I have long been thinking about the power of enzymes to affect flavor. After all, it's the diastatic enzymes in malt that accelerate the release of natural sugars trapped in wheat and other grains — a process not only important for bread and pizza dough but also for beer and spirit beverages. And, yes, there are enzymes for just about any purpose, so I think Samuel/Betzalel is onto something here. He's interested in pursuing these ideas and even trying to patent some of them. If any of you share a similar passion for transforming flavor through the use of enzymes, write to me at peter@pizzaquest.com and I'll connect you with Samuel/Betzalel. I'd love to see some of you run with this ball. He believes that the specific enzymes already exist and that he knows how to track them down. Hey, this could be revolutionary!  Remember, PizzaQuest is more about the quest, not just about pizza, and I think Samuel is hot on the trail of a unique quest.
More soon, so keep checking back. I try to post something new every Tuesday, whether a video, recipe, blog post, or guest column. Remember, there's always something new here on PizzaQuest.
Pizza Quest Info
Resources
Vision Statement
Pizza Quest is a site dedicated to the exploration of artisanship in all forms, wherever we find it, but especially through the literal and metaphorical image of pizza. As we share our own quest for the perfect pizza we invite all of you to join us and share your journeys too. We have discovered that you never know what engaging roads and side paths will reveal themselves on this quest, but we do know that there are many kindred spirits out there, passionate artisans, doing all sorts of amazing things. These are the stories we want to discover, and we invite you to jump on the proverbial bus and join us on this, our never ending pizza quest.
Peter's Books
...and other books by Peter Reinhart, available on Amazon.com