A Weekend to Remember
Okay, this is going to take a few posts to do it right, so let me start here and carry on over the next few weeks: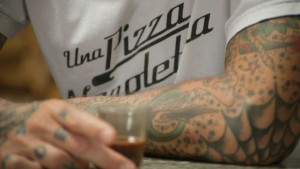 On the morning of September 17th, 2015 the Pizza Quest film team, who all converged from a number of different locations, met up at 9 AM in San Francisco for the first of four days of filming. We met at the front door of Anthony Mangieri's famous Una Pizza Napoletana, located at 210 11th St., in a once funky neighborhood south of Market Street (well, it's still a little funky but definitely coming along). At 9:30 AM Anthony rolled up the metal door in front of his entrance and welcomed us in and fired up his beautiful oven, which looked different to me than the last time I was there (I posted a photo of the strikingly beautiful blue tiled oven a few years ago, but now it was tiled with other stones of different colors) and before long we had the cameras rolling and didn't come up for air until about 4 PM.
"Yeah, I tore down the old oven," he told me,  "Because I thought it wasn't working as well as I'd hoped, and built this new one but, you know what, this one is pretty much just like the other and now I think it was me, not the oven, that was off."   Such refreshing honesty — I love this guy!!
We spent an hour talking about his fanatical dedication to the craft of pizza, and how much he still enjoys making every pie that is served at Una Pizza Napoletana, ("If I can't make them we don't open, but that's only happened once since we opened."). He's actually been doing this for nearly 30 years, first in New Jersey, then New York City at the first Una Pizza Napoletana, now the home of Motorino, another great pizzeria that moved in when Anthony moved to San Francisco, where he's been located for the past six years.
When the oven was ready, Anthony took us through the whole menu of five pizzas that he serves nightly, plus one that he makes only on Saturday, dedicated to his wife and child.the Apollonia  (we'll get into that later when we show the video but here's what the menu says: Apollonia $25.00 (Saturdays Only): Fresh eggs, parmigiano reggiano, buffalo mozzarella, salami, extra virgin olive oil,fresh basil, fresh garlic, sea salt and black pepper.)  
We got all of it on tape, so I won't say too much at this time, other than that the pizzas were as great as I remembered them and our crew got well-fed. His crust, made with a natural starter and with Italian -00- flour, is one of the things that sets Anthony's pizzas apart from everyone else. "There are still a few old timers in Naples who make it this way, even though most have turned to commercial yeast, but I like things that are old, and I like to do things in the old way when I can."  He mixes the dough early in the morning and lets it ferment slowly all day while he goes home to rest (except this day, when we kept him there till 4 PM, so not much time to rest before opening at 5 but, hey, Anthony is a competitive bicyclist so he has a lot of energy and is in great shape — check out the videos on his website at http://www.unapizza.com/ ).
He is open only Wed. through Saturday, from 5 PM till "Out of Dough" (quoted according to the website), but I think he's making enough dough these days to carry him until he closes at 10 PM (though you never know on any given night).  When he was in NYC he was famous for running out of dough and closing up early which, along with his "no substitutions" policy, contributed to his reputation as a kind of "pizza Nazi."  The nice thing about the dough is that, even with the sourdough starter, it doesn't taste overly tangy but, rather, has just a subtle hint of tang and complexity that lingers pleasantly in the mouth long after you finish eating. In this regard, it's kind of "loyal" — that is, if you eat it now, you're still enjoying it 30 minutes later.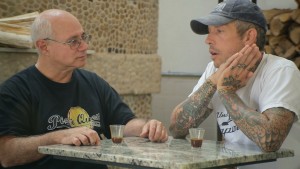 With his growing fame as one of our great pizzaiolos, Anthony told me that he is now exploring some new options to extend his influence, from more media work to a line of branded products. Life changes when you have a family and those wild "pizza Nazi" days are no longer as appealing as spending quality time with his wife and daughter. But he is still his own toughest critic when it comes to evaluating his pizzas. "Sometimes I'm the only one who notices when a pizza isn't as perfect as I'd like, but I try to make each one as perfectly as possible."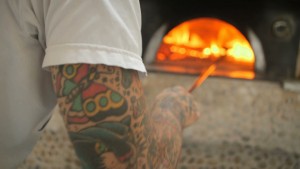 We'll see a lot more of Anthony when we get the videos edited and posted (which may take a few months, as we still have other webisodes to show first), so try to get to Una Pizza Napoletana when you are in San Francisco, and tell him you read about it here. But, my advice, don't try to engage him in conversation while he's focused on making the pizzas; I've compared him in the past to Chopin, who was a specialist and genius in a certain type of piano composition — and in contrast to Mozart, who worked in many musical genres — and I think this analogy still holds true. You wouldn't try to engage Chopin in conversation while he was performing (though maybe you could get away with it with Mozart, if the movie Amadeus is even partially true); it's better to just watch the master at work and talk later.
I'll have more to say on Anthony when we post the webisodes. In my next Peter's Blog we'll move down the coast from San Francisco to Salinas, not far from Gilroy (the garlic capital of the world) and Watsonville (the artichoke capital), where we spent three extraordinary days growing our mobile tribe of pizza questors as we baked in some beautiful wood-fired ovens at the Forno Bravo Expo. Lots more to tell in the coming weeks so do keep checking back.
Peter
Pizza Quest Info
Resources
Vision Statement
Pizza Quest is a site dedicated to the exploration of artisanship in all forms, wherever we find it, but especially through the literal and metaphorical image of pizza. As we share our own quest for the perfect pizza we invite all of you to join us and share your journeys too. We have discovered that you never know what engaging roads and side paths will reveal themselves on this quest, but we do know that there are many kindred spirits out there, passionate artisans, doing all sorts of amazing things. These are the stories we want to discover, and we invite you to jump on the proverbial bus and join us on this, our never ending pizza quest.
Peter's Books
...and other books by Peter Reinhart, available on Amazon.com