A Pizza Farm
So this year, during our annual summer visit to see my wife's family, we decided it was time to make the trip out there.  On our 14th wedding anniversary, my wife, Julie, and I packed up the car with our friends, and fellow adventurers, Chris and Kristen Johnson.  As a side note, the Johnsons had recently opened up a fantastic Texas style barbecue joint in Bayport, Minnesota (www.bayportbbq.com) and this may have been one of the only nights in months when neither of them was working at the restaurant.  So with a leap of faith, and the car loaded with blankets, utensils and beverages, we turned south on the highway and began our quest.
That's right, you bring your own utensils, beverages and any other thing you may want to sit/lay/sleep on.  No this, wasn't your usual checkered tablecloths pizza and beer joint.
When we arrived in Stockholm, there was not much open in this quaint town except for the Stockholm Pie Company (www.stockholmpiecompany.com).  Thinking it might be worth a stop before our final pizza destination, we pulled in and spent a few minutes talking to the owner.  She humbly suggested that many people stop at her place to order a pie BEFORE they went for pizza, so they had something to eat while the pizza was cooking.  Pie before pizza pie?  Okay, I'm in. Triple berry was recommended that evening.
From town, you turn east through cornfields, and soon you pass a stand of trees in the middle of some fields surrounded by parked cars on the side of the dirt road.  As you walk onto the farm you notice that there are some serious picnickers.  Many of the customers had brought chairs and folding tables, along with tablecloths and some serious pre-pizza appetizers.  Welcome to A to Z Produce (www.atozproduceandbakery.com), only open on Tuesday nights for pizza, and of course being Wisconsin, closed in December and January.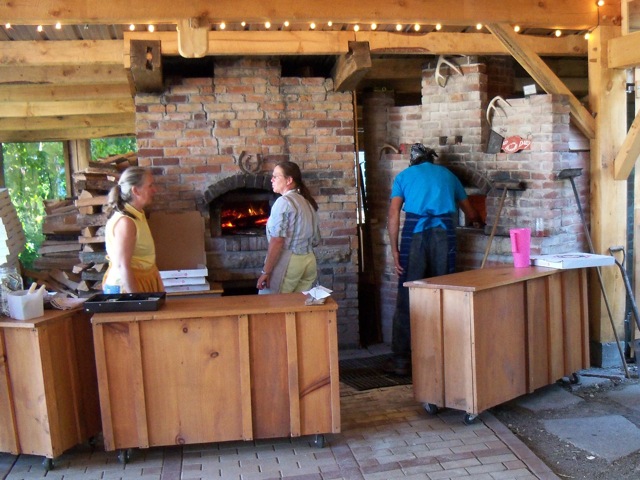 As we approached the barn and adjacent pizza ovens area, a friendly and somewhat earthy young man who was standing in front of a chalkboard greeted us.  The chalkboard listed the 8 pizzas we could purchase that night.  All the fresh ingredients were sourced from the farm.  We were number 145 and instructed that our pizzas would be ready in about 1-hour-and-15-minutes.  Good thing we had the pie for an appetizer. 
There was plenty of time to set up our blankets, observe the wide range of 200+ guests lounging in the fields, and walk around the farm.  We fed the goats, checked out the multiple greenhouses, admired a multitude of vegetable gardens and spent some time staring at the cows responsible for the cheese we were about to enjoy. 
The pizza is made in one of their two wood burning ovens, located inside a wooden structure complete with white twinkle-lights, racks of fresh bread, and chalkboards on the wall including the pizza list, work schedules and chore sign-ups.  This was a working farm, and the people making our pizza were all part of its operation.
When number 145 came up, exactly matching their wait time prediction, we were beyond ready to eat our three pizzas:  sausage/olives/fresh mozzarella, olives/spinach/goat cheese and traditional margarita.  The crust was flavorful with a nice wood burned char, but the roasted tomatoes and freshness of the ingredients from the farm are what you will most remember about these pizzas.  It was like a roasted vegetable feast.  We ate until our hearts were content and left inspired with the whole experience.
On my last couple of visits to Minnesota, I had been hearing about a unique and must see' pizza place in Stockholm, Wisconsin, about 90 minutes from the Twin Cities.
Recent Articles by Jeffrey Michael
Comments
Pizza Quest Info
Resources
Vision Statement
Pizza Quest is a site dedicated to the exploration of artisanship in all forms, wherever we find it, but especially through the literal and metaphorical image of pizza. As we share our own quest for the perfect pizza we invite all of you to join us and share your journeys too. We have discovered that you never know what engaging roads and side paths will reveal themselves on this quest, but we do know that there are many kindred spirits out there, passionate artisans, doing all sorts of amazing things. These are the stories we want to discover, and we invite you to jump on the proverbial bus and join us on this, our never ending pizza quest.
Peter's Books
...and other books by Peter Reinhart, available on Amazon.com