Hello Forno Bravo Family,

Happy Halloween!

In this issue of the Newsletter, we are excited to connect with our community once again, and focus on the simple things in life – food, fire, and family! Come along as we introduce you to several customers and their interesting builds, offer some zany Halloween pizza ideas, enjoy a conversation with food writer, Ed Levine, and much more. The evenings may have cooled down some, but with the oven's toasty fire, the perfect season for wood fired cooking is just beginning! So, grab a cup of cider, settle in, and enjoy our fall edition.

In This Issue
Halloween Pizza Ideas & Dough Recipes
Upcoming NAPCA 5-Day Training Class
The Forno Bravo Team

1-800-407-5119 | Contact Us | Pizza Oven Selection Wizard
Meet Forno Bravo Wood Fired Enthusiasts and their Builds (Video Shorts)
Meet Joe T, Brad L, and Alexis Z! All three are Forno Bravo oven owners and wood fired enthusiasts. Recently, we connected with them to learn more about their builds and their stories. We enjoyed doing zoom interviews with them so much, that we shortened up the conversations into zippy, 1-2 minute videos to share with you! Check out these beautiful, diverse builds, and enjoy the show.
Community Cookbook:
Halloween Pizza and Dessert Ideas / Dough Recipes
Holidays are an opportunity to put on your thinking cap and come up with some interesting twists on classics dishes. They are also a great chance to get your kids involved in the cooking and designing process for a fun family activity. Here are some ideas to try this weekend.

Pizza Base: Try out Chef Bart's quick pizza dough to serve as the base for your creativity, or experiment with one of the more advanced dough recipes from Peter Reinhart below for a deeper flavor.

Toppings: Halloween cookie cutters can be used to create great mozzarella ghosts or bats, add olive spiders, reorder your toppings for a "candy corn" pizza, cut strips of cheese and add olive eyes to craft "mummy pizza squares", or finish your base with fruit and frosting for a Dia de los Muertos-style sugar skull – the ideas are endless! See the pictures above to get you started, and then send us a photo of your creation. We would love to see it.

Click below for:

Thanksgiving Recipe Contest Extended to Nov. 15th
Get in on the action and win a great prize in our Wood Fired Thanksgiving Recipe Contest. Simply submit a recipe and photo(s) of a dish that can be made in a wood fired oven (for all or part of the prep or baking.) Main dishes, sides, appetizers, and desserts are welcome!

PRIZES: The Grand Prize Winner will receive a beautiful Spanish Terracotta Bakeware Pot ($50 Value.) 2nd and 3rd place entries win their choice of a 5-pack of 2.2 lb. bags of Caputo 00 Pizzeria flour, or an 18" stainless steel pizza tray ($20-24 Value.) All winners will be featured in our November Newsletter and blog!
Deadline extended to Sunday, November 15, 2020 (3 entries per person max)

Fall Pizzaiolo Training Course at NAPCA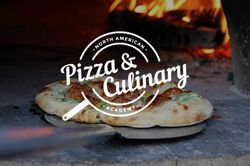 November 16th - 20th is your next chance to participate in the North American Pizza and Culinary Academy's 5-day Pizzaiolo Training Course. It will be held in Lisle, IL, just outside of Chicago, in the school's state-of-the-art facilities. This professional-level training and certification program uses the world-class curriculum of the Scuola Italiana Pizzaioli, the oldest pizza school in Italy. The class is led by certified Master Istruttore, Leo Spizzirri, an engaging and experienced instructor and chef.

Students will receive both theory and practical, hands-on learning each day. Get ready to advance your career, or take your home cooking and entertaining to the next level!

LEARN MORE AND REGISTER
Pizza Talk with Peter Reinhart and
Ed Levine of Serious Eats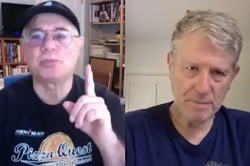 Ed Levine, founder of the influential food website, Serious Eats, and author of Pizza: A Slice of Heaven is Peter Reinhart's guest on a new episode of Pizza Talk. This engaging conversation bounces around topics from all over the pizza and food universe with one of the most known and knowledgeable stars of the industry.

Pizza Ovens for Christmas
Primaveras, Bella Steel Ovens, Modular Oven Kits...oh my! We've made our lists and checked them twice, so that you can receive these ovens at your door in plenty of time for Christmas. Lead times for these popular, hand-crafted models are currently 4 weeks or less, so get your order in now. Get the gift that will keep giving joy to your family for years to come!