Dear Wood Fired Family,
Happy beginning of spring. We love the change of seasons and the many traditions that comes with it -- Spring Break for the kids, March Madness for the adults, Easter, Passover, Ramadān, Spring Equinox, and many other celebrations. It's also the launch of the pizza oven planning season! (OK, maybe that last one isn't on the official calendar, but it is on ours and we're very excited about it.) So as you enjoy spring, enjoy the recipes, articles, and inspirations in this edition of the Newsletter. May they make your days, dreams, and planning sessions brighter. Happy Spring!

The Forno Bravo Team

In This Issue
Pizza Expo 2021
Recipes: Tomato Herb Pizza & March Madness Appetizer Tray
Pizza Talk: Interview with Apollonia Poilane
Bella Goes to Hollywood in Servant Episode 13
Recently, the Bella Steel Pizza Oven got to try its hand in a little Hollywood acting project. It played a featured role in Episode 13 (Season 2 - Episode 3) of Servant, a new psychological horror TV series currently streaming on Apple TV+.

The show was created by Tony Basgallop, a prolific British TV writer. M. Night Shyamalan is one of the show's executive producers (and directors.) For a unique twist, the team wanted an episode that used pizza as a plot device and came to Forno Bravo to find the necessary ovens. The actors were even trained on legitimate pizza-making skills to add realism to their shots.

While the Bella took center stage, our larger Professionale also pitched in behind the scenes, turning out pizzas for filming, and many more for the cast and crew to enjoy.

READ MORE
New Date Announced for the 2021 International Pizza Expo
Big news for the pizza world! The 36th International Pizza Expo is heading back to Las Vegas Convention Center August 17-19th, 2021. Originally planned for June, the show has been postponed until later in the summer to allow exhibitors and attendees more time to make their arrangements and plans for a fun and safe show.

Forno Bravo is excited to participate in the Expo again this year and hope to see you there!

LEARN MORE ABOUT THE SHOW
Meet Tieghan Gerard of Half Baked Harvest
With 2.8 million Instagram followers, New York Times best-selling cookbooks, beautiful photography, and a popular website for blogs and recipes, Tieghan Gerard of Half Baked Harvest has become a phenomenon in the culinary world, and a go-to resource for many home chefs. Originally from Ohio, she currently lives in Silverthorne, CO in a converted horse barn. Still in her 20's, Tieghan loves to "live simply, eat seasonally, and cook with whole foods," using recipes inspired by the people and places she loves the most.

One of the elements Tieghan wanted for her new studio barn was a wood fired oven. She reached out and partnered with Forno Bravo, selecting the Casa2G90 oven kit for her project. With its 36" cooking floor, high-temperature rating, and ability to be installed indoors for year-round convenience, it was a perfect match for the baking flexibility she was looking for. She installed her Casa as a cozy, stucco, built-in oven and is cooking up a storm in it.

SEE MORE
Easy Sheet Pan Tomato Herb Pizza by Half Baked Harvest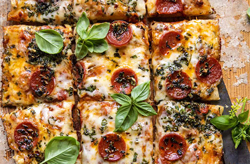 Ready for a change from Neapolitan pizza? Try Tieghan Gerard's Sicilian(-ish) style pan pizza in your wood fired oven instead! With a deeper square crust, a flavorful, homemade, roasted tomato sauce, three cheeses, pepperoni, basil, and a vibrant garlic herb blend to cap it off, your taste buds won't know what to do with themselves! This pizza comes out rich and decadent and is best devoured hot and fresh from the oven.
Because the crust is a bit thicker, it needs to cook a little longer than a Neapolitan pizza, but it is also easy to handle on its tray, and is a great way to use up fresh herbs and tomatoes from your garden.
GET RECIPE
Ultimate Wood Fired Appetizer Platter by Peter Rumbolo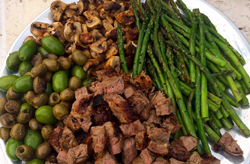 Just in time for March Madness, with its marathon game days and exciting finals (Mar 18 - April 5) comes the Ultimate Wood Fired Appetizer Platter. Steak, olives, mushrooms, and asparagus all get a boost from your wood fired oven for deep flavors and smoky notes. Take your appetizers to the next level!
Bonus Recipe-- Feel like you need a little "something extra" from the oven to complement the platter? Finish off your menu with some quick and simple Sesame Seed-Chili Flatbread for noshing. This works great with hummus, a feta cheese dip, or any item on your platter.
APPETIZER RECIPE | FLATBREAD RECIPE
Apollonia Poilane: Keeping Tradition Alive for the Future
Apollonia Poilane is the 4th generation of her family to run the Poilane Boulangerie in Paris, France. Her great-grandfather started the shop as a neighborhood bakery in 1932 making hearty, sourdough, artisan bread that would "really feed you" – not just the baguettes and other light, white breads that were in vogue at the time. The bakery has grown to include 4 locations in Paris, 1 in London, and is now a global brand.

In this engaging interview with Peter Reinhart, Apollonia shares about her family's experience and philosophy of sourdough as a living tradition that ties batches together, but also continues to develop unique flavors over its lifespan, both as an ingredient and in its final form.

Their bakery still focuses on what her father called "retro-innovation;" finding the best of old and new techniques to create wonderful bread for the future. Sometimes, the future lies in the past, like their 100-ton, wood fired brick ovens that they still use for all of their products. These ovens require a "dialog" between the oven and the baker, balancing the heat, humidity, and weather to achieve a consistent product. Whether the recipes and techniques are traditional or modern, the best of their business is yet to come!

ENJOY THE DISCUSSION
Jon F. and His Corner Post Pizza Oven
Jon F. wanted a pizza oven for his home, but he also wanted it to blend in with the existing structure. His solution? He purchased a Casa2G Modular Pizza Oven Kit and installed it on the corner of his patio. However, instead of going for a freestanding look, he integrated the venting, used neutral-color rock and brick for the facing, and then paneled the backside to match the paneling on his house. The results are an attractive, seamless design that is perfect for backyard parties, but doesn't draw attention to itself the rest of the time. Click on the short video to meet Jon and see the build process and final results of this "Corner Post" pizza oven.

WATCH THE VIDEO
Multiple Pizza Oven Kits Offer Flexibility and Cost Savings
Residential Ovens for Every Setting
Modular Pizza Oven Kits were one of Forno Bravo's earliest offerings, and are still extremely popular today. They have stood the test of time because they combine many key ingredients of a great building project: flexibility of designs, cost savings, time savings, and the opportunity for hands-on fun. Kits guaranteed long-term, high-quality performance for your efforts, but still lets you get your hands a little dirty too.

With 3 styles and 7 sizes, they fit any budget and baking/entertaining preference. The Giardino is the simplest and most compact, the Casa2G is the most versatile, balancing heat up times and volume, and the Premio is the most robust, for large gatherings and professional-level cooking at home. Contact the team to choose your kit today and be ready for the summer pizza season!
Like Our Newsletter? Share it with a Friend!