Dear Wood Fired Family,

Hello and welcome to another edition of the Wood Fired Newsletter. We are excited to kick off the new year with interesting stories, delicious recipes, and beautiful ovens. Thankfully, as the challenges of last year continue to stabilize, 2021 has become a year to re-engage with the world and our communities in safe but creative ways; after so much paring down in 2020, now is the time for growth and learning. We look forward to sharing many resources with you over the coming months to aid you in your journey of discovery.

Happy January!

The Forno Bravo Team

In This Issue
Video Instruction from The Wood Fired Oven Chef
Recipes: Unique Italian Pizza Toppings & Wood Fired Basil Shrimp
Pizza Talk: Will Grant and Sourdough Pizza Crusts
Revving in the New Year with Red Truck Pizza
Boni and Mark Caine of Forest Lake, MN combined Mark's love of old cars and Boni's love of food science to create Red Truck Pizza. They refurbished a 1952 Dodge farm grain truck, added a Viaggio Mobile Drop-In oven, and expertly turned the old truck into a fantastic food truck! Learn more about their story and their build in this short video and blog. (You can check out several other customer stories on our YouTube playlist while you are there!)

WATCH THE VIDEO
Video Instruction from The Wood Fired Oven Chef
Wood fired cooking is art as well as science, and does have a bit of a learning curve. With that in mind, we are always looking for great resources to share with our community that will make that learning curve easier. One of these resources is a series of 18 videos from Clive B. – The Wood Fired Oven Chef. Using his Forno Bravo Premio100 oven, he begins by sharing tips on lighting and managing your fire, and wood fired cooking in general. In later episodes, he goes on to share and demonstrate several recipes that spotlight various cooking styles and skills for you to try in your oven. With relaxing music and great production value, his videos are a pleasure to watch and learn from. We highly recommend his website and YouTube video collection!

FIND THE VIDEOS HERE

Interested in getting a Premio oven kit of your own? We can help!

LEARN MORE
Fun Ways to Celebrate National Pizza Day
Looking for a fun and silly holiday to celebrate to break the winter blahs? Try Tuesday, February 9th. It's National Pizza Day! (Hey, just because we share the day with National Bagel and Lox Day and National Toothache Day is no reason to knock it!) Let's celebrate in style with pizza slingers and pie makers around the country. Several chains are offering great specials that day, or you can make your pizza at home. Maybe try out one of our great recipes below that feature classic Italian ingredients in new combinations, or keep it simple and just go for straight pepperoni – as you find on 38% of all pizzas sold in the USA.

We've come a long way from the simple flatbreads, sauce, and cheese that started in the 10th century in Naples, Italy. Check out the blog to find out about the many and varied pizza styles that exist today. It's a crazy list that just keeps expanding! So new or classic, don't forget to celebrate with a slice on the 9th!

READ MORE
Unique Italian Pizza Toppings (2 Ways)
The Guiseppe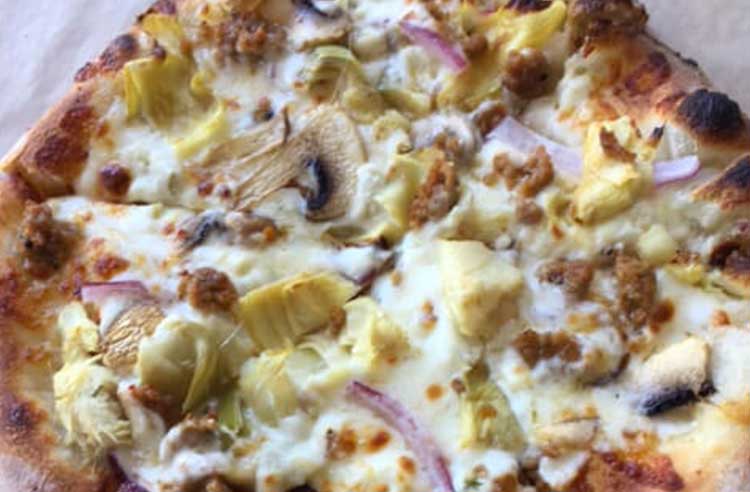 The Guiseppe was created by
Vito Roman
i of Stella's Pizza Pie. It is a unique combination of spicy and creamy flavors and textures that draw inspiration from both Italy and Southern California.
A key ingredient on this pizza is artichoke hearts, in both blended and chunky forms. Commonly found on Italian antipasto trays, this vegetable tastes similar to asparagus and brussels sprouts, with a mild nutty flavor, but can also take on other nuances if it is marinated first. On this pizza, its mildness is offset by the punch of fresh jalapeños, and the depth of the Italian sausage. Time to stretch your wings and try this amazing combination!
GET RECIPE
The "PRP" Pizza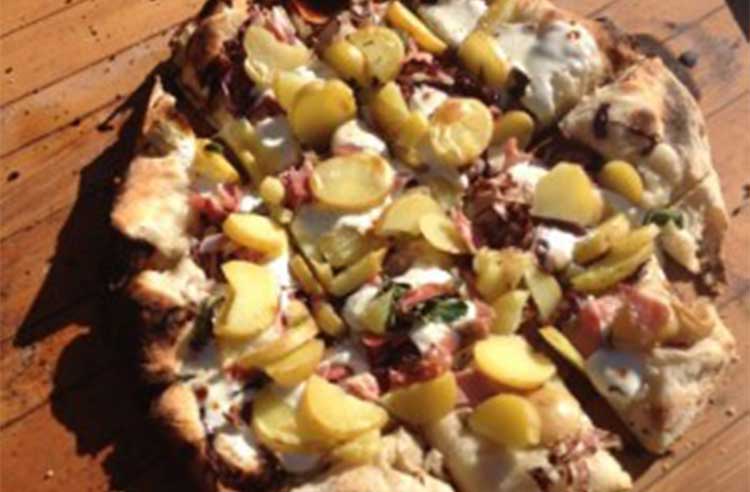 Staying with Italian ingredients, the PRP (Potato - Radicchio - Prosciutto) Pizza by Brigit Binns uses three elements uncommon on American pies, but not foreign to the European palette.

First, potatoes are pre-cooked and thinly sliced so they crisp up nicely in the oven's high heat. The purple radicchio is also pre-sautéed, then tossed with balsamic vinegar to bring out the vegetable's sweeter notes and downplay the bitter. Finally, the prosciutto, which is similar to bacon but more delicate, gives a salty teaser for the taste buds that pull it all together. Add a bit of cheese and oregano, and voila! Perfection!
Tempting Wood Fired Basil Shrimp
For such a simple protein, shrimp has a way of screaming "Luxury!" Now, in this recipe from our friends at Foodness Gracious, you can combine the shrimp with the clean, classic flavors of fresh basil, garlic, lemon, and butter to serve up a sizzling, scrumptious appetizer or main course dish. It's a smart way to use an already hot oven for a bonus, easy-to-make treat for your family or guests.
Hailing from Bainbridge Island, WA, influential pizzaiolo, World Pizza Championships competitor, and rising chef, Will Grant, has become a specialist in the 100% sourdough pizza crusts that he features at his restaurant,
That's a' Some Pizza
.
You'll hear all about Will's journey, tenacity, his 120-year old sourdough starter, and, also, his plans for the future as he visits with Peter Reinhart in this very special episode of Pizza Talk.
WATCH THE INTERVIEW NOW
Interested in taking a class that will help you become more comfortable with your oven, level-up on your pizza and dough making skills, and more? We have a great option for you – no travel required.
The first online Forno Bravo Wood Fired Basics Class hosted by the
North American Pizza and Culinary Academy
, is coming soon. This class is taught by a master certified instructor and includes a moderator, for a smooth, interactive flow. Students can chat and ask the chef questions live during the class for a great learning experience.
SUBSCRIBE HERE
for an email alert when the date and details are released. Spaces will be limited.
Roma Indoor/Outdoor Commercial Oven
The Roma brings big heat in a compact footprint! It's a fantastic pizza oven for smaller pizzerias, vineyards, bistros, and pubs. The Roma's smooth stucco finish or glass tile option, plus the old-world brick arch give it a welcoming appearance that adds to the ambiance of your space. It also draws the eye and the camera to the fire and the beautiful dishes you make in it, for ongoing, free marketing. Pizza, appetizers, homemade bread, desserts...you name it, it can bake it! Flexible lead times are available as you welcome guests back to your dining and tasting rooms, or expand your menu for the future.

LEARN MORE