Dear Wood Fired Family,

Happy New Year! Thank you for your support and engagement throughout 2020. While it has been an interesting time for all of us, we are excited to embrace the changes and look forward to 2021 with enthusiasm and hope.

May you enjoy the holiday season in good health and joy. See you in 2021!

The Forno Bravo Team

In This Issue
Backyard Transformation with a Vesuvio110
Recipe: Lobster and Asparagus Pizza; Slow-Roasted Tomatoes
Detroit-Style Pizza on Pizza Talk
The Patton's Premio Modular Kit Build
Ever thought of building your own wood fired oven, but it seemed too daunting? Well, kits are a great way to tackle the project in a manageable way. Let us introduce you to Tom Patton, his wife, Jane, and his stepson, Clint. This summer/fall, they decided that a pizza oven would be a perfect family quarantine project that would also help pull their small-town, coastal community together in the future. Join us for the story of their kit building journey, as it goes from inspiration to reality.

READ MORE
The Landaal's Beautiful Backyard Transformation
Dennis Landaal and his family had an unfinished backyard with an incredible view. They also have a deep love of pizza, family, friends, and fun (with parties for 50+ people!) Add in a lot of research and planning, a whole bunch of elbow grease, some cooperation, some time, (a really big crane,) and a custom-tiled, Vesuvio110 wood and gas fired oven, and WOW! The finished transformation of their space is so incredible, it's hard to believe.

WATCH VIDEO HERE
NAPCA Expands Classes to Include Virtual Options
The North American Pizza and Culinary Academy outside of Chicago, IL boasts a state of the art, in-house cooking school. However, with the continuing restrictions for in-person training this year, they have decided to expand their offerings to include an online option! This new, high-end, virtual platform will allow NAPCA to produce crisp HD content with multiple camera angles, and an on-site moderator to control all the action. Students can interact and ask questions live during each class, helping them engage and learn the art of pizza making and other cuisines from the comfort of their own home kitchens and restaurants. While an investment of time and technology, this new offering will enable NAPCA to expand its curriculum, reaching many more students across the county and around the world!

We are also excited to announce that the first online Forno Bravo Wood Fired Basics Class hosted by NAPCA is coming soon. CLICK HERE to receive an email alert as soon as the date and details are released!
Wood fired cooking is both art and science. The recipes that we share here in the Newsletter, and in our Community Cookbook can be readily adapted to various oven sizes, cooking temperatures, fuel sources, and your personal preferences. For example, love lobster, like on the pizza recipe below? Heap it on! Not such a fan? Substitute pre-cooked, marinated chicken instead. The combinations are endless. Visit our online cookbook to try out over 200+ delicious recipes for your oven.

COMMUNITY COOKBOOK
Lobster and Asparagus Pizza by Dr. Jon Mills
Hailing from the province of Ontario, Canada, Chief Psychologist, Dr. Jon Mills, is a long-time fan of wood fired cooking. His lobster and asparagus pizza is a successful culinary experient that brings together flavors from both the sea and farm into a beautiful blend. His recipe offers several ideas for personalizing the pizza – changing up the nuances to keep the experiment going fresh and strong.

GET RECIPE
Wood-Fired, Slow-Roasted Tomatoes from FoodTerra
In the middle of the deep winter doldrums, there is nothing that brightens up a dish more than the sweet-savory flavors of freshly roasted tomatoes. Chef Eric Wilson of FoodTerra demonstrates how to make this delightful accent in his Bella wood fired oven. With the investment of a little time, and a few simple ingredients, this dish pays off in spades to elevate your next meal!

GET RECIPE
Education Spotlight
Detroit-style Pizza with the Pros on Pizza Talk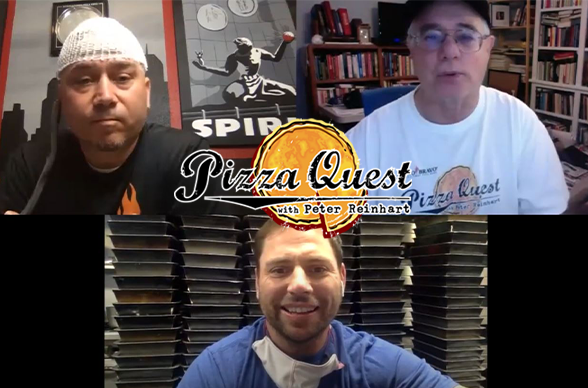 Enjoy a 2-part episode of Pizza Talk, as the indomitable Peter Reinhart meets up with the incomparable Shawn Randazzo and Jeff Smokevich to discuss and demo Detroit-style pizza. Sadly, Shawn passed away from brain cancer just this month, so we are especially grateful to Peter for capturing this insightful and engaging interview with 2 pizza greats. Don't miss it!

WATCH NOW

Product Spotlight
Smaller Wood Fired Pizza Ovens Pack a Big Punch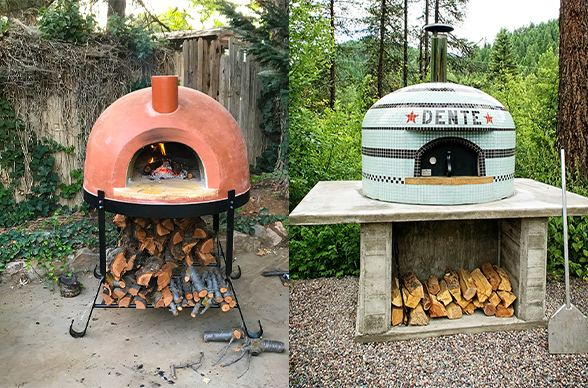 The Primavera and Napolino may be the most compact ovens in our residential line-up, but that doesn't stop them from performing like their larger cousins! Their wood fired cooking chamber heats up to 900°F+ just like the big boys, and with the small size, they heat up lightning-fast for an alfresco dinner on the patio any day of the week! Choose from 7 colors of stucco (Primavera) or a glass tile finish in standard or custom patterns and colors (Napolino) to match your taste and style!
Start the new year out right with healthy, at-home dining. A Primavera or Napolino makes every meal a celebration!