Dear Wood Fired Family,

Summer months means more time outside with Food, Fire, and Family. We are so glad that many people are able to come together again to invest in each other, and celebrate these precious things in life. We'll be gearing up for our summer photo contest soon, so make sure to get those phones out, snap a photo or two to capture the moment, and be on the lookout for our submission form in the coming months. (You can also come engage with us over on Facebook and Instagram any time!)

Whether you are a new owner, a long-time member of our community, or still in the planning and dreaming stages, we welcome you to enjoy and forward this Newsletter to a friend. We love learning more about your journey, and sharing stories, ideas, and inspirations with you too.

Happy summer!

~The Forno Bravo Team

In This Issue
Roasted Chicken & Specialty Flatbread Recipes
Pizza Quest Podcast Now Available
Hosting a Safe (and Low-Cost) Memorial Day Party
As the weather warms and restrictions are lifting, friends and family are starting to reconnect with each other in outdoor gatherings again. Since many of us are feeling kind of rusty with our hosting skills, we have put together some tips, ideas, and resources to help you plan your event. Make your next get-together fun, safe, and economical as you rediscover the joy of a good meal shared with others around a wood fired oven.

READ MORE
Family Time - A Father and Son Build Their Dream Oven
Last year's call to stay home meant LOTS of extra family time. When the time together was starting to be a bit wearing, one young man (who is also a budding pizzaiolo) asked his dad if they could use the down time to create something big! His family agreed, and over the next several months, their Casa2G110 Pizza Oven was born. Jordan Friedman and his son captured their build experience in detail, and have compiled the photos into an awesome How-To video to help others build their own pizza oven projects.

Watch now to see one way of assembling and finishing a Forno Bravo modular oven kit, and enjoy this father-son bonding project that really took it to the next level!

WATCH VIDEO


Pizza Quest Podcast Now Available
Peter Reinhart is a world-class bread expert, cookbook author, and sought-after instructor. However, he is also an aficionado and lover of all things pizza! His quest to explore the pies and people who make them has been an active journey of discovery, connections, and celebrating innovations for over 11 years!

Great news! What began as a series of blogs and videos, is now also available as a podcast. Season 1's episodes are up for your listening pleasure, and the next set of interviews are about to launch soon. You can find these exciting conversations between Peter and the best of the best in the industry on Heritage Radio Network, Spotify, iTunes, or other services. So, let's put our listening ears on and enjoy the Quest.

LISTEN NOW
Beyond Pizza - Using Your Brick Oven to the Max
While the #1 item made in a wood or gas fired oven is (surprise, surprise) PIZZA, that is just the tip of the iceberg for what you can make in these incredible ovens. If you are ready to dive deeper into what's possible and expand your wood fired baking repertoire, we have assembled several resource pages that cover everything from the mechanics of how the oven works (in Brick Oven Cooking Techniques), to tips for baking beautiful bread, roasting vegetables, making steaks, and more!. Click the link below to find a wealth of information on getting the most out of your oven.

*Special Note – Our Community Cookbook has been updated with a new look and new functions. Now, you can print and pin the recipes for easy reference. You can even submit one of your own! Let us know what you think.

LEARN MORE
Roasted Chicken - 2 Ways (For Brick and Steel Ovens)


Roasted chicken is a fan favorite in the world of wood fired cooking. It's easy to do and the meat comes out tender, juicy, and with a hint of the smoke flavors coming through. Going back into our Community Cookbook, we found 2 recipes for this staple dish. The first from Chef Bart was written for our brick ovens. The second was adapted by Chef Carrie Nalley for our Bella steel pizza ovens. You can play with both versions and let us know which one works best for you!

Ricotta and White Anchovy Flatbread with Meyer Lemon & Rosemary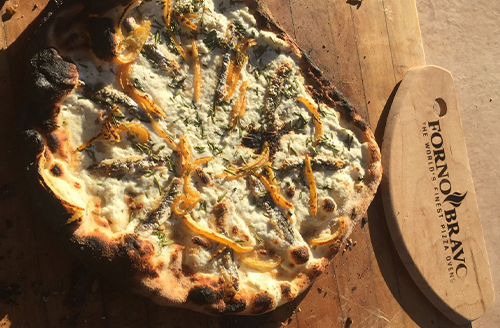 Sometimes, taking a little time to prepare specialty ingredients in advance opens up whole worlds of options when it comes time to cook. This recipe is a perfect example. Chef and accomplished cookbook writer, Brigit Binns, teaches us how to preserve Meyer Lemons, and then to use that ingredient for an unexpected burst of flavor on a white pizza that is both exceptional and memorable.
GET RECIPE
Dreamy Outdoor Kitchen - Vesuvio100
Warren and Monika Pickering created an outdoor kitchen that is a dream! The centerpiece of the space is their custom tiled Vesuvio100. They worked with the Forno Bravo staff to perfect the look and feel of the oven and are thrilled with the results. You will be too!

WATCH NOW
The Small and Mighty Giardino
The Giardino Modular Oven Kit is our smallest residential oven core. With a single-piece dome and integrated masonry vent, it is also the easiest to assemble. However, don't let the small size fool you. The Giardino does not skimp on full-sized quality or baking performance! Perfect for singles, couples, small families, and intimate dinner parties, the Giardino only needs a minimal amount of wood to heat up to pizza baking temperatures. (It is lighting fast!)

Delicious food and oversized entertainment in a compact package – the Giardino gets the party started!

LEARN MORE
Like Our Newsletter? Share it with a Friend!