Dear Wood Fired Family,

Snowy winter weather offers time for dreaming and planning future oven builds. The warm fire, fast cooking times, the amazing aroma of fresh pizza, and the lovely babble of friends and family around the table again brings smiles and joy. May all your wood-fired dreams come true, and please let us know if there is any way we can help you achieve them!

The Forno Bravo Team

In This Issue
Recipes: Bacon Braised Hare & Caesar Salad Pizza
Using Social Media to Educate, Inspire, & Connect
Mosaic Tile Ovens - Art in Action
Mosaic tile art goes back to the 3rd century BC! This technique has been used across cultures and the ages for creating patterns, pictures, and portraits, as well as adorning cathedrals, mosques, façades, modern sculptures, and now pizza ovens. Visit the blog to enjoy samples of these unique ovens and be inspired to try using mosaic art on your own oven, be at home or a restaurant.

READ MORE
Creative Multi-Generational Oven Build by Accent Masonry
Meet the Bennetts. Scott, Luke, and Mason Bennett are professional masons from Gilette, WY. They built a portable pizza oven for a trade show using a Casa2G oven kit, a steel base, and sculptured colored concrete to create a unique masterpiece. Learn their story in this quick, 2-minute interview and see the "Pizza Oven Tree" they designed and built as a family. It's spectacular!

WATCH THE VIDEO

*Want to know more about how they did it? See more details of their build HERE
Bacon Braised Hare with Leeks by John Livera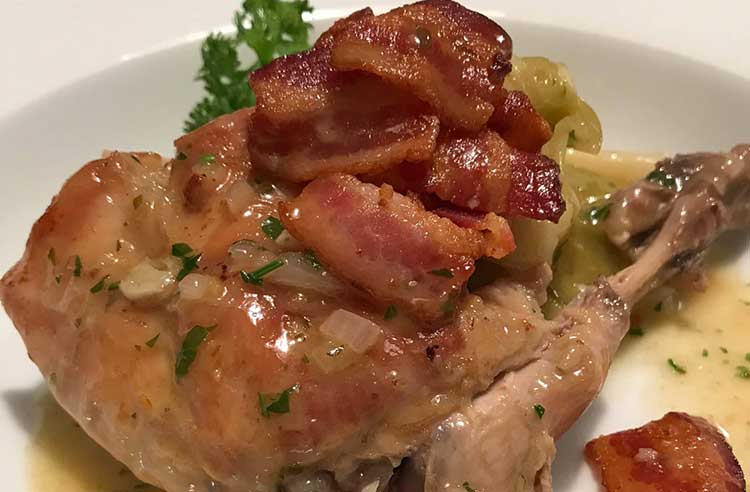 Bringing French flavors to an Italian oven, this recipe from John Livera is a simple one-pot dish that uses some unconventional ingredients for most home chefs, but common cooking techniques anyone can try. Expand your recipe book and find a new favorite family with this dish.
GET RECIPE
Caesar Salad Pizza by
Chef Bart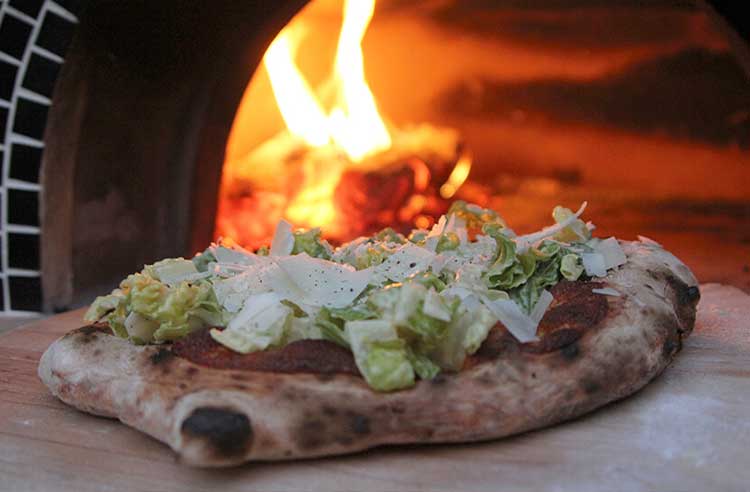 This bright pizza option is a light and delicious twist on a classic. With a pizza dough base, homemade pesto sauce, and caesar salad topping that is added after baking, it is like having a salad on a large, fresh, warm crouton. You can even hand-toss the salad tableside for a bit of extra flair prior to serving.

Using Social Media to Educate, Inspire, & Connect
We love our wonderful wood fired community! One of the easiest ways we have found to connect with you, and connect you to each other is through our social medial channels. Interest in our pages has really grown and we are adding new posts, stories, and pictures regularly to keep the content fresh.

With almost 15,000 friends on Facebook, 7,000 followers on Instagram, 20,000+ members on the Forno Bravo Forum, and 3.4 million views of our ovens and community every month on Pinterest (plus YouTube videos, and a huge photo Gallery on the Forno website as well,) there's something for everyone. We are thrilled with the conversations, questions, and sharing that happens on these platforms. You can Like, Follow, Share, and Save too! Help us spread the word.

Just click any of the symbols below to find our pages. We'll see you on the web!

A Bold Build for a Big Space
In our earlier blog, we showed the fun ways you can use mosaic tile for an interesting, artsy oven finish. Diane Bennink and her family went a different direction with their Casa2G pizza oven kit. They used brick, reclaimed barnwood, and a variety of stone types to create an interesting and engaging finish with a more industrial flair. It has that extra sense of "presence" that fits perfectly with their open concept entertaining area. Check it out in this quick video!

WATCH THE VIDEO
Residential Ovens for Every Setting
At Forno Bravo, we think that every person and every size family deserves the fun of having a pizza oven that fits their lifestyle and space. That's why we created both the simple, compact Primavera for quick heat-up times and baking 1-2 pizzas at once, and also the custom-tiled, supersized Vesuvio oven for those who prefer larger meals and gatherings. Looking for smooth stucco or glossy, glass tile? Small or large cooking floor? Wood or gas? Both types of ovens are sure to please! The question is not which model is better, but which model is better for you.