Hello Forno Bravo Family,

Our 2020 Summer Photo Contest started last month and we have had a tremendous response. So many diverse oven finishes and settings have been captured and sent in. Only a little more than a week is left in the contest (the entry deadline is July 31.) Don't miss out on the fun, or the chance to win one of three great oven accessory prizes!

Plus, it's the high season at the factory and our craftsmen are working at top production levels to meet demand. If you are interested in purchasing an oven for your home or business, we encourage you to order today! We would love to assist you in fulfilling your wood fired dreams.

In This Issue
Recipe: Wood Fired Spicy Italian Sausage Pasta
Recipe: Pancetta Pizza with Smoky Tomato Sauce
The Forno Bravo Team

1-800-407-5119 | Contact Us | Pizza Oven Selection Wizard
2020 Summer Photo Contest Sampler
Kits, tiled, stucco, and stone. We have received oven photos of them all as part of this summer's photo contest. It's not too late to participate! The photo submission deadline is Friday, July 31, 2020 and we'll announce our winners in the August newsletter.

Check out a sample of a few of the many photos and stories we have received so far to inspire your entry. You could win a Tuscan Grill, Terracotta pan, or a professional pizza peel.

READ MORE
Wood Fired Oven Basics Video Series
Clive is the proud owner of a Forno Bravo Premio2G100 wood fired oven. He goes by "The Wood Fired Oven Chef" moniker on his website and Youtube channel. His patient instruction and helpful tips provide a fantastic overview of these ovens.

In his series of 17 well-crafted videos (and counting,) Clive takes the mystery and stress out of lighting your fire and maintaining it, tool use, and how to cook a variety of foods and recipes in a wood fired oven. Be empowered to use your oven to its fullest potential, or maybe gather the confidence to purchase one of your own!

WATCH HERE
Pizza Intensive - Learning the Craft
The North American Pizza and Culinary Academy (NAPCA) regularly offers fun, food-centric, date nights and cooking classes for the general public. However, a few times a year, they also offer special courses for those who really want to take their pizza making skills to the next level.

Using the curriculum of the Scuola Italiana Pizzaioli, the oldest pizza school in Italy, Master Instructor, Chef Leo Spizzirri, trains a small group of serious students to be certified as a pizzaiolo (5-day course.) The school's shorter, 3-day class is also a hands-on intensive that covers much of the same course material, but without the final exam or certificate. Both the 3- and 5-day classes will be held again in August. (Sign up for one of the few remaining slots now!)

LEARN MORE
Wood Fired Spicy Italian Sausage Pasta with Chef Marshall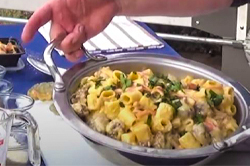 Sometimes, a spicy pasta dish is a perfect complement to the main course on a hot summer night; or add a side salad, and make it the main course itself! Chef Marshall takes you step by step through this delicious recipe prepared in his steel Bella wood fired oven. This demo and dish will help you get outside of the pizza box for a new family favorite!



WATCH THE VIDEO
Doming Technique with a Panchetta Pizza with Smoky Tomato Sauce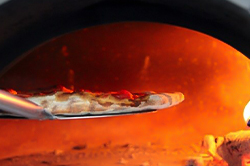 Sometimes, the top of your pizza needs a little extra boost to finish cooking. Raising the pizza up on your peel towards the top of the oven for 10-15 seconds is called "doming." The extra heat at the top of the oven acts as a broiler to finish the pizza. Try it with this recipe from Chef Bart, and add sizzle to the pancetta and bubble to the cheese for pizza perfection.



RECIPE AND TECHNIQUE TIPS
While some people like to fully enclose their ovens, others love to celebrate the shape of the classic dome. The Primavera is a small, stucco oven that makes the "beehive" shape the focus. No muss, no fuss, just a wood fired oven in its simple purity, and just right for family pizza dinners.

The Toscana is its larger cousin. Built on a Casa2G core, this oven also comes in a popular, stucco dome option (as well as hipped and gabled styles.) The Toscana's smooth lines, interesting brick arch, and substantial hearth gives the oven a stately presence in your outdoor kitchen and entertaining zone.

Pizza Quest: "Pizza Box of the Week"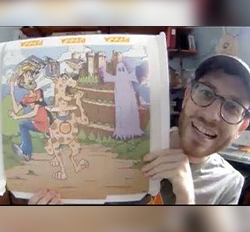 New York's Scott Wiener of "Scott's Pizza Tours" is an avid collector of unique pizza boxes. With over 1,500 in his Guinness Book of Records collection, he has no shortage of favorites. In this week's interview on Pizza Talk with Peter Reinhart, Scott spotlights a favorite cartoon dog with a bit of a twist to show that art can be found in or on any medium.

All of these episodes are available on Pizza Quest, Facebook, and Youtube. Watch now for a slice of 5-minute fun.

FIND THE SHOW