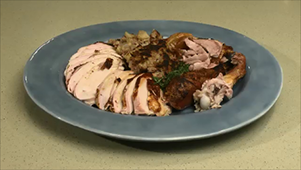 Welcome!
Winter is upon us but that shouldn't slow down wood fired ovens, especially with the family gatherings and parties coming up. Watch Chef Lea show you how to cook a Thanksgiving turkey in a wood fired oven that will melt in your mouth followed by an apple-inspired dressing.
Are you a fan of Black Friday? Read about Bella Outdoor Living's Black Friday sale on the popular Nano and Medio series stainless steel ovens.

As we continually improve the user experience on fornobravo.com, we are tackling the multitude of pictures in the Image Gallery to help visitors find the images that interest them. We enjoy receiving pictures of people's ovens and what they cook! We've found that a photo contest is a good way to get people to share their pictures (especially when there's a prize involved).

Because Forno Bravo ovens are hand-crafted in the U.S., we have the ability to customize colors, tiling and even arches. See some recent customizations in this newsletter.

Let us know if you have any questions about wood fired ovens! We're available during business hours at (800) 407-5119. After hours, you can send us an email from the website and we'll get back to you as soon as possible.
The Forno Bravo Team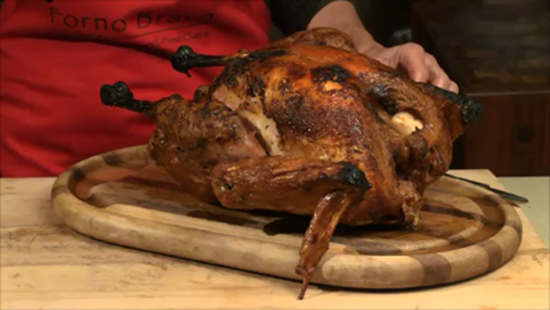 Note: There are two parts to this recipe; the turkey and the dressing. Supplementing these recipes in the Community Cookbook are video demonstrations on the Forno Bravo Community Cookbook YouTube channel.
Part I: The Bird
Fellow wood fired enthusiasts, do not be afraid! If you've already been making pizza or roasting chickens in the wood fired oven, roasting a turkey is as easy as (pumpkin) pie. Be patient about getting the oven down to roasting temperature of about 500 degrees. Because if you're rushed and you throw Henny Penny in when the oven's too hot, you'll lose the crispy crust. And DO remember to make a strong foil to protect it. Remember that the turkey breast is much closer to the dome of the oven where all that heat is collecting. Read more
Watch the video demonstration.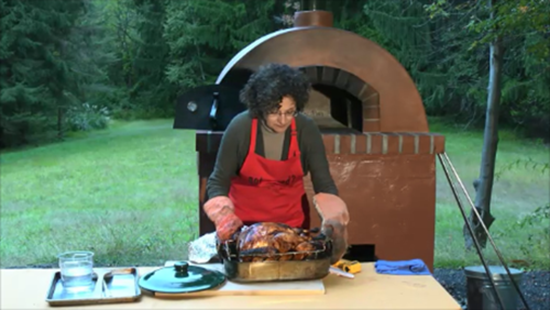 Part II: The Dressing
Fiery cooks! Now that you've decided to roast the bird in the oven, it's time to start using it for everything else. Start collecting your aging bread for the stuffing, and make sure it's nice and dry. In addition to the turkey and stuffing, I blanch my Brussels sprouts, season them and then roast 'em in the wood fired oven, too. Read more
Watch the video demonstration.
Buon appetite e ci sentiamo presto!
Chef Lea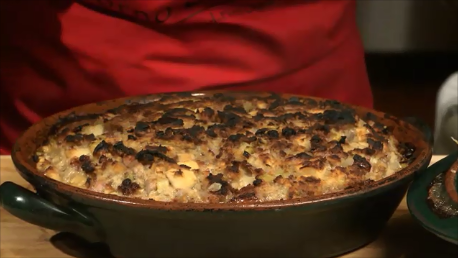 Bella Black Friday


Don't miss out on the Black Friday sale for Bella Outdoor Living! You don't have to stand in line for this sale and it lasts seven days! The Nano and Medio series stainless steel pizza ovens are offering 10% off of the published retail price from November 23-30, 2015. A wood fired pizza oven from Bella is a unique and unexpected gift for the backyard chef who has (almost) everything. A wood fired pizza oven will take their outdoor cooking skills to the next level and is a gift the whole family can enjoy. The Bella stainless steel oven combines the simplicity and ease of a grill with the fun of authentic Italian wood fired cooking. Bella pizza ovens are fully-assembled and come with a wheeled cart so you can move the oven to any outdoor location. Visit www.bellaoutdoorliving.com to take advantage of this Black Friday sale today!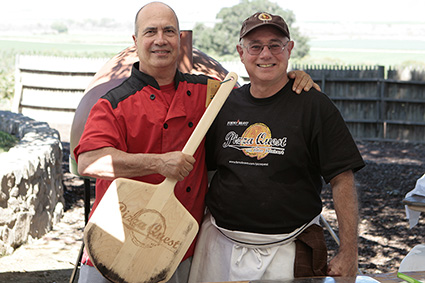 I'm happy to announce that John Arena, founder of Metro Pizza in Las Vegas, and one of America's most beloved pizzaiolos, is returning as a regular columnist here on Pizza Quest. Many of you have read John's informative and engaging posts during the past few years, in which he explores his interest in the history and artistry of pizza, as well as the business practicalities. In anticipation of John's new series of guest columns, I asked him some questions about his career, heroes, and thoughts about the future of pizza. His words are a perfect kickoff and preview of what's to come over the next few months. Read more
We continue our exploration of Vera Pizza Napoletana with our Naples guru Peppe Miele. In this installment we turn to the wood fired oven that is absolutely essential if you want to get certified as a real deal, verace pizza guy. It's hard to believe, but important to recall, that only a few years ago in the United States a wood fired oven sighting was a rare and exciting discovery. Little by little they started popping up in high-end restaurants (of course, Wolfgang Puck helped when he installed one in the original Spago back in the early 1980s, but it took another ten years before they really became de rigueur). Of course, in Naples, it's so much a part of their culinary DNA that the ovens, and their humble pizzaioli, are usually hidden in the back of the kitchen, unlike the way they're showcased here as the star attraction. But, frankly, they should be the star-why not? They're beautiful, elemental and so dramatic -- they make for great theater! The wood fired oven movement has been an essential part of the modern American culinary awakening, reintroducing us to cooking with fire, to the primal interaction of flame and flour. Personally, I could stare into a wood-fired oven for days in fascination, and I love watching how ingredients are transformed before my very eyes from one thing into something totally different. Read more and watch the webisode.
-Peter Reinhart
Wood Fired Ovens in Winter Photo Contest
In case you're scratching your head asking, "Why did they make a photo gallery showing pizza ovens in the winter?", there is a good explanation. Since we have a good number of people ask us if you can use a wood fired oven in the winter, we needed a gallery to show that wood fired ovens are, indeed, used during the winter months. To further make the point, we are announcing a photo contest for owners to show them using their ovens in the winter. Snow isn't required, but you do have to show a fire in the chamber (don't be afraid to show your creativity!). The contest will run from December 1, 2015 through February 28, 2016, and the winner will receive a $75 shopping spree in the Forno Bravo Store (U.S. and Canada residents only).
To submit your photo, send it to photos@fornobravo.com with the subject line "Wood Fired Ovens in Winter Contest." Provide your name, location and any details you wish to include about your oven. The winner will be announced in the March 2016 newsletter. Good luck!

Forno Bravo Customized Ovens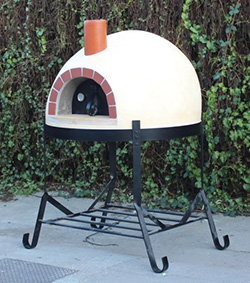 We are proud of our team of craftsmen at Forno Bravo who are up to the challenge when we receive a request to customize an oven for a customer. We recently received two such requests for the Primavera assembled oven. One client wanted a more finished look to the oven opening and requested a customized brick arch. Through a series of emails, he chose the brick and watched the process as his oven was built.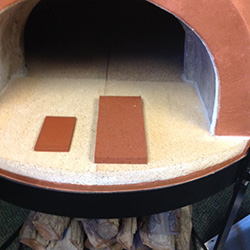 Another client not only requested a custom brick arch but also a stainless steel chimney insert with a rain cap in the terra cotta chimney.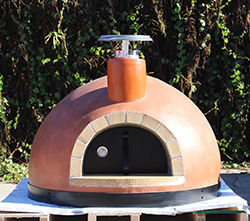 A wood fired oven is a major purchase, and we want to make sure you get what you want. If you are considering a Forno Bravo oven and have a customization in mind, don't hesitate to ask us; we can probably make it happen!

Forno Bravo Image Gallery
We hope you've had the opportunity to visit the Forno Bravo Image Gallery on fornobravo.com to experience the collection of wood fired ovens people have sent in to us from all over the world. With the website re-design, we are sorting through the images to place them in more descriptive categories to help visitors find the right product, design and topic that interests them. Two new categories are "Outdoor pizza ovens with stucco finish" and "Outdoor pizza oven for winter". Whether you purchase an oven or build your own, we encourage you to continue to share photos of your oven or what you cooked last night with the rest of the community through the "Submit Photo" option in the gallery.

Architects, contractors and homeowners with questions on venting when installing Forno Bravo ovens will be pleased to find updated installation instructions of single wall stove pipes, double wall chimneys or Type 1 Hoods. The DuraBlack single wall stainless steel stove pipe is designed for outdoor installations and comes standard with Forno Bravo residential oven kits. If your oven design is indoors or goes through an overhead structure, we recommend upgrading to the DuraTech double wall chimney system. For more information on venting, visit our Resources page and read about venting options.