Hello Forno Bravo Family,
Fall is a feast for the senses – where the color of the changing leaves, the smell of a wood fire, the taste of fresh baked bread, the feel of pizza dough in your hand, and the laughter of friends all joyously unite on a crisp autumn evening for a fabulous time. We hope this Newsletter finds you well and that you enjoy the many articles and recipes we've brought together for your reading (and tasting) pleasure. May your fall be glorious – filled with good times and great food!

Featured Stories & Recipes:
Recipes: Breakfast Pizza, 4-Minute Steaks, and Wood Fired Vegetables
The Modena – Performance and Panache
The Forno Bravo Team

1-800-407-5119 | Contact Us | Pizza Oven Selection Wizard
And the Winner of the 2019 Summer Photo Contest is... (drumroll please)... DUANE AND NANCY NIEMI
The Duane and Nancy Niemi are prolific, home pizza making masters! With well over 1,900 documented pizzas baked in their wood fired Primavera70 and still counting, they have certainly perfected their art and technique. Their winning photo of a beautifully baked vegetarian pizza, surrounded by the vibrant flowers of their home in the Pacific NW took the top prize in our 2019 summer contest. Congratulations!

After making our Top 20 photo finalists last month, the Niemis got the word out to their network of happy, pizza-eating guests, who jumped online and voted in spades! Thank you Duane and Nancy for your amazing hospitality and being wonderful ambassadors of wood fired fun. We hope you enjoy your prize of a new Tuscan Grill. We can't wait to see what else you will make in your oven. Who knows? This could be the start of a new grilling/baking era for your family!

Read More & See Our Finalist Submissions
Thank you to everyone who submitted photos and everyone who took the time to vote for the finalists! With over 600 votes cast for our contest finalists, we want to honor our runners-up and your beautiful oven photos.

2nd Place: John Cangemi - Custom Alan Scott Design
John's brick oven is a real piece of art! Intricately-tiled mosaics grace the sides, each featuring a different Italian scene. This side displays a map of Italy and the neighboring region and seas.
3rd Place: Walter Page - Premio2G100
Walter's oven is integrated into an outdoor pavilion with a brick enclosure, post and beam supports, and a copper roof. It is designed to harmonize with his historic house that was built in 1630.

4th Place: Mike Haraseviat - Premio2G100
Mike's oven features a unique, porcelain penny-tile covered dome. Detailed planning resulted in a complementary color palette for the marble, stone, and tile surround materials.
5th Place: Russell Ciappetta - Pompeii 48"
Russel finished his DIY brick oven with a smooth, stucco dome, accented with brick and tile. This versatile oven harkens back to his Italian roots, but blends beautifully with his Pennsylvania home.
Honorable Mentions
Also, thank you and congratulations to our Honorable Mentions!
- Robert Bianco - Premio2G100
- William Snow - Casa2G80
- Alexis Zolner - Casa2G90
- Roger Wiegand - Pompei 42"
You can learn more about our finalists and see all of the Top 20 photos HERE.
The Crawford Family's Food Extravaganza
Wood fired ovens are the perfect tool to serve up an inexhaustible font of culinary creativity. The Crawford family may have started with Neapolitan Pizza, but their meals have grown and stretched to embrace foods from all over the world. From Duck Cassoulet to Empanadas, get inspired by the many dishes that they have prepared in their Napolino. What will you try in your oven?

Read The Full Blog Post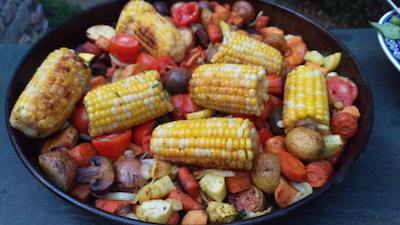 Wood Fired Roasted Vegetables from The Arch NC
As summer gardens are yielding up their final bounty, many root vegetables are still in the prime of their growing season. Supplied by our friends at The Arch NC, a Forno Bravo dealer/installer, this recipe is a simple way to use up some of those fall vegetables for a delicious side dish that works with any meal.
Get The Recipe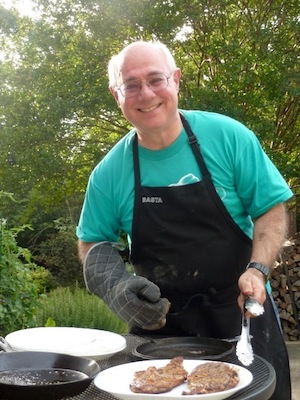 4-Minute Steaks by Peter Reinhart
Cooking sizzling steaks on a piping-hot grill pan is a guaranteed crowd pleaser. Peter Reinhart, culinary instructor and expert baker takes us through one of his favorite dinner-party recipes, 1 ¼" ribeye-steaks cooked 2 minutes per side in a roaring hot pizza oven. You'll get restaurant-meal quality at a fraction of the cost, and more than twice the fun!
Get The Recipe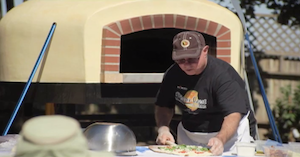 "Bacon" and Egg Breakfast Pizza #2 - Conclusion
This month Peter Reinhart focused on making a Neapolitan-style dough by hand in preparation for this month's delicious breakfast pizza. Tomatoes, provolone, pre-cooked pancetta and guanciale, arugula, and sunny-side up eggs — oh my! Enjoy this video and hands-on demonstration as you learn to cook a unique pizza that is sure to impress.
Watch The Video & Get The Recipe
Don't Miss it:


3-Day Pizza Training Course Coming to NAPCA October 22nd, Lisle IL

Sign up now for this 3-day, high-intensity class in October. Utilizing the curriculum of the Scuola Italiana Pizzaioli, the most prestigious pizza school in Italy, the North American Pizza and Culinary Academy's Master Instructor and his team of talented chef instructors are at it again! They combine theory and hands-on learning to greatly increase your skills and take your pizza training to a whole new level!

Learn More, Register, & View Other Upcoming Courses
Product Spotlight:


Modena High Volume Performance & Stylish Exteriors for Working Restaurants

The Modena is the "Big Boy" of Forno Bravo's commercial lineup, with a cooking floor of up to 180cm! Capable of baking up to 280 10"-pizzas per hour, the Modena excels in busy kitchens; supporting mid- to large-sized pizzerias with ease. A 4"-thick refractory dome, and space-age insulation gives consistent performance and maximum thermal mass – keeping oven temperatures steady and high. Gas-only, gas/wood combo, and wood-only versions offer the flexibility to match your restaurant's needs. The new, optional, 5:1 self-modulating, burner is fuel efficient, but also powerful enough to bake Neapolitan pizza in a true, gas-only environment. Then there's "The Look". With a striking red steel wrap, or limitless custom finishes, the Modena slips seamlessly into any back-of-the-house design, or is classy enough to take the center stage in an open-concept kitchen.

Learn More About Modena