Dear Wood Fired Family,

Happy September! The weather is cooling down, pumpkins are coming out, and it is still the perfect season for some wonderful wood fired cooking and together time. In this issue of the Newsletter, we are going to focus on more of the beautiful images submitted to our 2022 Summer Photo Contest. Last month, we highlighted the overall winner. This month, we are going to spotlight several of the Honorable Mentions and their lovely images of both ovens and food. So settle in, and get ready to be impressed with the creativity and passion of our wood fired community.

The Forno Bravo Team

In this Issue:
Recipes: Sourdough Kale Sausage Pizza & Cedar Plank Salmon
Pizza Quest: Pizza Leah from Sonoma
2022 Summer Photo Contest Honorable Mentions: Ovens
With so many beautiful and original ovens to choose from, narrowing down the list to just five Honorable Mentions was incredibly difficult. There were so many more shots we could have chosen. Be sure to watch our social media pages for more photos and stories in the coming weeks and months. Following are some of the best of the best oven photos and our favorite entries.

Congratulations to our honorees, and thank you for being a part of our contest and community! Your images inspire us all.
Lloyd and Kathleen Chasey - Casa2G 90
Jason Scarfi - Vesuvio 110
Sidney Cammeresi - Casa2G 100
Linda Inzucchi - Giardino 70
John Thornley - DIY Custom
SEE MORE
2022 Summer Photo Contest Honorable Mentions: Fantastic Food
Wood fired cooking can be broad and bold or simple and subtle. Pizza is a common favorite, but it is by no means the only thing you can cook in these ovens. Our 2022 Summer Photo Contest Honorable Mentions have captured just a portion of the spectrum of dishes you can prepare to delight the pallet and satisfy your appetite. Read on to discover more wood fired favorites.

Special congratulations to this year's Honorable Mentions in the (unofficial) food category:
Patrick Tracy - Seafood Paella
John O'Neil - Beef and Potato Pie
Ed Bard - Margherita Pizza
David Porter - Stuffed Peppers
John DePuma - Pizza 2 Ways
Sourdough Kale Sausage Pizza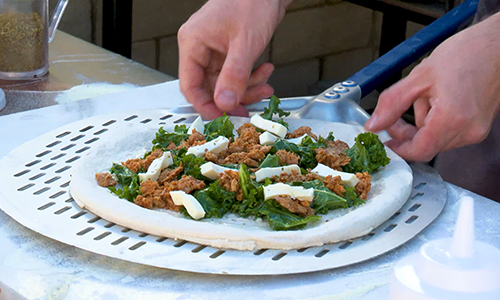 In this short video, Chefs Dani and Alex of Yukon Pizza in Las Vegas demonstrate how to make a delicious pizza combination of dressed kale, flavorful sausage, mozzarella cheese, and the little extras of garlic oil and parmesan for a beautiful, wood fired, "white" pizza. Their trademark sourdough crust adds the extra zing and the smokey touches of the fire bring it all together in a flash.
WATCH VIDEO
Wood Fired Cedar Plank Salmon

This classic recipe from home chef, Doug Garner of Kyle, Texas is perfect for a fall day or evening feast. Salmon is simple, rich, full of good fats and nutrients, and can be easily prepared in a wood fired oven. Check out his recipe and learn all of the tricks for preparing this fabulous catch of the day.
PIZZA LEAH OF SONOMA COUNTY
Meet Leah Scurto in this entertaining conversation with host Peter Reinhart. Half Mexican, half Italian, and born into a family of food lovers who shared wonderful family meals during her early years, Leah's current success in the pizza and food sectors was simply meant to be. Learn about her award winning pizzas and culinary vision for the future of Pizza Leah, located in the heart of Sonoma County's wine country.

WATCH NOW
The Vesuvio is a beautiful, custom-tiled pizza oven for indoor and outdoor kitchens and home entertaining areas. Available in 4 sizes and many colors and patterns, the largest models can bake up to 5 pizzas at once! Enjoy this video of the Vesuvio in all of its wood and gas fired glory, and get a taste of its many possibilities for your home.

WATCH MORE
FOLLOW US ON SOCIAL MEDIA
Like Our Newsletter? Share it with a Friend!