Dear Wood Fired Family,

Summer is in full swing, and many families are out and about enjoying the sun and fun before the school year is back upon them. Others like to invite people in to celebrate summer evenings with a communal meal and pizza party. Whatever, your preference, we invite you to make a Forno Bravo wood fired oven part of your plans and memories. In this issue of the Wood Fired newsletter, we introduce you to a customer who is taking his pizza business on the road, and also show you ways to assemble and finish an oven kit for making pizza at home. Or, you can try out the delicious recipes, and then take a photo or two of the finished product to enter in the Summer Photo Contest.

Enjoy the sun!

The Forno Bravo Team

In this Issue:
Recipes: Blackberry BBQ Chicken, The Fresh King Pizza
Pizza Quest: Eldref Laxa of "What's Good Dough" Podcast
Product Spotlight: A Casa2G for your Casa
East Coast Pizza Maker Takes Pizza on the Road with a Fireside Trailer
Peter Sidote of Piesans Pizza Co. hails from Hauppauge, NY. His newest venture features a specially adapted Forno Bravo wood fired oven and the Concerto Trailer from Fireside Trailer. This powerful, professional oven/trailer combination allows him to conveniently bring a fully-loaded prep table and other supplies to an event, and then crank out a high volume of premium-quality pizza to feed the crowd. For example, at a recent event, his talented team of 4 people cranked out over 600 pizzas in one afternoon! They were the most popular food truck at the festival. Enjoy this short interview with Peter, and get a sneak peak of his fabulous rig.
Summer Photo Contest Continues for the Month of July
Don't wait! Now is your chance to enter up to 6 of your photos in the Forno Bravo 2022 Summer Photo Contest. The grand prize winner's image(s) and story will be featured for thousands to see in the August Wood Fired Newsletter, our blog, and our social media pages, PLUS the winner will take home a steel Tuscan Grill ($115 value) perfect for grilling steaks, fish, or veggies.

We've had a great response to the contest so far, but would love to see images of your wood or gas fired oven, pizza, gatherings, pizza business, or any related topics as well. Use a fancy camera, or just knock out a quick pic with your phone; artistic layouts, or live action – they are all welcome! Entries must be received by AUGUST 7, 2022.

How to Assemble a Pizza Oven Kit – Written Instructions
Last month, we released a video tutorial demonstrating how to assemble a Forno Bravo modular oven kit. It has become very popular and we received lots of positive feedback! However, while many loved it, other customers mentioned that they prefer to read instructions instead of watching a video. So, by request, we have now issued a (written) blog version of the tutorial based on the video so that everyone can gain the confidence and skills they need to feel comfortable tackling this type of project at their own homes. Give it a read and let us know what you think. (And for a double header, you can find the video version at the top of the blog as well.)

Blackberry BBQ Chicken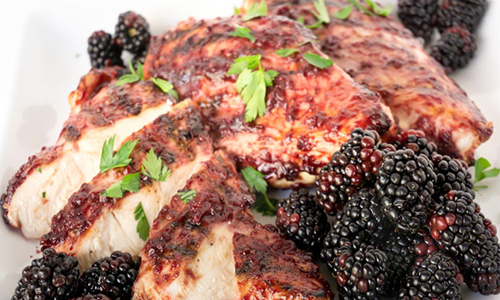 This recipe by Wendy O'Neal is a summer favorite that takes advantage of the season's freshest fruit and a wood fired oven's great roasting capability. The sauce is easy to adjust to increase the heat or mellow it out, depending on your preference. Kid tested and approved!
The Fresh King

This pizza combo from Chef Vito Romani is considered a "white pie" because it skips the traditional tomato sauce base and uses lighter ingredients instead. Topped with Prosciutto, Parmesan cheese, and dressed arugula, this works well as pizza dinner, flatbread appetizer, or an anytime snack.
Interview with Eidref Laxa
In the most recent episode of Pizza Talk from our good friends at Pizza Quest, Peter Reinhardt interviews Eidref Laxa. This prolific podcaster is the creator of "What's Good Dough." With 150 episodes recorded and counting, it has become a goldmine of pizza knowledge, culled from the giants in the industry who have generously shared their knowledge for everyone's benefit. Meet this very interesting man whose hobby and initial questions about dough has become a wonderful passion that has gone far outside the pizza box!
With a thicker dome, more ultra-premium insulation, and a larger cooking floor, the Casa2G modular oven kit is perfect for flexible cooking and feeding larger groups. These ovens are certified for both indoor and outdoor builds to fit any dining or entertaining space you can imagine. Finish it with stone, stucco, tile, or an integrated design to match your kitchen décor and colors. You can even add the gas burner upgrade to outdoor builds for super easy heat up and cooking any day of the week. Check out our Photo Gallery or our Pinterest page for endless inspiration!

Like Our Newsletter? Share it with a Friend!