Dear Wood Fired Family,

As late summer slips into fall, we are thrilled to connect with you again and celebrate wood-fired cooking in its many forms. Delicious recipes, fun videos, informative content, contest winners – this issue has it all! So, settle back and browse on through another issue of the Wood Fired Newsletter from Forno Bravo, and as always, let us know if we can assist you in any way to further your journey or make your wood-fired dreams a reality.

The Forno Bravo Team

In this Issue:
Recipes: Seared Pork Tenderloin Sliders and Triple-Apricot Chicken Tagine
Pizza Quest: Mark Todd Teaches About The Hard Cheeses
2022 SUMMER PHOTO CONTEST WINNER
We would love to thank the many, many customers and friends for their beautiful submissions to this year's summer photo contest. With over 150 wide-ranging entries to choose from, narrowing it down to the winner was extremely difficult in the very best way. So with no further adieu, (drum roll please,) the winner of the contest is Anthony Bormes of Rogersville, TN and his Casa2G100! We loved the light, colors, clarity, and fire action in this composition. Congratulations. Your prize is on its way!

LEARN MORE ABOUT THIS BUILD AND SEE MORE PHOTOS FROM HIS COLLECTION HERE

**Stay tuned for next's month's reveal of our 2022 class of Honorable Mentions!
THE SERATA TRAILER MAKES PIZZA-ON-THE-GO EASY
Tailgating, backyard catering, or after-practice feasts are now fun and easy with the Serata Trailer from Forno Bravo's sister company, Fireside Trailer, LLC. Weighing in at 2200 lbs and featuring the fast-heating Bella 40 wood-fired pizza oven, this sprinter can be towed with just about any vehicle to any place you would like pizza on the go! Learn more about its many features and uses here.

LEARN MORE
Triple-Apricot Chicken Tagine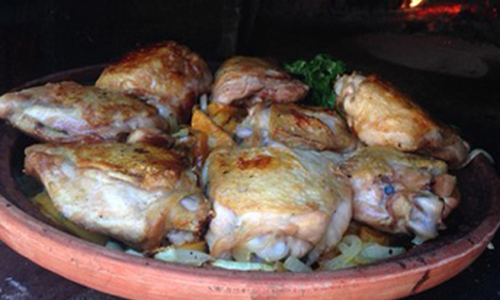 Stone fruits like apricots and peaches are at the height of their season for fresh goodness right now. Their pleasant fragrance and sweet-tart flavor help make this dish from Chef Lea a star. With Middle Eastern spices and cooking techniques like the tagine, that lock in moisture, you will impress your guests with a new gourmet creation that is actually very simple to prepare.
GET THE RECIPE
Pork Tenderloin Sliders - Video Recipe

Flavorful lean pork, lightly spiced and seared on a Tuscan Grill is the basis for this quick and delicious lunch or dinner slider. Topped with dressed arugula and grilled onions and mushrooms, these sliders are good enough to eat with one in each hand, and a platter full will disappear before your very eyes.
INTERVIEW WITH MARK TODD - CHEESE DUDE
Mark Todd is a well-known cheese expert. In this series of interviews with Peter Reinhart, we learn more about the various types of cheese used in cooking and pizza making. This month's episode focuses on the hard cheeses, such as Parmesan, Romano, Asiago, and aged Gouda. (Peter generously volunteers to taste-test them for us and share their complexities and unique flavors.) So sit back and enjoy another master's class from Peter and the Cheese Dude.

WATCH NOW
The Toscana is a pre-assembled oven with a classic stucco finish available in 2 styles – gabled and domed. Dr. Clarence Sitzman chose the domed version for his beautiful Colorado installation. His house is the go-to gathering spot for his family. This oven, and the pizza parties that come in its wake, are the highlight of his grandchildren's visits. Take a look at his setup and enjoy his story!

WATCH MORE
LEARN TO MAKE PIZZA WITH PETER REINHART
The multiple James Beard award-winning, Peter Reinhart has recently released a course that will take your pizza-making skills to the next level. In it, you will learn the following:
Four dough recipes - Classic white, sourdough, Neapolitan-style, and pan pizza dough.
Sauces made from scratch
Advanced pizza-making skills
Click the link below to learn more about the class that is taught by one of the most respected baking educators in America.

GO TO COURSE
Like Our Newsletter? Share it with a Friend!