Dear Wood Fired Family,

Flowers blooming, bees buzzing, pizza baking...yep, it's summertime! We are excited to share more stories and videos of fun builds, delicious recipes, and company news with you in this issue of the Wood Fired Newsletter. Also, our latest photo contest has launched and we can't wait to see your pics! So, pull out your phone and snap a few shots. We love to see your creativity in action (and you may win one of our excellent prizes as a reward!)

Wishing you all a happy summer and joyful pizza time!

The Forno Bravo Team

In This Issue
Customer Spotlights: Dan F. & Morris C.
Residential Financing Available
2021 Summer Photo Contest with Big Prizes
One - Two - Three, Smile! It's photo contest time! We love seeing our pizza ovens both in action and sitting pretty in their happy place at your home, yard, or restaurant. Wood fired food photos are eligible too; so are chef's in action. Just submit up to 6 of your favorite photos and be sure to tell us something about your pizza oven journey/experience in the form for a chance to be one of our big winners.

This year's contest prizes are bigger than ever! Winners will get to shop the Forno Bravo Online Store and pick from our many quality oven accessories and ingredients for a prize that fits their preferences. Check out these awesome prize levels below:
First Place:

$400 Credit

for merchandise from the Forno Bravo Online Store
2nd Place: $250 Credit for merchandise from the Forno Bravo Online Store
3rd Place:

$100 Credit

for merchandise from the Forno Bravo Online Store
Honorable Mentions: High quality/super soft Forno Bravo T-Shirt

All entries due by Sunday, August 1, 2021 and winners will be announced in the August 2021 Newsletter

*Store credits may not be exchanged for cash.
CUSTOMER SPOTLIGHTS
Dan Funk - Bringing People Together Through Pizza
Dan Funk of Colorado has a custom-tiled Napolino that celebrates his home state. He and his wife love hosting neighbors and friends weekly. They let everyone pick their own toppings and make an occasion out of a meal. Meet Dan and enjoy his oven in this short video!

WATCH VIDEO


Morris Cohen - DIY Vs. Kit Builds
Morris Cohen is the proud owner of a Casa2G wood fired oven. He is an associate professor and engineer at Georgia Tech who studies lightning and space plasma physics...and loves to dabble in wood fired baking tech too. Enjoy his zoom interview as he talks about the difference between building a DIY oven and a modular kit oven (he's now done one of each and speaks from hands-on experience!)

WATCH NOW
Introducing Chef Aaron Brooks
A native of Australia, Chef Aaron Brooks is the top-rated executive chef at Four Season Miami and EDGE Steak and Bar, among others. He is also the newest member of the Forno Bravo Guest Chef team! With a Napolino70 oven at his home that he uses to cook a wide variety of dishes for his family and friends, he really knows his way around a fire. Welcome Chef Brooks!

READ MORE

Braised Pomegranate Lamb Shanks Served with Fresh PIta Bread & Mediterranean Salad

Chef Brooks loves lamb! In this recipe, he takes a common Australian protein and gives it a Middle Eastern crossed with Mediterranean flair. This meal combination is perfect for a weekend event or afternoon gathering. The 3-part recipe features lamb shanks braised down to fork tender with a sweet and savory glaze, homemade pita bread pockets, and a crisp, dressed salad garnish that practically explodes with flavor in your mouth!
WATCH DEMO VIDEO
Camping Potatoes with Chef Marshall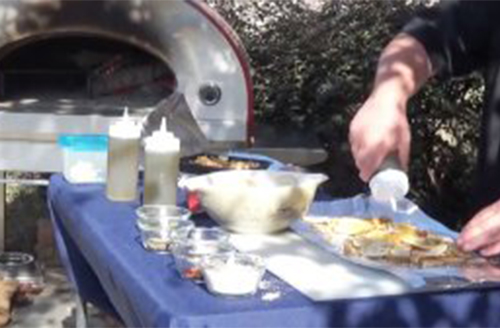 With travel and camping opening up again for the summer, here is a fun side dish that you can make on the road or right at home. Potatoes, garlic, cheese, oil, and some wood fired heat make the season sing! Watch Chef Marshall as he demonstrates how to make this menu item in his steel Bella oven.
WATCH THE VIDEO
Stucco Home Ovens - Primavera and Toscana
Stucco is the traditional finish of many backyard pizza ovens across the Mediterranean. Smooth, yet rustic, it can be painted to reflect a myriad of moods and styles. For the Primavera and Toscana residential ovens, our craftsmen use both plain and glazed stucco colors to complete the customer's desired look. Stucco is a durable water-resistant finish that adds charm and protection for your oven.

RESIDENTIAL OVEN FINANCING NOW AVAILABLE
Hoping to buy an oven, but needing a little help bringing all of the financial pieces together? Forno Bravo is now offering residential financing through Ascentium Capital to make it even easier to bring your wood fired dreams to life. The folks at Ascentium Capital have great rates and are a breeze to work with. Our team is ready to turn your vision into a reality – and your backyard into the "go-to" spot for all of your friends and family. Contact the Sales Team for a quote and more information on financing options.

CONTACT US
SUBSCRIBE TO OUR YOUTUBE CHANNEL
At Forno Bravo, we are excited about expanding our video options on YouTube to include customer builds and testimonials, zoom interviews, chef spotlights, recipe demos, wood fired baking techniques, and much more! We are seeking out and assembling great content for you to enjoy, so head on over to our channel, click the button in the upper right corner, and subscribe now for free so you don't miss a piece! Over 5,450 folks are already subscribers – you can be too!

Like Our Newsletter? Share it with a Friend!