SUMMER PHOTO CONTEST
SPECIAL EDITION
Dear Wood Fired Family,

We have our winners! The 2021 Summer Photo Contest has officially closed and we are excited to share the winning entries with you. We received so many fantastic pictures and stories, that the judging this time around was fierce. (Plus, 93% of entrants were first-time participants in our contest! It was fun to hear from them and see the new setups, as well as reconnecting with our long-time friends and customers.)

This newsletter will feature the top three prize winners, but we will highlight more honorable mentions and special category call-outs on social media and in next month's issue. (With so many diverse images to choose from, we'll just keep the party going.) So enjoy these builds, both for inspiration and to celebrate the beauty and creativity of all things wood (and gas) fired.

The Forno Bravo Team

In This Issue
Neapolitan Pizza Recipe and Demo with Chef Brooks
Classic Recipe for Maple Dry-Rub Wood Fired Brisket
2021 Photo Contest Winners
When we launched our contest this year, we wanted to see a broad cross-section of ovens, folks, and food from our wood fired community, so we intentionally kept the criteria open-ended. The images we received met that goal perfectly. Below are the 3 winning photos, but don't stop there! Click through to the blog (READ MORE) to find additional images and stories from these talented builders and home pizzaioli that show more of their pizza journey experience. Thank you to all of our participants and congratulations to all of our winners!
Tim Schroeder - Centennial, CO
Pompeii Brick Oven - 32" Floor
(A striking, copper enclosed brick oven customized from Forno Bravo designs and plans)
Prize: $400 credit for merchandise from the Forno Bravo Store
Ty Woodruff - Austin, TX
Casa2G90 Modular Oven - 36" Floor
(Exquisitely classy countertop model finished in cream-colored stucco with custom accent tiles)
Prize: $250 credit for merchandise from the Forno Bravo Store
Russ Pleskunas - Chicago, Illinois
Giardino70 Modular Oven Kit - 28" Floor
(A simple white stucco exterior that channels the joy of baking from this family to the world)
Prize: $100 credit for merchandise from the Forno Bravo Store
A special thank you to all of the participants in this year's contest!

We had so many amazing entries come in, that our September Newsletter will be dedicated to showcasing a wider selection of these photos and stories for your enjoyment. You won't want to miss them!
How to Grow a Pizza Garden by Pat Woodard
Wishing you had fresh pizza topping ingredients within an arm's reach all summer long (or even year-round?) Now you can by growing them yourself. Enjoy these tips for planning and planting small-scale home gardens utilizing containers, counters, wagon wheels, and more. You can even get your kids or grandchildren in on the action for a yummy, and healthy project you can do together.

READ MORE
Neapolitan-Inspired Pizza Demo

The hits and tips keep coming from Chef Aaron Brooks, the executive chef at the Four Seasons Hotel in Miami and a home wood fired cooking enthusiast as well. This month, he will take us step by step through making your own Neapolitan-inspired wood fired pizza. Creating, stretching, and topping the dough are all covered in this helpful how-to video, plus baking techniques for the perfect finish that fits your preference for a soft or crispy masterpiece.
Maple Dry-Rub Brisket Tortillas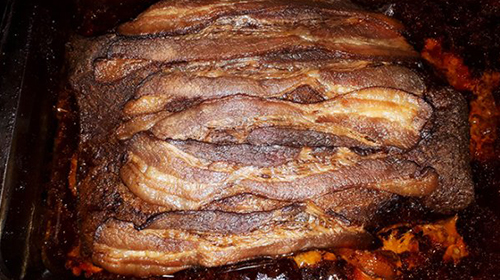 Take your dry-rub brisket to a whole new level with the additions of maple and bacon. (OK, we know bacon is good with anything and maple is its perfect compliment!) Baked low and slow in your oven after a frenetic evening of pizza making, this dish is a fantastic way to use the bonus heat left in your oven, and pre-make a perfect Sunday dinner or lunch entrée for later (or you could even use it for part of a Mexican-themed brunch.)
GET RECIPE
Oven Kits in Time for Fall Builds
Fall is prime time for outdoor baking. The crisp air, warm fire, and fragrant food offer everything that you could want for a mealtime extravaganza.

Thankfully, it is not too late to make this vision a reality at your home. With Forno Bravo's modular oven kits, delivery times are quick, and build times are shorter than DIY. or even a custom tile job from the factory, so that you can have your wood fired pizza oven blazing in next to no time at all! We have 3 styles and multiple sizes ranging from 24" cooking floors for a mini oven footprint, all the way up to a massive 48" cooking floor that cranks out pro volumes of pies! Giardino, Casa2G, or Premio2G? Which residential kit is right for you?

HELP US CRAFT THE BEST NEWSLETTER EVER
The Wood Fired Newsletter Survey
At Forno Bravo, we are always trying to improve our products and our efforts to communicate helpful, interesting, and inspiring stories and images with you. But to really tailor our content to your interests and tastes, we need your help! We appreciate your time in reading the monthly newsletter and sharing it with others. Now you can help shape the content we publish as well!

Please click the link below to answer a short, THREE QUESTION survey (yep, only 3!) Your input will help guild us in making the next chapter of our long-running Wood Fired Newsletter even better.

Like Our Newsletter? Share it with a Friend!