Hello Forno Bravo Family,
Happy 2020! Welcome to the new year and to another season of delicious recipes, fun contests, interesting stories, and beautiful photos and videos; basically, all things food, fire, and family (and of course, pizza!) We look forward to connecting with you over a shared passion in wood fired cooking and the community it celebrates and builds.
Featured Stories & Recipes:
2020 International Pizza Expo Preview
Pizza Party Primer – Tips for Hosting Great Parties
The Forno Bravo Team

1-800-407-5119 | Contact Us | Pizza Oven Selection Wizard
Every year the International Pizza Expo in Las Vegas, NV just gets bigger and bigger! A true bucket list item for many pizza officandos and pizzaioli, Forno Bravo is thrilled to be back at the heart of the festival for another year! The Expo runs from March 31 – April 2 at the Las Vegas Convention Center.





We don't just come to exhibit, but to add to the show with our live cooking demos and over-the-top Pizza Party! Master Istruttore and world pizza champion

, Chef Leo Spizzirri will be back to lead the demo team. Chef Anthony Iannone and other guests will be giving cooking demos on our commercial wood/gas fired oven as well!

CLICK HERE to see the demo schedule and sign up for Expo updates today.
Chef Anthony knows his way around a kitchen…and a wood fired oven! As co-founder and a chef instructor at the North American Pizza and Culinary Academy, his specialty is teaching wood fired dishes in several styles and genres of cooking.

Check out the video from his recent class and its accompanying recipe for Wood Fired Sausage and Gorgonzola Stuffed Portobello Mushrooms. The flavor combinations and textures of this dish are amazing!
WATCH NOW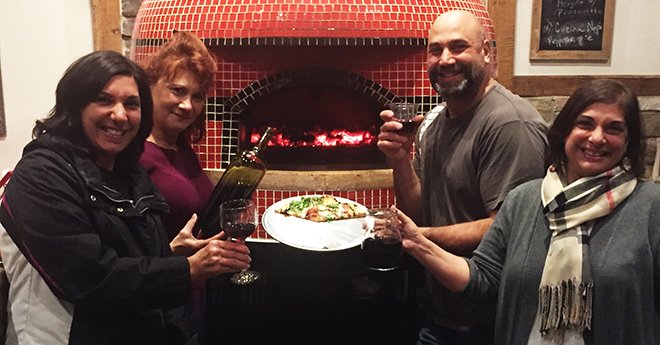 Ever felt intimidated about having a big group over for a night of wood fired pizza? Well, worry no more! In this helpful blog, Chef Bart Hosmer shares a fun "recipe"
(i.e. plan) for hosting a full-fledged Pizza Party. It even includes an extensive list for "topping shopping."
You'll also find:
The importance of practice (the key skills to try before your party,)

Dough shortcuts and appetizer ideas,

Using themes to spice up the gathering,

Ingredient placement and flow for getting guests involved, and more!
Gain confidence and learn to host the best party in town.
GO TO BLOG
"Wood Fired Drunken Monkey Love" (aka A Bananas Foster Spin Off)
Back in 2015, Forno Bravo held a recipe contest, and Nicole Francis and Joe Famiglietti went a little crazy with this fun dessert entry. We think you'll go nuts over it too (well, nuts and bananas anyway!) A little bourbon, a little butter and brown sugar, plus the main ingredients, and you'll have a delicious end-of-the-meal treat that would cost you big bucks at any restaurant in town!
GET RECIPE

Wendy O'Neal is a mother, blogger, author of multiple cookbooks, and proud owner of a Casa110 wood fired oven.

Live Fire BBQ and Beyond is her latest cookbook, released in 2019. Her Casa oven is featured in several of the recipes and photographs in the book.

One of our favorite dishes is Wendy's Blackberry BBQ Chicken.This dish can be made on a grill or in a brick oven. Check it out here as a sampler, and then go order the whole cookbook. You won't be disappointed!



GET RECIPE
Product Spotlight: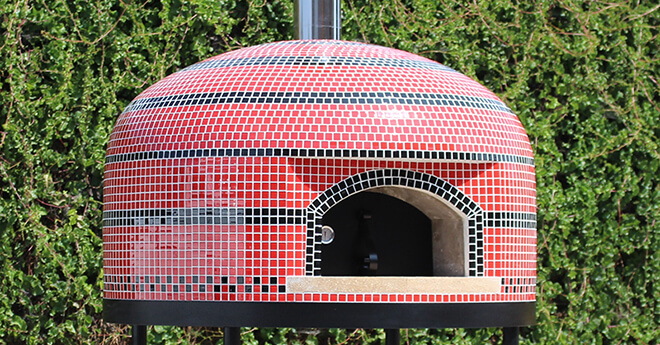 Made in the USA, the Vesuvio is a showpiece oven for the home chef. Beautifully hand-tiled, it has the option for custom patterns and designs to match your taste and vision. The Vesuvio can be fueled by wood, gas, or both for fast, easy heating, and professional baking performance.
The Vesuvio sports a true, fire-brick cooking floor ranging from 32" to a massive 44" (4 sizes.) Its generous capacity can tackle any party with ease, baking up to 5 pizzas at once! Its Naples-style center vent increase heat retention and comfort for the chef.
Let us help you design your Vesuvio today and create a gathering spot that your family and friends will all rave about!
LEARN MORE
Pizza Quest:
A Conversation with the Tribe

A few years ago, Forno Bravo hosted our own Pizza Expo in California's wine region. It was a friendly and educational gathering of chefs, oven owners, and wood fired fans from around the country.

At that event, Peter Reinhart and Forno Bravo's, Tim Cole had a chance to sit down together and talk about the heart of what makes both Pizza Quest and Forno Bravo tick — slowing life down and making connections.
Catch the new webisode
HERE
.