Welcome!
In this month's newsletter, we're focusing on Vera Pizza Napoletana (or "real Neapolitan pizza") and Naples. Some say that Naples is the historical home of pizza, with its Caputo flour, San Marzano tomatoes and mozzarella di Bufala.
Of course, there's also the Verace Pizza Napoletana Association and Pizzaioli Napoletani Association, which represent the pizzeria and pizzaiolo communities, respectively. And don't forget all those great pizza ovens.
Speaking of great pizza ovens, we're excited to introduce our newest Forno Bravo commercial oven: the Napoli. It's fully assembled and priced aggressively, making it easy for any restaurant to start making authentic artisan pizza or Pizza Napoletana. Read more about this new oven line below.
And then there's the pizza itself! The hallmarks of Vera Pizza Napoletana – great ingredients and dough, perfect technique, a hot wood-fired oven – reach into almost every aspect of artisan pizza around the world.
The recipe section below points you to in-depth guidelines on making authentic Italian pizza at home. (A related side note: Forno Bravo was the first to translate the original VPN submission to the European Union into English in 2003.)
Moving on from Naples (for a bit), here are some other items we want to share:
I'll be doing the Boston 2 Big Sur Challenge again in April. We are raising money for the Christopher & Dana Reeve Foundation by selling our eBooks for $10, and like last year, we are matching all donations. We've raised thousands of dollars for the foundation, and want to do even better this year. Your support is greatly appreciated!
We need your help choosing our photo contest winner. See details to the right.
Pizza Quest is growing by leaps and bounds. Peter is doing an amazing job, as are the guest columnists and other contributors. There are now seven great webisodes to watch! If you haven't visited the site in a couple weeks, head on over.
Finally, don't forget to join our Facebook page. Write on our wall, post pictures – we love hearing from you.
Happy cooking ( ... or building ... or dreaming),
James
New Napoli Oven (aka "The Beast")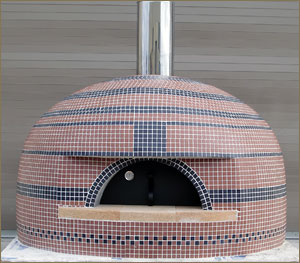 We're happy to announce the latest addition to the Forno Bravo family of ovens: the Napoli! This is a fully assembled, fully insulated, wood-fired commercial oven, finished with a tiled Igloo enclosure – just like a traditional Naples oven.
The production crew affectionately calls the Napoli "The Beast." Indeed, it is big and heavy ... but it bakes amazing pizza and looks great!
The Napoli is available in two sizes:
120 (48") for six pizzas at a time, or about 60/hour
140 (56") for 10 pizzas at a time, or about 100/hour
More Napoli details:
Low dome design for baking authentic Pizza Napoletana in 90 seconds (or less) at 800ºF+
Great choice for pizzerias looking for VPN certification, or any restaurant that wants to make a great artisan pizza
Traditional center chimney, where the oven vent is pulled back over the oven dome and then up through the center top of the enclosure
All ready to go: just set the Napoli in place on a metal or concrete block stand, and light the fire
Priced very aggressively
Learn more:
Read about the Napoli and the Modena2G on FornoBravo.com. Or, download the Napoli Specification Sheet.
Recipe: Vera Pizza Napoletana
The roadmap for making Vera Pizza Napoletana, including tips and tricks, is just too lengthy to fit inside the confines of our newsletter format. So, we direct you to a detailed guide on the Forno Bravo website: Make Authentic Italian Pizza at Home.
From preparing to cook, to assembling your pizza, to the actual cooking, it's all there. Don't be intimidated if you're a "first-timer." Soon, you'll be a pro, wowing your family, friends and neighbors.
Among the many interesting aspects of Vera Pizza Napoletana, there are a couple of ideas that really stand out for us.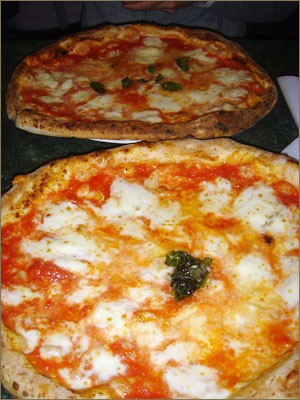 First, in order to bake true Pizza Napoletana, you need a hot, wood-fired oven. There is simply no other way of doing it. Maintain a hot, live fire in your oven where the flame reaches to the top (apex) of the dome, and maintain dome and floor temperatures of at least 750ºF. You want to bake your pizza in 120 seconds or less—or even a little hotter, where your bake time is as short as 90 seconds. Remember that Pizza Napoletana is a thin pizza without too many toppings. If your oven is cooler and your bake times are longer, your pizza will dry out and become tough, and you won't get the wonderful, puffy cornicione, delicate crumb and great char marks.
A hot pizza oven is one of the reasons we think the new Napoli oven is so cool!
And second, always use great ingredients. Pizza is comprised of so few ingredients, be sure to use the best flour, tomatoes, cheese and olive oil that you can find.
We were the first company to translate the Original Vera Pizza Napoletana Specification the Italian government presented to the European Union in 1994. Since that time awareness of Pizza Napoletana has grown significantly and a growing number of pizzerias around the world have become VPN Certified. For restaurants, the VPN Association provides an interesting opportunity for helping establish your pizzeria's brand and identity. And while homeowners cannot become VPN Certified (sorry, we asked), you can still be a part of this movement by making the world's best pizza at your home.
Read more:
Vera Pizza Napoletana Guidelines
Vera Pizza Napoletana FAQ
Pizza Section on the Forum (includes common mistakes, pizza disasters)
Download:
Pizza Stone Pizza eBook – Christopher Reeve Foundation Matching Donation