Dear Wood Fired Family,

Happy July and let's hear a big whoop, whoop for summertime! We love the long, warm days and all of the fresh ingredients available for delicious wood fired pizza feasts. In fact, we love this time of year so much, we are running a photo contest to capture the joy of good food and togetherness, and the pizza ovens that fuel it. Check out a sneak peek below of some of the entries we have received so far, and enter today for a chance to win! Also, don't miss out on the fun new videos we've created to help you get the most use out of your oven featuring excellent recipes and owner spotlights.

Viva la pizza!

The Forno Bravo Team

In This Issue
2021 Summer Photo Contest Ends Soon
Customer Kit Builds
Yucatan-Style Fish Tacos from Chef Aaron Brooks
Summer Wood Fired Cocktails from Chef Eric Wilson
Compact Ovens for Backyard Baking
2021 Photo Contest Ends August 8 - Enter Now!
Our 2021 Summer Photo Contest is currently underway and closing soon. Don't miss your chance to submit your shots and try for our great prizes! The First Place Winner will take home a $400 Credit for merchandise from the Forno Bravo Online Store. There will also be generous prizes for the 2nd and 3rd place photos, along with several honorable mentions. (Choosing the winners is going to be super tough!!! We love what we have seen so far.)

You may submit up to 6 photos by clicking the link below. They can be of your finished oven, wood fired pizza and other dishes, chefs in action, or oven builds in progress. Show us your wood fired journey.

Details: All photos must be submitted by midnight on August 8, 2021. Winners will be announced in the August 2021 Newsletter. Store credits may not be exchanged for cash.
Summer Photo Contest Sneak Peeks
With this year's crop of contest submissions rolling in, we wanted to pause and show you a few beautiful builds and fun shots that we just can't keep to ourselves! We've received photos of ovens finished in stucco, tile, and stone; mouth-watering pizzas, excited owners, and artsy "fire in the night" shots too! Preview a few of them in the blog for inspiration, and then take your phone or camera out and try your hand as a wood fired creative. We can't wait to see what images you capture.

PREVIEW PHOTOS
CUSTOMER KIT BUILD SPOTLIGHT
Meet Hun Lee - Casa2G Brick Oven Build in Alabama
Home chef, Hun Lee, loves baking the pizzas that his guests assemble for the fire. After a disastrous DIY build, Hun started over with a Forno Bravo Modular Pizza Oven Kit. The new build turned out exactly the way he wanted. Now, he revels in the whole experience every time he lights up his oven.

WATCH VIDEO
Jordan Friedman's "Family Bonding" Project
When this father and son tackle a project, they don't mess around! Together, they used the Covid quarantine as a chance to assemble a Casa2G pizza oven kit of their very own. The whole family got in on the action and are now enjoying the fruits of their labor with lots of delicious pizza to share!
Yucatan-Style Fish Tacos with Chef Aaron Brooks

Starting with fresh yellowtail fish, Chef Aaron Brooks takes us through how to make wood fired Yucatan-style fish tacos. He starts by baking the marinated fish fillets in banana leaves using the oven's residual heat. While that is cooking, he assembles the dough for corn tortillas from scratch and bakes them directly on the oven floor. Finally, he prepares all of his garnishments to round out this delightful, light and flavorful summer dish.
Summer Cocktails - The Wood-Fired Strawberry Jalapeño Margarita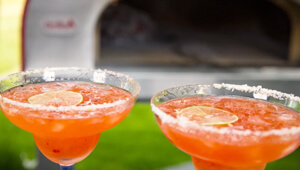 How do you like your summer cocktails? We like them to cover all of the bases! This Wood-Fired Strawberry Jalapeño Margarita will tease your palate with a mixture of sweet and spicy, caramelized and smoky, and strong and refreshing flavors. Join Chef Eric Wilson for a new twist on an old classic and put your wood fired oven to a brand new purpose.
GET RECIPE AND VIDEO
Compact Ovens for Backyard Baking - Primavera & Bella
Smaller spaces invite intimate gatherings among friends where you can laugh, talk, and cook together to create happy, lasting memories. The Primavera refractory oven and the Bella steel pizza oven both fit this entertaining niche perfectly. They are designed as outdoor, wood fired ovens that reach the highest temperatures for making true Neapolitan pizza, or can roast and bake at a lower heat for maximum menu flexibility. With a small footprint and 20 minute heat up times, they will add pizzazz to any party without overwhelming your whole space. Learn more below.


PRIMAVERA - IN COUNTERTOP OR STAND MODELS
Join us on Facebook and Instagram
We're thrilled to announce that we have reached over 15,300 followers on Facebook and over 8,600 on Instagram. Why is that exciting? Because it means we can connect with you, and you can connect with each other. These platforms are great ways to share stories and photos from the Forno Bravo wood fired community around the world. We have one of the most engaged communities on the intranet and we would love to include you in the conversation.

On our pages, you'll get new wood fired recipes, baking tips, and industry news. You will also enjoy seeing the diverse installations and oven build journeys of some of the best residential and commercial pizza ovens around. So, spread the word and click below to help us break 16,000 friends on Facebook and 10,000 on Instagram. We would love to celebrate these milestones with you.

Like Our Newsletter? Share it with a Friend!