Dear Wood Fired Family,
Spring is an exciting time of discovery, anticipation, and planting new roots for future growth. This month's newsletter is about getting inspired by the fun oven projects popping up all around. We love sharing their beauty and creativity and hope your creativity gets sparked too.

What's your new project going to be this year? Building or buying a new pizza oven? Making a new dining/entertaining space to enjoy this summer? Launching a new pub or pizzeria? Or maybe simply trying out a new recipe? Whatever it is, we'd love to help.

Wishing you a Happy Spring!

The Forno Bravo Team

In This Issue
Inspiration for Springtime Oven Builds
Delicious Strawberry Galette Recipe
Inspiration for Springtime Oven Builds
Nature revels in an abundance and diversity of shapes, colors, and unique forms to fit various needs and places. Forno Bravo oven builds share some of these same traits. We frequently receive stories and photos from our customers, and the only thing they have in common is that no two builds are exactly the same. Each build focuses on a different tone, look, or layout to match the taste of the owners and the features of their space. Enjoy some springtime inspiration for doing a build of your own in this showcase.

With multiple mobile and brick and mortar locations in Colorado and Texas, plus more on the way in Pennsylvania and beyond, Tilford's Wood Fired Pizza is a hot, new restaurant concept that offers an exciting blend of delicious food, an entertaining dining experience, and unmatched hospitality. With a tagline of "Fresh from the Fire," Tilford's prides itself on baking their pizzas in 90 seconds! They specifically chose Forno Bravo ovens for all of their restaurants for the consistent performance, quality builds, and customized look. Click the video to meet co-founder Steve Burton and get an inside look at the heart and vision of this growing business.

WATCH NOW
Artichoke, Pesto, and Burrata Pizza with Lemony Arugula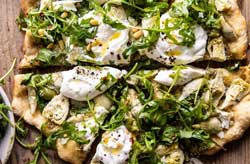 We met Tieghan of Half Baked Harvest in last month's newsletter. This month, she's back with another fantastic pizza combination you just have to test! Try it with a whole wheat crust for a heartier flavor or 00 flour for the lighter touch. The melty Burrata cheese is divine and the Arugula topping keeps it sassy!
SEE RECIPE AND VIDEO
Spring Strawberry Galette by Brigit Binns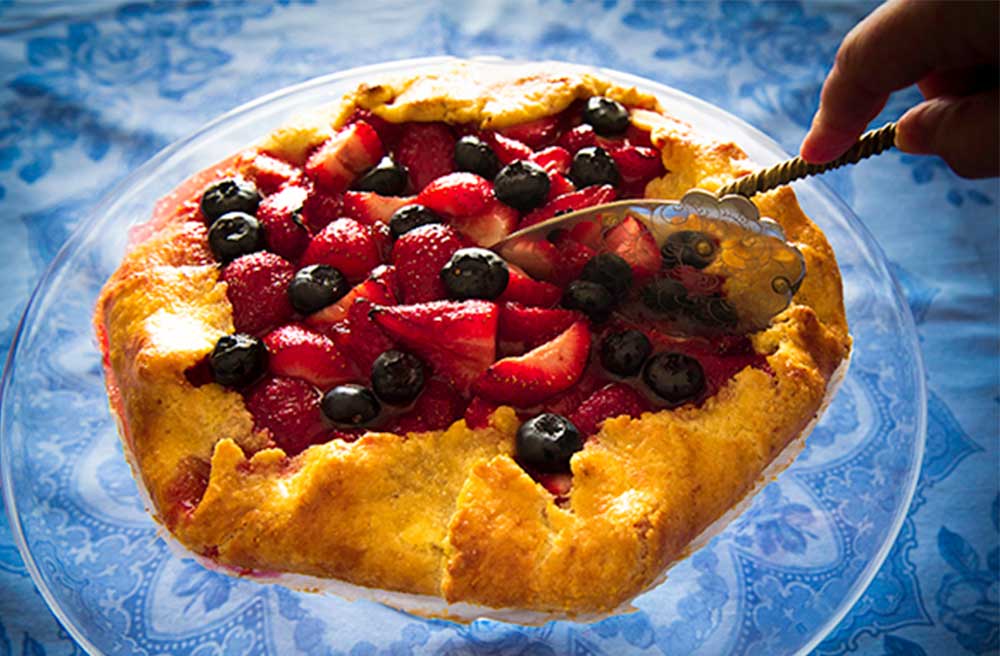 A galette is a French term for a flat, round or freeform, crusty pastry. It is similar to a tart or pie, but has a style all its own. Filled with fresh fruit and baked to bubbling perfection, it is a delightful, buttery dessert for any brunch or dinner. Follow Brigit Binns' easy-to-make recipe for a springtime treat.
GET RECIPE
At Forno Bravo, we think that our customers deserve both quality and variety in their choice of wood fired ovens. To simplify the selection process, our Residential Catalog gathers all of our home ovens in one handy (and beautiful) place for you to review styles, colors, features, and prices at a glance. Let us know if you find something you like!
Private Lessons & Consulting Available from NAPCA
The North American Pizza and Culinary Academy near Chicago is well known for its group classes and quality instructors. But did you know they also offer private lessons and restaurant consulting? Learn at their state-of-the-art school, or have their experienced staff come to you! Whether you are just starting out, or are relaunching after the shutdown, get help from the industry experts at NAPCA to take your restaurant and pizza-making skills to the top.

LEARN MORE
Like Our Newsletter? Share it with a Friend!