Welcome!
Happy 2011! We're excited about the great wood-fired cooking ahead of us this year, and hope you are, too. The Forno Bravo team is looking forward to announcing some fun, exciting products and ideas throughout 2011, so stay tuned.
For many in our wood-fired community, it's cold out there! The cold temperatures made me think about heat – and keeping out the cold. So, this January 2011 newsletter focuses on heat retention and, specifically, our new Premio2G oven door.
The Premio2G door offers home cooks the ultimate in insulation – read the details below. I've also included some more technical information on how ovens hold heat, for those of you interested in the mechanics of that. Even this month's recipe follows the heat-retention theme.
To the right, we've provided updates from the fast-growing Pizza Quest website. If you haven't heard of Pizza Quest yet, well, we're not doing our job. But just in case: Forno Bravo has been working with Peter Reinhart on a labor of love called "Pizza Quest: A Journey of Self-Discovery Through Pizza."
Co-produced by Forno Bravo and hosted on FornoBravo.com, Pizza Quest explores artisanship in all forms, but especially through the literal and metaphorical image of pizza. Definitely check it out if you haven't already.
Finally, take a look at the new photo contest we're holding, down at the bottom. You've got 30 days!
Here's to 2011 and the joy of wood-fired cooking,
James
P.S. Can you help us? We're building a directory of portable wood-fired oven caterers around the U.S. We've got a good start, but there are a lot more to add. We're asking our wood-fired friends to e-mail info@fornobravo.com with the name/contact info of portable wood-fired caterers in your area. Thank you!
New Premio2G Door and Heat Retention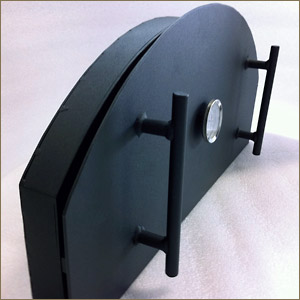 For unrivaled heat retention, our Premio2G residential oven has a new, removable door – offering the ultimate in insulation. Weighing in at 18 lbs., the new door features a 1" thick ceramic fiber insulated panel and a 1" air gap, along with a front panel that can seal the oven opening to cut off the air supply, two handles and a thermometer. Very cool!
One of our Forum members recently asked how long the Premio2G will hold heat with the new door on. The short answer is that we can't give exact numbers on how much the new door improves heat retention, simply because there are so many variables.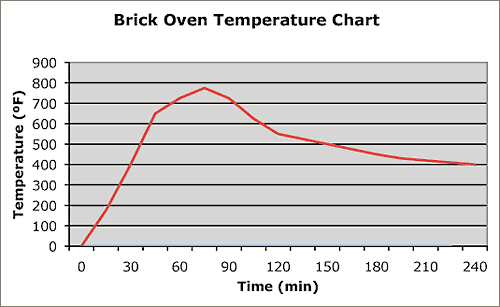 In general, a fast heat-up (a one-hour firing) works like the temperature graph shown to the right:
But, we will work on arriving at a more detailed answer to the Forum member's question and get back to everyone. (Input on the best way of testing the new door would be appreciated!)
More on heat retention
Now, if you'll bear with me, I'll get into some more details on the variables of heat retention.
There are a number of components affecting heat retention: thickness of the oven dome, quality of the dome material, thickness of the insulation, and the length and intensity of the firing. A thinner dome with a lot of insulation cannot absorb and retain as much heat as a thicker dome with the same insulation. Also, a dome with a lower quality refractory material will not hold heat as well as a Casa2G (for example) with the same insulation. Insulation alone does not give you good heat retention.
Also important to understand are the trade-offs for a thicker dome. It has more mass, so it costs more, plus it takes longer to fully heat up. And a fully heated thinner dome cooks better than an under-heated thicker dome.
We always say that the Primavera and Casa2G are the mainstream thickness, while the Premio2G (3") and Artigiano (3.25") are targeted at the serious home chef. Remember that the Modena2G (4") is a commercial oven designed for continuous 24/7 firing. Fully heating a 4" oven from scratch takes hours.
More information
Start shopping!
White Bean with Arugula Gratin
To go along with the theme of this month's newsletter, we're including a recipe that uses retained heat.
Ingredients
1 onion diced
1 zucchini diced
1 red pepper diced
1 garlic clove, smashed and chopped (optional)
3 Tbs olive oil
2 cups Arugula
2 cans white cannellini beans (imported are better)
1/2 cup white wine
1/2 cup stock
1/2 cup bread crumbs
1/2 cup grated parmesan
Optional
Pinch red pepper
Capers
Sun-dried tomatoes
Pine nuts
Cooking
Fire your oven, and let the temperature fall until moderately hot, roughly 450 – 550ºF.
Add the first four ingredients, and the olive oil to a terracotta pan with a lid, and put in the oven with the lid off, until lightly browned.
Add the Arugula and return to the oven until wilted. Add the white beans, stock, and wine.
Mix together the breadcrumbs and the Parmesan. Cover the dish with the breadcrumb mixture.
Cover and bake. Take the lid off the pan for the last few minutes to brown.