Welcome!
From the day we started Forno Bravo (seven years ago!), our mission has always been to make the pleasure of wood-fired cooking available to the widest-possible audience.
That guiding mission is why we have introduced breakthrough ovens that are easy to set up (Primavera) and cost-effective (Casa2G), along with our free oven plans. Today, we are thrilled to take that vision one – or two – steps further.
In this month's newsletter, we are announcing three new ovens for homeowners and restaurants – and complete UL certification for each of the new ovens, plus the popular Casa2G. This achievement is one of the most important in Forno Bravo's history, and we're excited to share our news.
So, without further ado, our new oven lines:
Premio2G. A premium residential oven with a thick 3" dome, extra-thick insulation and an insulated door. The Premio2G is designed for the serious home chef and baker who wants a real Italian pizzeria or bakery experience at home.
Professionale. A brand-new line of commercial ovens at a breakthrough price. The Professionale features a commercial-grade dome, extra-thick insulation, and a hinged and insulated door. This oven is perfect for a cafe, bistro or small pizzeria, or a larger restaurant looking to complement other cooking equipment.
Modena2G. Our new flagship oven comes with a super-duty 4" oven dome, 2 1/2" firebrick tile cooking floor and 4"-6" 100% ceramic fiber insulation. The Modena2G sets the new standard for restaurant oven quality and pizza baking throughput.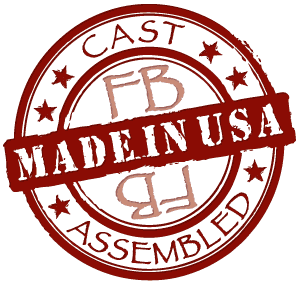 Forno Bravo ovens are UL-certified, and cast and assembled with pride in the USA using sophisticated casting techniques and the highest quality US-made castable material.
The new ovens, along with the Casa2G, Giardino, Primavera and Toscana, are made with pride in the United States, using sophisticated casting processes and the highest-quality U.S.-made castable available. (Learn more about our three new oven lines below.)
Finally, we're skipping the recipe in this particular newsletter, but will have several to pass along to you soon, via the Thanksgiving Recipe Contest. So be on the lookout for those.
Here's to the great pleasure that is wood-fired cooking, and thank you for reading.
— James
P.S. Holiday reminder! We have built up a good inventory of Primavera and Casa2G ovens for the holiday season. If you are ordering an oven as a gift, please order early to ensure your oven arrives on time! For questions, contact us at (800) 407-5119 or info@fornobravo.com.
New Premio2G Residential Oven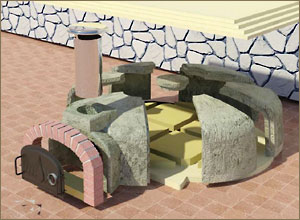 We've been hard at work on our new oven lines for homeowners and restaurants, keeping the news under wraps. Now is our chance to share the details!
Premio2G Series. This amazing, muscular residential oven offers the ultimate in wood-fired cooking at home. But just how serious is the Premio2G series, you ask?
The Premio2G oven dome and insulation are the same thickness and density as many commercial pizza ovens, which are designed for 24/7/365 use. Put another way, the Premio2G ovens weigh more than twice as much as some other residential pizza ovens with the same size cooking floor, without compromising heat-up times (about an hour).
Each Premio2G modular oven is delivered with extra-thick insulation for better heat retention, and includes 4" of high-tech ceramic blanket dome insulation and 3" of ceramic board floor insulation, enabling the ovens to easily retain 400ºF up to 24 hours after the fire goes out. With such good heat retention, the Premio2Gs are perfect for larger parties and the serious hearth bread baker.
These pizza ovens incorporate a monoblock refractory vent and chimney adapter and oven opening for easy installation and durability. The ovens include a 24" long stainless steel chimney and rain cap, and an insulated steel oven door with a thermometer. We offer an optional decorative brick arch for the Premio2G series, giving the oven a traditional Italian finish. Available in 100cm/40", 110cm/44" and 120cm/48" sizes.
Details: Premio2G Series Specification Sheet (PDF)
New Professionale and Modena2G Commercial Ovens
And now, we turn to the two new commercial ovens. Note that each is available as a modular kit or as a fully assembled oven, with either wood-only or gas with gas/wood combo, to meet virtually any installation requirement.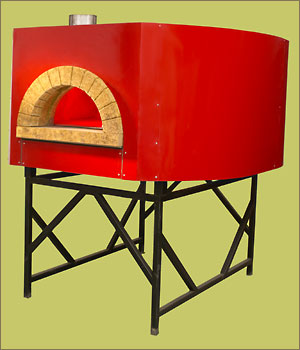 Professionale Series. The Professionale Series is designed for smaller restaurants, pizzerias, cafes and bistros, as well as larger restaurants looking for a wood- or gas-fired oven to complement other cooking equipment. While the Professionale ovens are smaller and less expensive than our Modena2G ovens, they are built using the same ultra-premium refractory and insulating materials – and of course they bake perfect Pizza Napoletana! The Professionale ovens are also an excellent choice for portable catering equipment. They provide the right balance of size and weight, along with a hinged and locking oven door.
The Professionale ovens feature a commercial-grade 3" cooking dome, a 2.5" firebrick tile cooking floor and extra-thick 4" (side and floor) - 6" (top) ceramic insulation, providing the perfect oven for baking artisan pizza at an excellent value. Available in 110cm/44" and 120cm/48" sizes.
Details: Professionale Specification Sheet (PDF)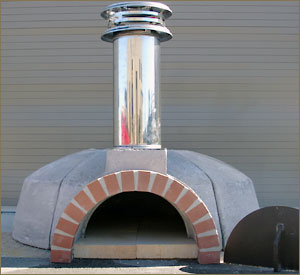 Modena2G Series. The Modena2G Series is designed for restaurants and pizzerias in search of the world's best pizza oven, capable of baking large volumes of Pizza Napoletana and a wide range of wood-fired dishes.
These muscular ovens feature large cooking floor options, a super-duty 4" cooking dome, a 2.5" firebrick tile cooking floor and extra thick 4"-6" ceramic insulation, providing excellent high-heat cooking, heat retention and fuel efficiency. Available in configurations in 48", 56", 56" x 64" and 56" x 72" sizes.
Details: Modena2G Specification Sheet (PDF)