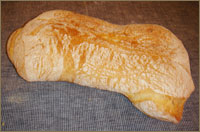 This month's recipe goes along with our insulation theme: Better oven insulation gives you better heat retention ... which is great for baking items such as this yummy ciabatta.

Ciabatta Italian Hearth Bread
Poolish (the starter dough)
By weight
300 g general purpose flour (Caputo Tipo 00 works well)
300 g room temperature water
1 g (pinch) yeast
By volume
2 1/4 cups general purpose flour (Caputo Tipo 00 works well)
1 1/4 cups room temperature water
1/8 tsp yeast
Mix to a pancake batter consistency, cover with plastic wrap and let ferment for 3-4 hours, or overnight. Refrigerate after 3-4 hours.
The Finished Bread
By weight
The poolish, plus:
700 g flour
20 g salt
9 g yeast
430 g water (73% final hydration)
By volume
The poolish, plus:
2 7/8 cups flour
1 Tbs salt
1 1/4 tsp yeast
1/2 cup water
Mix the dough until it is well hydrated (it is very sticky).
Stretch and fold (like a letter) and let rest covered with plastic for 30 minutes.
Stretch and fold again, and let rest for 1 1/2-2 hours covered. (The stretch and fold lines up the gluten to give the dough structure.)
Cut the ball into 3 pieces, and stretch into the final shape.
Proof for 1 hour, then bake at 500ºF (plus or minus) until the internal temperature reaches 205ºF.
It's a very moist dough, and you don't slash it. The final shape looks almost like a dog bone, and the final bread is crusty, with big holes in the crumb.
Learn more: