Welcome!
And just like that: another summer season is upon us. The bounty of produce this time of year makes for some excellent wood-fired cooking opportunities. We hope you are all looking forward to some fun, relaxing times with your friends and family, whether gathered around your backyard pizza oven, off on a vacation getaway, or just enjoying those nice summer evenings.
Our May 2012 newsletter is packed with wood-fired information. Below, I give you a little insight into how we price our Forno Bravo pizza ovens. To the right, see five great Father's Day gift ideas. We've also included an artichoke recipe from the Community Cookbook and a Pizza Quest recipe from Brad English (Bacon and Eggs Pizza, need I say more?).
Finally, many of you know I have been blogging lately, sharing ideas and thinking on ovens, pizza, technology, innovation and more. It's been a lot of fun, and I hope you'll subscribe to our Wood-Fired Blog by email (form here: www.fornobravo.com/blog/) or add our blog feed to your RSS reader: feed://www.fornobravo.com/blog/feed
In addition to the blog, we give you a number of ways to connect with Forno Bravo and other wood-fired cooking fans. Join us at any and all of them!: Forno Bravo Forum, Community Cookbook, Facebook, Twitter, Google+, Pinterest.
Happy cooking!
James
P.S. Pizza Quest continues to dish out some great content. Peter Reinhart, our Pizza Quest host, recently offered an update on Pure Pizza, his new restaurant endeavor in Charlotte, N.C. I think you'll enjoy reading about the grand opening. For those from the Charlotte area, and those just passing through, check it out!
How Do You Price a Pizza Oven?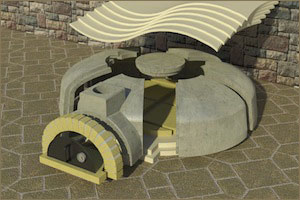 by James Bairey
As a manufacturer and retailer, how do we price your products?
It's an interesting question, and a number of different issues come into play. I believe a higher degree of business transparency is an appropriate strategy in the Internet Age, and it occurred to me that sharing our pricing strategy would make sense – both for us and our customers.
If you have researched pizza oven pricing recently, you will have noticed that the Forno Bravo ovens include all the installation equipment (insulation, mortar, chimney), while our competitors force you to buy all those essential items as costly extras – AND you will have seen that our ovens still cost a lot less than our competitors' ovens. (A Forno Bravo residential pizza oven typically costs between $1,000 and $1,500 less than the "other guys," including shipping.)
You might be wondering: "How can Forno Bravo do it?" There are a few good reasons:
1) As a manufacturer, we purchase large quantities of the highest quality, but very low integration level, raw materials – directly from the original manufacturer. Think calcined aggregates, calcium aluminate and polypropylene fibers. Our raw material costs are a lot lower than those of our competitors who import ovens from Europe or buy their products from contract manufacturers.
2) We actually make our own products – in the USA. We do not purchase items in euros, and we do not have to pay for costly container shipping. Don't forget that pizza ovens are very heavy and are difficult to safely ship. You need to ship the ovens from a city in Italy where they are made to the port by truck; from the Italian port to a U.S. port by sea; through customs; and from the U.S. port to the importer's warehouse by truck. You don't need to know the exact numbers (though of course as a former importer we do) to know that there is a very high "per oven" cost to simply ship the oven from the European manufacturer to California.
3) Finally, Forno Bravo is the highest unit volume pizza oven manufacturer and seller (probably by a very large margin) in the U.S. This brings a number of benefits to you, the consumer or dealer installing the oven. Our high unit volumes drive up our efficiency and they drive down our manufacturing costs. Also, because we are selling a lot of ovens, we do not need to make as large a profit on each oven as we would if we were selling a much smaller number.
The bottom line? We believe Forno Bravo sells ovens that are significantly better than our competitors' ovens in terms of design and quality of materials, and that our ovens are much more complete than our competitors' because they include the things you always need to install your oven – all at a price significantly lower than our competitors offer.
Condensed from James' original post on the Wood-Fired Blog. See full post for a lot more information on our shipping costs and crate fees, and how Forno Bravo ovens are like the iPad.

Peter's Corner: Bacon and Eggs Pizza by Brad English
Peter Reinhart, our Pizza Quest host, baking instructor and baker extraordinaire, shares a new recipe from Brad English that is sure to have some fast fans: Bacon and Eggs Pizza! Be sure to check out the photos accompanying Brad's original Pizza Quest post.
The first time I had egg on a pizza was at a little French creperie in Victoria on Vancouver Island, British Columbia. That first egg pizza was a scrambled egg version with some Tyrolean bacon, chives and a little cheese mixed in. It was truly delicious. I would have to say it was an epiphany moment for me.
A few years later, while we were filming the original Pizza Quest road trip, we were in San Francisco at Pizzeria Delfina and these guys opened my eyes a little wider. They made a pizza and finished it off by simply cracking an egg on top. It came out sunny side up. Craig Stoll, the owner, cut up the yolk with a fork and knife, spreading it around the top of the pizza. Egg epiphany numero dos!
The recipe here was inspired by Nancy Silverton at Pizzeria Mozza. It's amazing!
— Brad English
---
Ingredients:
Partially baked potato, sliced thin
Grated mozzarella
Applewood smoked bacon, cooked but not totally crisped
1 egg
Chopped scallions
Grated parmesan
The Build: Spread the dough on a well-floured peel. I stretched the dough with my hands fairly thin. I left the edge, or cornicione, in an irregular rustic "mess." I think this is a good way to create a real handmade look, and I love the thicker puffed-up areas that result. Sprinkle a little of the herb oil on the dough. Add a layer of sliced potatoes that are pre-baked but still firm enough to slice. They will finish cooking on the pizza. Break some bacon into pieces and spread around the pizza. Add the grated mozzarella. Crack an egg over the pizza.
The Bake: Bake in your oven for approximately 7 to 10 minutes. (I preheat at 550°F and then turn it to convection bake before loading my first pizza, which lowers the temp to 525°F.) For this one, you want to check on the progress of the egg. The idea is to get it out before it gets too hard. You want the egg to be soft, ideally runny, so you can spread the yolk all over the pizza right before you cut it into slices. When the pizza comes out, sprinkle the chopped scallions over the top and add your grated parmesan to finish.
A Note on Timing: When this pizza came out, the egg appeared soft, but as I took pictures and finished topping it, the yolk continued to cook. By the time I cut it, it had solidified into more of a soft-hard boiled egg. It was still great, but this is a good example of how you have to manage the time in the oven. Perhaps 30 to 60 seconds less for this one would have been perfect. Or, you can wait until the pizza has baked for a minute or two and then add the egg to the top. Your oven will determine this for you.
Enjoy!
Recipe: Roasted Artichokes With Capers, Chevre and Herbed Breadcrumbs
We hope you enjoy this month's featured recipe from the Forno Bravo Community Cookbook, written by our moderator Dan Compton. Want to add your own recipe? Take a few moments to create a free Community Cookbook account!
---
Fresh artichokes are an unfairly overlooked denizen of the supermarket produce aisle. Most people take one look at their spiky, reptilian-looking armor and head two aisles over for the easy, unintimidating can of artichoke hearts. But those people are missing out on the delicate flavor and toothsome-yet-creamy texture that only a fresh artichoke can provide.
Ingredients:
4 globe artichokes, or 10-12 baby artichokes
Juice of 1/2 lemon
4 T dry breadcrumbs
2 T extra virgin olive oil
1 tsp fresh chopped parsley
1 tsp fresh chopped thyme
1 T vegetable oil
2 T capers
3 oz fresh chevre (goat cheese)
First comes the hard part – cleaning the artichokes. If you've never done it before, please refer to the extended version of this recipe, where I go into detail on the process.
Once your artichokes are clean and waiting their turn in the oven, mix together the breadcrumbs and the olive oil and season with salt and pepper to taste. Place in a small skillet and toast the breadcrumbs in your wood oven, stirring frequently, until they are golden brown and crispy. Remove and allow to cool, then stir in the parsley and thyme. Set aside.
Preheat a large sauté pan in your wood oven. You want a pretty hot oven for this preparation. Drain the artichokes, add the vegetable oil to your pan and then add the artichokes. Season with salt and pepper, then place in the oven and roast, stirring occasionally, until the artichokes are tender when pierced with a knife, about 10-12 minutes.
Squeeze the half lemon into the pan. Stir in the capers and then dot with the goat cheese. Return to the oven and cook for another 1-2 minutes until the cheese has started to melt into the artichokes. Remove from the oven, transfer to a serving dish and sprinkle with the breadcrumbs.
This dish would be a great accompaniment to lamb, or as part of an antipasti spread. Embrace the produce section's most intimidating resident, and enjoy!