Welcome!
This month's Wood-Fired Newsletter is all about portable wood-fired catering. We've included a lot of information for you:
an update on Forno Bravo Via, our directory of wood-fired caterers from around the country — the list keeps getting bigger and better (and the caterers are doing some great things in some very cool places);
a spotlight on our partner The Fire Within, which makes great fully assembled, portable wood-fired ovens and provides training services;
information on our special Professionale Series ovens that are built for mobile use – just add trailer;
a new column called "Peter's Corner," where Peter Reinhart will contribute a newsletter article every month—he's kicking things off with food carts.
Also, note more Forno Bravo news to the right: the photo contest winner and a save the date for the Forno Bravo Expo 2011—May 14th!
One last thing. Last month's newsletter featuring Vera Pizza Napoletana and the new Forno Bravo Napoli oven had the highest readership ever for our Wood-Fired Newsletter and the most single day page views ever on Fornobravo.com. Thanks for reading! And I have to share this. I broke 3:00 for the marathon. Wahoo!
We've got a lot to cover, so I won't delay. As always, thank you for being a part of the Forno Bravo community.
Happy cooking, and enjoy the springtime!
James
Forno Bravo Via and The Fire Within
Forno Bravo Via
Catering ovens have been with us at least since medieval times, as evidenced by the numerous wood-block prints showing ovens on wheels. Today in modern Italy, portable ovens play a major role in many festivals and street markets. Our goal is to make the portable oven a part of American parties, farmers' markets and special events.
As part of this effort, we've developed a nationwide (and beyond) list of portable wood-fired oven caterers. And with your help, it just keeps growing! Thanks to all of you who have sent in additions. You can see the most current listing here: Forno Bravo Via. We've also connected with many of these caterers on Facebook. Here are a couple of caterers that are doing some really fun things:
InnerFire Mobile from Crested Butte, Colorado: One of the owners is a former Olympic skier. Check out some of this caterer's great "Pizza on the Snow" Facebook photos.
Prairie Fire Oven from Prairie Village, Kansas: We love the Facebook photos of "The Goods," especially the day lilies and dough balls ready for action, set against the pretty Kansas landscape.
The Fire Within
Of course, you can't talk about mobile wood-fired cooking without mentioning The Fire Within and its founder Joseph Pergolizzi. If for some reason you don't know The Fire Within, it is a great company that builds portable wood-fired ovens and helps people start their own catering businesses. For more information, visit The Fire Within website and Facebook page.
Joseph is a good friend of ours here at Forno Bravo, and he continues to inspire pizza lovers and wood-fired cooks with his energy and creativity. He's built a great business and has helped many people build their own catering businesses, bringing the charm of wood-fired cooking to countless events.
Joseph tells us: "I love pizza. With my New York Italian heritage, I just can't get enough of it. Since founding The Fire Within, we have traveled and baked pizzas at folk festivals, culinary events, local sporting events and county fairs, meeting great people and making good food.
"We now have more than 50 catering clients across the country, and have expanded to make outdoor custom pizzerias for private event centers and corporations such as Apple. In addition, we've added a new branch of The Fire Within, where we help existing and future restaurant owners purchase and install wood-fired ovens."
Fun Dough Recipes from Joseph
Two quick and easy ways to get creative with your pizza dough.
My Favorite Seeded Crust
1) Mix the following together for a 7oz dough ball:
• 1 Tbsp of toasted sesame seeds
• 1 Tbsp of fennel seeds
• 1/2 tsp sea salt
• 1/2 black pepper
* for an extra kick use red pepper
2) Roll your dough
3) Brush on garlic olive oil being careful no to drip on the peel sprinkle on the seed mix and bake. Great for a sweet pizza lover.
Squid Ink Pizza Dough
What's the secret? 
It's too easy: Add 3oz of squid ink replacing 3oz of water to your favorite pizza dough recipe
What kind of pizza tastes great with a squid ink crust?
Sauce: A spicy marinara or add crushed red peppers to your favorite plum tomato sauce.
Cheese: Shredded parmesan
Want to add a topping? slice 2'' shrimp down the middle and place on top of each slice
Check local fish stores ortienda.com or gourmetfoodstore.com for squid ink.
Special Professionale for Portable Use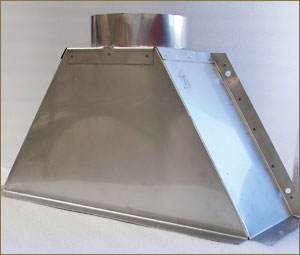 You've probably heard of our Professionale Series: commercial ovens that are smaller and less expensive than the Modena2Gs, but ideal for smaller restaurants and those looking for a wood- or gas-fired oven to complement other cooking equipment.
Now, we are introducing a special Professionale oven – designed specifically for portable use. It is the same oven (same dome and floor) as the standard Professionale, but with a purpose-built steel vent, vent walls and landing. These replace the refractory vent and firebrick landing so it's shorter and lighter than the standard model—perfect for trailer-based ovens.
All our Professionale ovens are made with ultra-premium refractory and insulating materials, and they have optimal oven proportions, including the perfect oven dome height and oven opening size for baking Pizza Napoletana.
Ready to get rolling? Learn more:
Professionale Series Commercial Ovens
Peter's Corner: Food Carts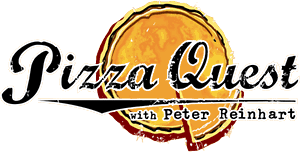 And now, the first installment of our new column, Peter's Corner by Peter Reinhart. This month, he shares his thoughts on food trucks. (You can see more of "what Peter's thinking about" over at Pizza Quest.)
Here's what I'm thinking about these days: food carts! This is the most exciting food trend I've seen in years, and it's only a matter of time before food carts sweep the nation.
Portland, Oregon, already has more carts than the rest of the country put together, or so it seems. But carts are now popping up everywhere. I'm especially hoping to see more carts here in my hometown of Charlotte, North Carolina, where the municipal codes will have to change to allow for them.
Cities like Portland and Austin have shown how the cultural identity of a city can be transformed by food carts, and how these carts can serve as incubators for the next generation of entrepreneurs and restaurateurs.
The most interesting thing to me about these carts, whether enclosed in a truck or in the open air as a pizza oven, is how excited the public gets when they discover them.
There's just something about this food cart movement that has touched a nerve in everyone on either side of the counter. For example, those who have discovered the Korean Taco Trucks that are showing up in many cities, who track them down via Twitter at their secret locations (the stealth marketing is to avoid being fined by the local health departments), know what I'm talking about. It's outlaw, it's counter-culture, it's original and, most of all, it's delicious.
In some ways, food carts are the most authentic expression of the American spirit ... in a country that too often embraces platitudes and cookie-cutter menus instead of authenticity and originality.
So, yes, this is what I've been thinking about lately. What do you think about it?
— Peter Reinhart